Fire breaks out at police post on Towner Road, 30-year-old man detained
SINGAPORE — A 30-year-old man has been detained for his suspected involvement in a fire outside an unmanned police post at Block 105 Towner Road.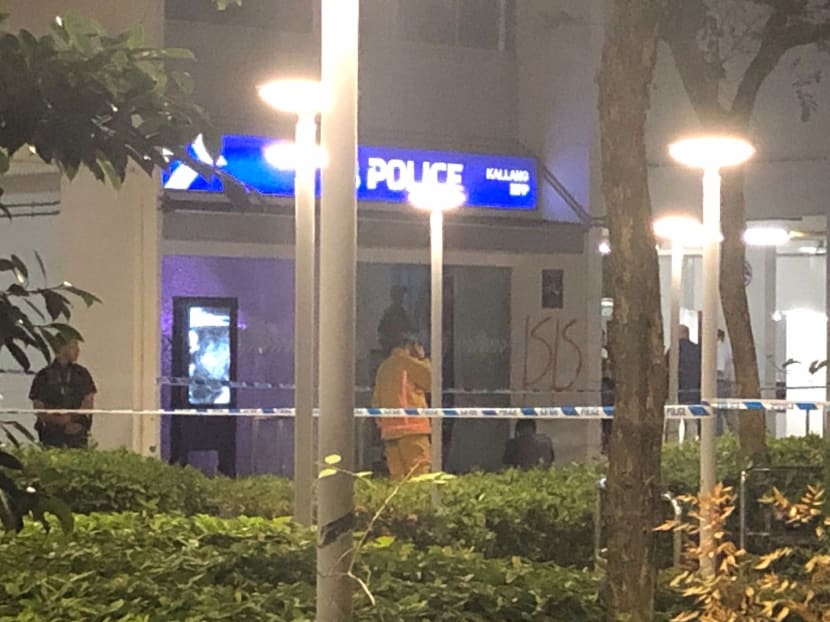 SINGAPORE — A 30-year-old man has been detained for his suspected involvement in a fire outside an unmanned police post at Block 105 Towner Road.
The police, who were alerted to the incident at 11.10pm on Friday (March 13), said that there were no injuries or casualties reported.
The Singapore Civil Defence Force, which extinguished the blaze with a hose reel, two compressed air foam backpacks and an extinguisher, said that clothing and aerosol cans at the ground floor were part of the fire. 
Photos and video footage of the incident circulating on social media show a fire burning outside a police post located at the void deck of a Housing and Development Board block. 
In another set of photos, a man can be seen pinned down on the road by two police officers.
When TODAY arrived at the scene close to midnight, there were at least two fire engines and half a dozen police cars surrounding the area around the Kallang Neighbourhood Police Post (NPP), which had been cordoned off by police tape. The NPP is a redesigned police post that is unmanned. 
On the walls around the police kiosk were the words "ISIS" that appeared to be spray-painted in red. 
Near the police post, at least three pillars at the void deck of the block had the word "ISIS" sprayed on them.
ISIS is the abbreviation for the terrorist group Islamic State of Iraq and Syria.
Junior college student Renie Cheong, 17, who lives a 10-minute walk away on McNair Road, said that she saw two explosions at just after 11pm on Friday.
"I saw a man take out spray paint while the fire was (burning). He was walking straight, and looked very determined and focused," she said.
"When I first saw (the fire), I thought it was fireworks… It's not every day that you see this kind of thing."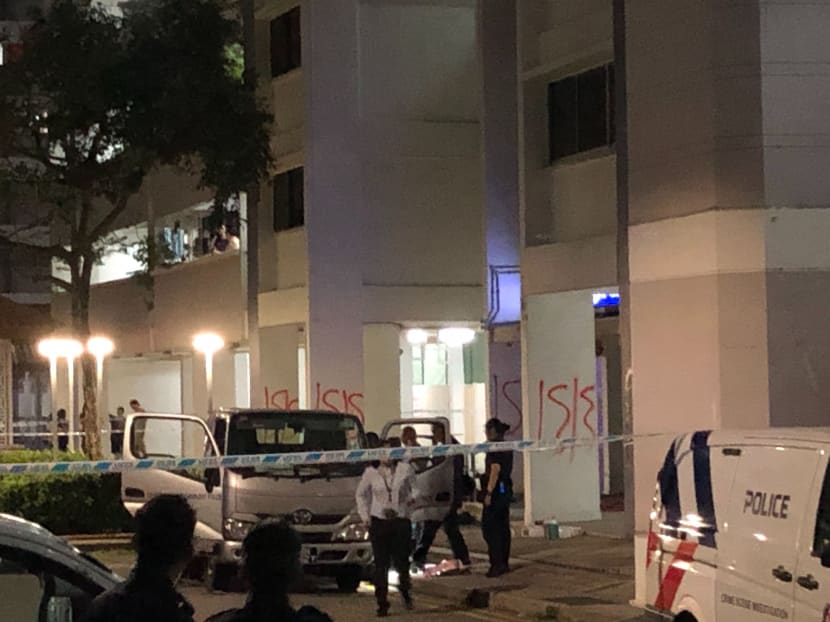 Mr Heng Chee How, Member of Parliament for Jalan Besar Group Representation Constituency, said he had been told by residents living in the area that a man had arrived at the block in a pickup truck and started a fire.
Mr Heng told TODAY: "I'm glad that nobody was harmed. It is important that we remain calm but we must also make it very clear that such behaviour cannot be condoned.
"I have every confidence that the police will do their job and get to the bottom of it… We have to establish the facts and we must not speculate."
In a statement on Saturday morning, the police said that they had arrested the 30-year-old man, originally reported as aged 31, for mischief by fire. 
"Although he had scribbled the words 'ISIS' on the pillars near the neighbourhood police post, preliminary investigations indicated that he acted alone and it was not terrorism-related, but the act of a disgruntled person unhappy with perceived social inequality," they said. 
Investigations revealed that the man had set fire to a few bags of clothes using petrol or diesel in front of the police post and smashed the glass door of the office.
He will be remanded for further investigations and the police will seek a court order to get him to receive psychiatric assessment. 
The offence of mischief by fire carries a punishment with imprisonment of up to seven years and a fine.