First of 3 BTO projects at Ulu Pandan to have 1,330 flats, sky jogging track, wellness trails
SINGAPORE — The Housing and Development Board (HDB) will launch its first Build-to-Order (BTO) project at Ulu Pandan - comprising 1,330 three- and four-room flats - in the November 2022 sales exercise.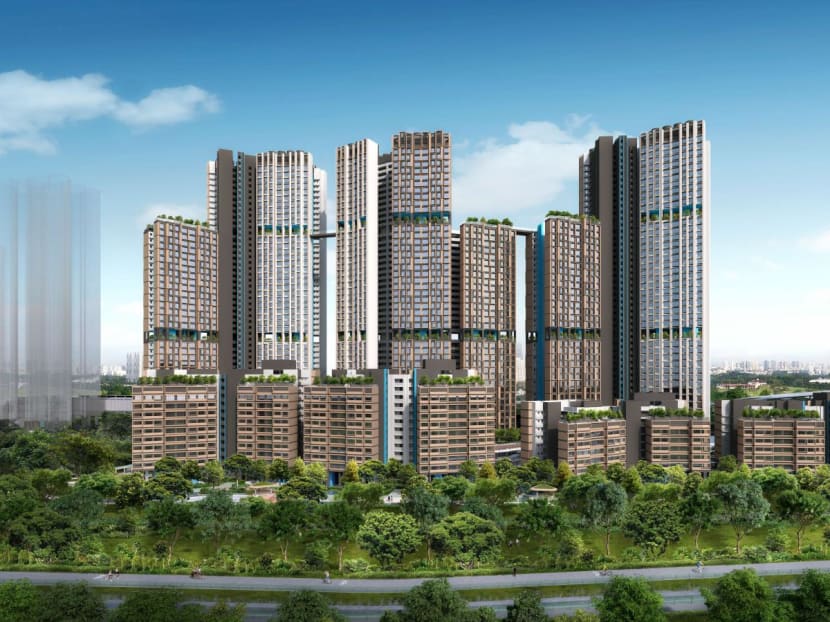 SINGAPORE — The Housing and Development Board (HDB) will launch its first Build-to-Order (BTO) project at Ulu Pandan - comprising 1,330 three- and four-room flats - in the November 2022 sales exercise.
The development will be the first of three in Ulu Pandan's eastern half, which will have about 3,000 BTO flats in total, the HDB said in a press release on Thursday (Oct 13).
The launch comes after plans for the development of the site were revised following feedback from nature groups and the public, as well as findings from environmental studies.
The 33ha Ulu Pandan estate, which is the size of about 46 football fields and bounded by Commonwealth Avenue West, Ghim Moh Link, Ulu Pandan Canal and Clementi Road, is where Dover Forest is located.
While Ulu Pandan had been zoned for residential development since 2003, announcements to develop the area in 2020 raised concerns from nature groups and sparked a debate over balancing development with nature conservation.
The authorities sought public feedback on an environmental study from December 2020 and March 2021 and decided to develop the eastern half of Ulu Pandan for public housing while leaving the western half as it is in the medium term. Plans for the western half, considered to be richer in biodiversity with more threatened flora species, will be revisited in about a decade.
According to the study's findings, the eastern half of Ulu Pandan comprises a few large trees that are likely remnants of past plantings, none of which are native species.
Even then, the HDB's plans for the eastern half of Ulu Pandan will still incorporate plenty of green features.
HDB said in its press release: "Ulu Pandan housing developments, which are located within the Health District @ Queenstown, will be designed with a myriad of facilities and nestled within lush greenery to support the physical, social and mental well-being of residents.
"These include approximately 5ha of greenery, comprising a linear park along Ulu Pandan Canal and a park with natural stream on the eastern side."
GREEN FEATURES
The development will include roof gardens, rain gardens and trails that snake through greenery, and a green corridor.
The trails that lead through the estate are meant to enhance residents' well-being and to provide connectivity throughout.
A 1.6km restorative trail, for example, will link residents to Ulu Pandan Park Connector.
The therapeutic trail will have a therapeutic garden where residents can garden or enjoy nature. The trail was also designed to allow users, particularly those with dementia and their caregivers, to navigate easily and safely.
Other green features include a terraced rain garden, which will mitigate the level difference between Commonwealth Avenue West and Ulu Pandan estate.
The estate will also have a 1.2ha park that will be connected to HDB blocks. The park, which also features a walking trail, will retain most of its original flora and fauna, with enhancements to an existing natural stream that connects Commonwealth Ave West and Ulu Pandan Canal.
HDB is also working with the Public Utilities Board and the National Parks Board to establish a green corridor which will facilitate wildlife movement along Sungei Ulu Pandan.
CONNECTIVITY
As Singapore's first car-lite HDB precinct, Ulu Pandan will have roads at the perimeter of the precinct, segregated from the main pedestrian walkway. This will let residents move about safely on foot.
There will also be a network of walking and cycling paths for access to the neighbourhood centre and key amenities in Ghim Moh via the Park Connector Network.
The first project at Ulu Pandan will be located close to Dover MRT, which will have a commercial node nearby that can provide amenities such as shops, supermarkets, and eateries for residents.
A fitness trail will connect the terraced rain garden, roof gardens and fitness stations. Apart from that, there will be a 600m jogging track connecting three housing blocks via sky bridges on the 34th storey. CNA