Five shortlisted designs for Founders' Memorial open for public voting
SINGAPORE — Members of the public will get a say in what the upcoming Founders' Memorial will look like, with the chance to vote for one of the five shortlisted designs.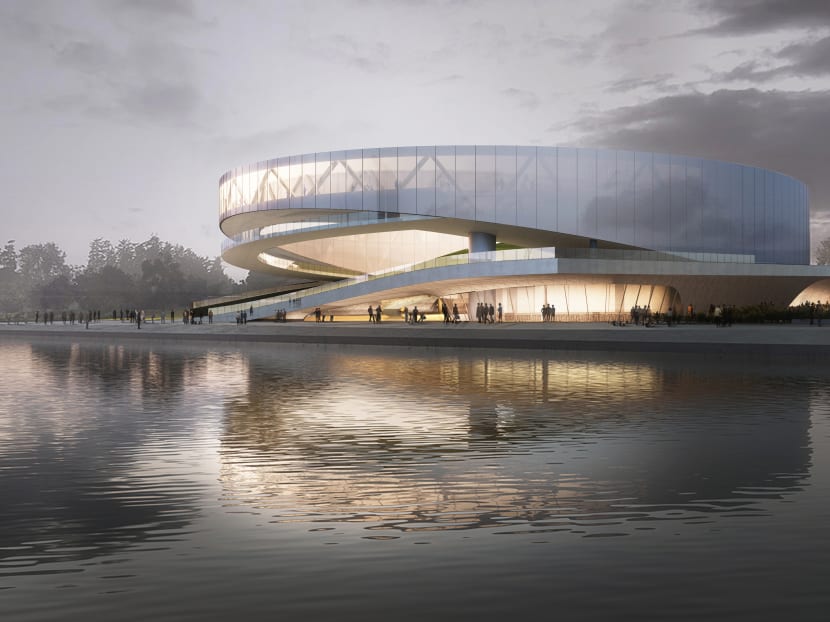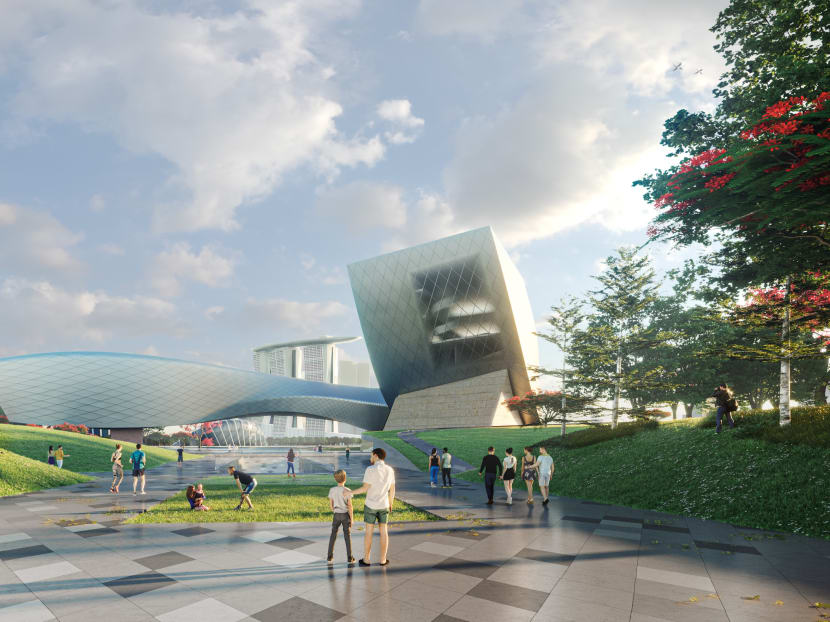 SINGAPORE — Members of the public will get a say in what the upcoming Founders' Memorial will look like, with the chance to vote for one of the five shortlisted designs.
The five designs may be viewed online at www.foundersmemorial.sg or at one of the six stops of a travelling exhibition: IMM, Kampung Admiralty, National Museum of Singapore, Toa Payoh HDB Hub Mall, Waterway Point and Our Tampines Hub.
Voting starts from Nov 1 till Dec 31 and all feedback will be collated and provided to a seven-member jury, which will consider public voting as one of its evaluation criteria when selecting the winning design.
The judges will also look at functionality and technical feasibility of the schemes.
The winning design will be announced in the first quarter of next year. 
Chairman of the Founders' Memorial Committee, Mr Lee Tzu Yang, said: "Singaporeans have contributed their views on the development of the Founders' Memorial at key junctures, since it was first proposed in 2015. We have heard from Singaporeans at different stages, from the Memorial's objectives and concept, to its physical features and location."
Located at Bay East Garden, the Founders' Memorial is envisioned to be an integrated building and garden experience, with exhibition galleries, landscaped spaces and art installations.
The Memorial will feature stories on values exemplified by Singapore's first Prime Minister, the late Mr Lee Kuan Yew, Singapore's first generation of leaders and other personalities who have played important roles in the nation's early years.
The Memorial's vision and concept were distilled following phases of engagement with members of the public who said that they hoped for the final product to be something that is unique to Singapore, a landmark that shares the values that built the nation and inspires future generations.
A two-stage international architectural design competition was launched at the start of this year to gather ideas for the landmark.
The competition drew 193 submissions from both local and international firms.
Here are the five shortlisted designs:
8DGE and RSP Architects
Ms Tan Ming Yin, the 8DGE's founder and design principal, said that the memorial is more than about remembering the past.
"It is also about hope and a reflection of our founders' values. 8DGE designed for a journey that not only looks inwards — a contemplative space where we ponder our beginnings — but also outwards, where we set our sights upon the future," she said.
Cox Architecture and Architects61
Mr Phillip Cox, founder of Cox Architecture, wanted the design to symbolise Singapore bridging the past and future over water and land within a park environment.
He said: "It incorporates Singapore's history of development through a series of spaces climaxing with stunning views of Singapore today. The building is timeless in its expression, a shape that is elegant, enticing and evocative of its content."
DP Architects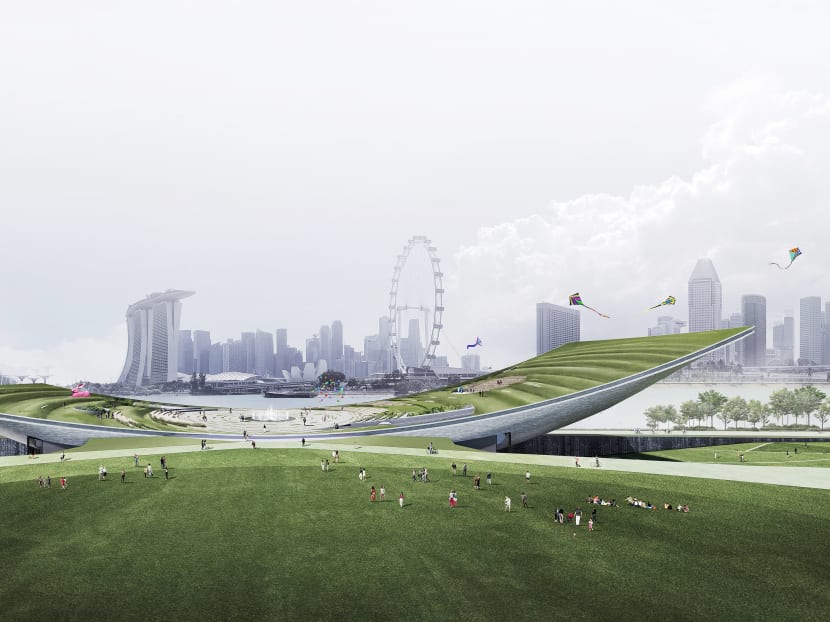 The chief executive officer of DP Architects, Ms Angelene Chan, said that the design they put forth is meant to symbolise the human hand.
She said: "The human hand is a compelling symbol, universally resonating with strength, guidance, hard work and honesty — these are the hands of our founders, and formed the starting point of our design.
"Like a cradle of cupped hands, it presents the gift of our nation to a future generation."
Johnson Pilton Walker and RDC Architects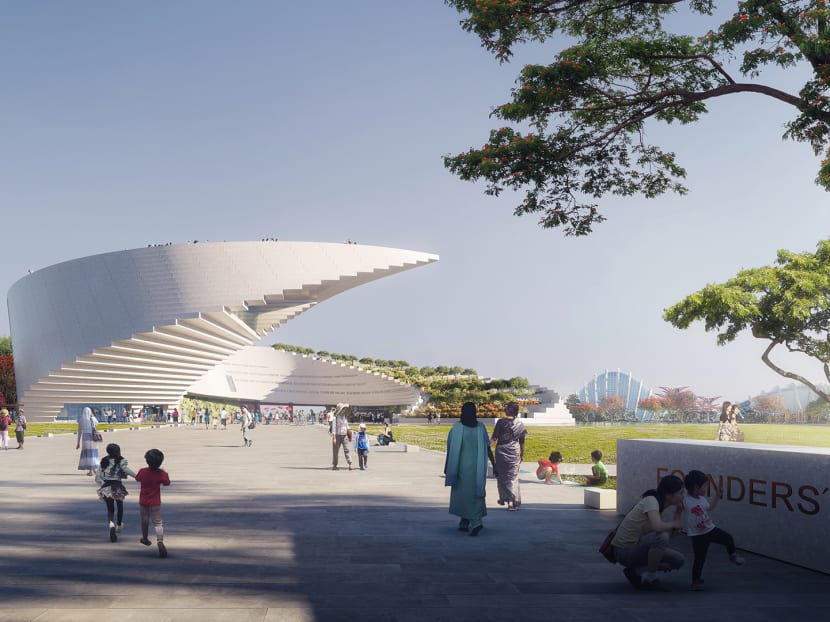 Mr Brendan Murray, the senior associate at Johnson Pilton Walker, said that their design draws people together to a central focal point to meet each other and "be reminded of the values that unite them".
"We were inspired by the idea that people from different cultures can come together and live in harmony: Singapore has this remarkable story to tell," he said. 
Kengo Kuma and Associates, and K2LD Architects
Mr Kengo Kuma, the principal at Kengo Kuma and Associates, said that the team envisioned a place for people to gather close to nature.
"A network of meandering paths and canopies reaches out from the garden, drawing visitors inward; offering glimpses of the memorial, and finally revealing the city skyline beyond."