Focus of ICT use in schools should be on meaningful learning: Educators
SINGAPORE — The proliferation of social media and technology has transformed the way educators teach: Mobile phones and tablets, once banned in some classrooms, are now an integral part of students' learning.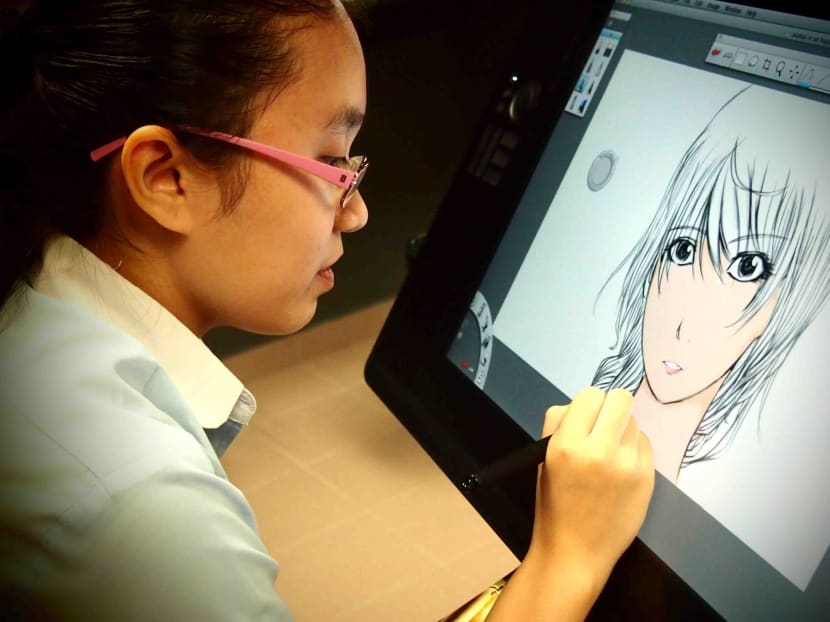 SINGAPORE — The proliferation of social media and technology has transformed the way educators teach: Mobile phones and tablets, once banned in some classrooms, are now an integral part of students' learning.
Equipped with the latest apps and websites, teachers are increasingly using information and communication technology (ICT) to deepen students' learning and keep them actively engaged during lessons.
For example, Primary Three and Four students in Nan Chiau Primary use Nokia smartphones and Microsoft Windows 8 tablets in class to access the school's Science Seamless Learning project to continue learning even after lessons end.
Ngee Ann Secondary is experimenting with 3D printing technology in Design & Technology (D&T) classes. Its teachers also use Facebook to generate ideas in class, an iPad app to produce digital music for music lessons and rendering software for digital art classes.
But scratch beneath the surface and one will realise that the rate of adoption of ICT is uneven across the schools here. For instance, at a small number of schools that are more advanced in the use of high-tech educational tools, students have personal learning devices. In contrast, students in other schools still rely on shared facilities such as computer labs for ICT-based lessons.
Since 1997, the Ministry of Education (MOE) has drawn up five-year national blueprints for the use of ICT in the classroom. The first two master-plans put in place the foundation for schools to integrate technology into the curriculum.
Between 2009 and this year, MOE is implementing its third masterplan, which seeks to translate familiarity with ICT into effective teaching. The ministry is expected to unveil its fourth ICT masterplan later this year.
A SLOW START
At the forefront of piloting ICT programmes in education are the FutureSchools — a collaboration between MOE and Infocomm Development Authority (IDA). These schools are intended to serve as possible models for seamless and pervasive integration of ICT into schools across Singapore.
Spread over four years, between 2008 and 2012, S$80 million — contributed by the IDA, the National Research Foundation and industry players — was invested into the first five FutureSchools.
When the MOE launched the initiative in 2007 with the five FutureSchools, it said the plan was to have up to 15 such schools by 2015. With less than a year to go before the deadline, there are currently only eight FutureSchools — Nan Chiau Primary, Ngee Ann Secondary, Crescent Girls' School, Beacon Primary, Canberra Primary, Hwa Chong Institute, Jurong Secondary and the School of Science and Technology.
Professor David Hung, associate dean of the Office of Education Research at the National Institute of Education, said: "The end of the FutureSchool is not itself. The end of the FutureSchool is to make sure learning goes out. We have a team here that studies the different models of innovation diffusion, and the pros and cons of each approach."
In the early years of implementation, industry players had noted that non-FutureSchools were yet to even catch up to the basic level of technology. They said some schools had frowned upon the use of social media, adding that schools were not taking a holistic approach, with some simply setting up a lab.
THE CHALLENGES
Fast forward to today: The situation has noticeably improved and mindsets are changing — albeit at a gradual pace. Educators whom TODAY spoke to reiterated that the focus should be on deeper learning and student engagement, rather than the pace of ICT adoption among schools. Ms Pamela Seet, senior teacher for Technology in Learning at Pei Hwa Secondary, said: "We don't want to use ICT just for the sake of using it. We want to make sure that students learn from it." She added that it takes time to develop successful ICT-based lesson plans as they are constantly tweaked and improved on through sharing sessions.
At Nan Chiau Primary, the school tested and made improvements to its Science Seamless Learning project over five years before it introduced the programme in January this year to five other primary schools. Ngee Ann Secondary has also entered into partnerships with two other primary schools to share projects they developed for mathematics and art.
Echoing MOE's stand, principals and teachers said they prioritised effective and meaningful use of ICT in schools over uniform implementation.
Mr Albert Lim, principal of Ngee Ann Secondary, noted the challenges of scaling projects across schools and even within schools themselves. Pointing out that there is no one-size-fits-all solution, he said: "You need to be aware of the profile of your learners ... You also need to consider teacher readiness and the level of support available. If pace and speed of adoption are something we're concerned with, we may be chasing the wrong outcome or objective."
Crescent Girls' School principal Tan Chen Kee reiterated: "Student centricity really has to be the core business of the school. It cannot be technology-driven because that's not sustainable."
The educators noted that teachers play a vital role in the adoption of ICT in the classrooms. Ms Seet said: "Once we were able to show the teachers that ICT can benefit the students and benefit them, then they were convinced to start trying step by step."
Still, Mr Lee Boon Keng, chief technology architect of Crescent Girls', noted that it is a constant challenge for teachers to find time to undergo training, given their heavy workload.
Ms Seet said her principal's approach of holding mentoring sessions within the school timetable made it easier for the teachers. "In a way, it's not really about finding extra time because the time is provided for us."
THE WAY TO GO
Responding to TODAY's queries, an MOE spokesperson said all schools have ICT plans for teaching and learning, and teachers and students across the schools have core ICT skills. She added that currently, ICT is frequently used for learning and teaching. Schools are also given the autonomy to experiment with ICT innovative practices that best meet the needs of their students, she said.
The spokesperson reiterated that the MOE's focus is on "providing appropriate support for schools in the meaningful and effective use of ICT for teaching and learning, working towards ICT integration at a pace and rate that would benefit and be sustainable for schools".
Singapore is not alone in jumping on the technology bandwagon, with other countries also devoting time and resources to incorporate the use of ICT in schools. Global studies have shown that technology can lead to positive educational outcomes, provided it is anchored in educational objectives and sustained by teachers' training and professional development. Researchers also found that technology has a positive effect not only on students' academic performance, but their attitudes towards learning as well.
Nevertheless, the increasing presence of technology in the classroom has raised concerns about cyber wellness and the responsible use of technology, which schools attempt to address early by inculcating values of self-discipline and appropriate use of technology.
Educational reform expert Michael Fullan, who has worked with schools in the United States, United Kingdom, Canada and Australia, is convinced that schools have to ride the technological wave and reap the benefits.
Speaking to TODAY at an event hosted by Nan Chiau Primary last month, Professor Fullan said: "We're going from a classroom that's pretty dull to one where there is great engagement and new learning."
The Professor Emeritus at the University of Toronto's Ontario Institute for Studies in Education added: "Technology is one of those factors that, if we get it right, will accelerate learning. Kids have it all the time anyway, so why not take advantage of it."
With the MOE set to unveil its next masterplan, Mr Lim said he hopes that under the blueprint, more students can become "content creators", instead of being only consumers. Ms Seet suggested that the blueprint focus on enhancing teachers' ICT competencies.
"By continuing to spearhead a collaborative and continuous learning culture in all schools, we will be able to move together to the next stage of ICT integration," she said.