Explainer: What Breadtalk's planned buy-out of Food Junction means for meal prices, variety and food court industry
SINGAPORE — Meal offerings at food courts are likely to be less varied with the planned acquisition of food-court operator Food Junction Management by rival BreadTalk, analysts have said.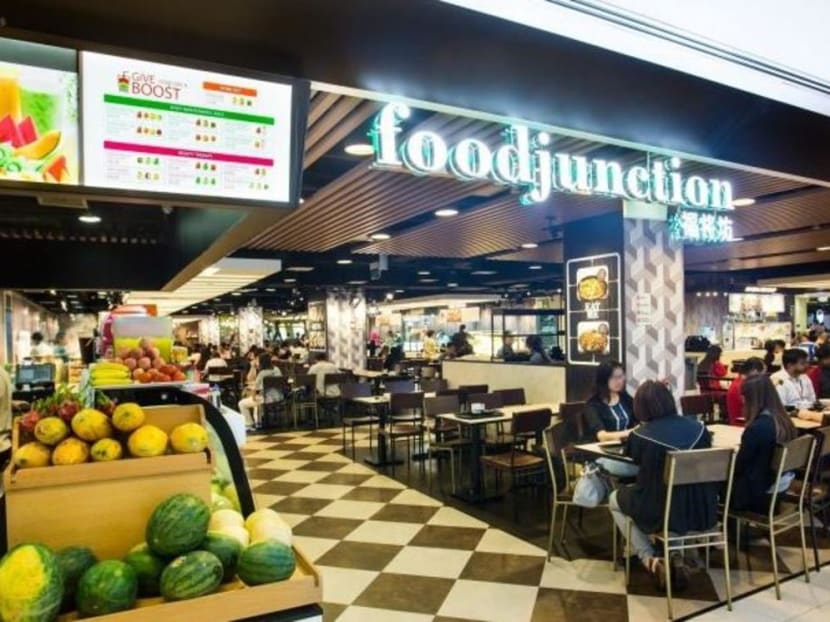 SINGAPORE — Meal offerings at food courts are likely to be less varied with the planned acquisition of food-court operator Food Junction Management by rival BreadTalk, analysts have said. 
However, most of the analaysts interviewed by TODAY expect meal prices to stay the same despite fewer operators controlling a larger share of the industry. That is because food courts are competing not just among themselves but also with a range of other food establishments.
Other analysts think meal prices may go up — but only by 10 per cent or so.
Earlier this week, food and beverage (F&B) group BreadTalk announced that it was planning to acquire Food Junction through a subsdiary for S$80 million. The deal is subject to shareholder approval, among other conditions.
Once completed, the buyout would propel BreadTalk's to be Singapore's third largest food-court operator, with 12 more Food Junction outlets coming under its belt, in addition to the 14 food courts it already operates under the Food Republic and Food Opera brands.
NTUC Enterprise is the biggest player after it completed its acquisition of Kopitiam at the end of last year, and now runs 52 Kopitiam outlets and 11 Foodfare outlets. Koufu is the second biggest operator with a chain of 47 food courts.
Analysts agreed that the industry is in the midst of consolidation, with these three players dominating the market.
Mr Puar Leong Sing, manager of Nanyang Polytechnic's School of Business Management, said that the number of players in the industry has dropped from between six and eight previously to between four and six.
"With this acquisition, there is more concentration of market share among operators. The new players may find it harder to come in as it is now dominated by a few bigger establishments," he said.
The analysts believe that larger players are buying smaller operators in their bid to achieve critical mass, strengthen their competitiveness and eventually to scale up their business.
COST SAVINGS, PRICES OF MEALS
Despite the consolidation, some analysts believe that consumers are not likely to be hit with price increases.
While a diminishing number of choices would usually lead to higher prices for consumers, Associate Professor Lawrence Loh from the National University of Singapore Business School said that more efficient operations from larger food operators can lead to cost savings and there is no need for operators to raise prices to maintain profit margin.
Analysts said that larger companies are usually able to achieve cost savings by lumping certain operations together, and making larger bulk purchases, for example, a phenomenon economists term as "economies of scale".
Mr Lucas Tok, marketing lecturer at Singapore Polytechnic, said that the locations of the differently operated food courts and their proximity to each other is also an important factor in pricing. 
Food courts in saturated areas such as the Central Business District would see more competition.
"If you put a Koufu next to a Kopitiam, Koufu is going to treat it like a competitor. I want people to come to me, I want to bring prices down and do a bit of psychological pricing," Mr Tok added.
DBS bank's research analyst Alfie Yeo believes that meal prices would not be a cause for concern for consumers as a result of the consolidation.
"NTUC Foodfare is a social enterprise that will somewhat help to moderate cost of living by setting stalls' rental rates at its food courts. In that sense, with it as the largest player, consumers should generally benefit in terms of affordable meals in food courts," he added.
However, some analysts believe that consumers may face higher prices with the consolidation.
Mr Samuel Tan, Temasek Polytechnic's course chair of retail management, said that price control would "definitely" be advantageous to larger operators in the future.
"Hopefully, food-court operators can share with consumers the benefits of operating with economies of scale," he added.
Even if there is an increase in prices at food courts, Mr Puar said that it would not be much, estimating that any increase would not go above 10 per cent.
That's because competition is still keen in the F&B sector as consumers still have their choice of heading to coffee shops, hawker centres and other food establishments.
The consolidation, though, would pose a problem for food tenants, said Mr Tan as they would be "confronted with less bargaining power as the market is shared by a small group".
VARIETY OF OFFERINGS
Analysts generally believe that the consolidation will mean less variety of offerings at food courts.
It is usually more "convenient" to replicate the same model at every outlet rather than coming up with a new model, said Mr Puar.
The onus is on the operators to reinvent the wheel, said Mr Tok, in terms of coming up with a unique selling point to market themselves.
If they are willing to do that, consumers could get more varied choices and better offerings. However, that depends on the willingness of the food operators to try something new, he said.
But even if one operator decides to reinvent itself, Mr Puar from Nayang Polytechnic noted that it is easy for competitors to copy its strategy. "Usually after a while, they end up with the same offering." 
Mr Tok from Singapore Polytechnic said that this is because with few players, it is easier for operators to analyse their competitor's strategy and the data would be more succinct.
Taking the experience of NTUC Enterprise's buyout of Kopitiam, Mr Yeo from DBS said that NTUC has kept the Kopitiam brand and the use of its loyalty card as well.
"Acquirers will be careful not to make wholesale changes that will potentially disrupt the acquired company's normal course of business," he said.