Forced to down tools by Covid-19, most foreign workers worry about getting paid: Survey
SINGAPORE — As the Covid-19 outbreak put them out of activity, significant proportions of foreign workers in Singapore feel depressed and doubt that they would get paid since they are not working. Yet, they are afraid of speaking up about the challenges they face.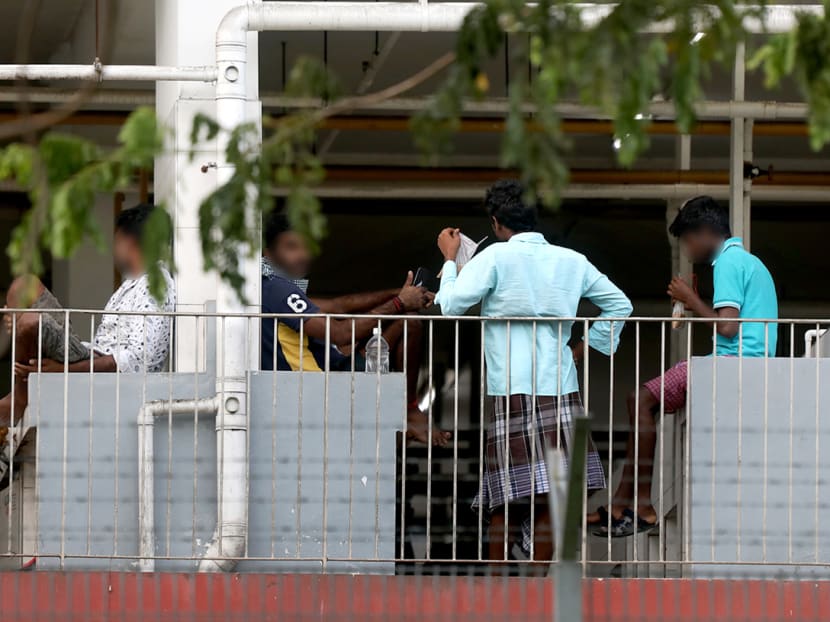 SINGAPORE — As the Covid-19 outbreak put them out of activity, significant proportions of foreign workers in Singapore feel depressed and doubt that they would get paid since they are not working. Yet, they are afraid of speaking up about the challenges they face.
This is what a survey of 101 migrant workers from Bangladesh and India here has found.
Almost eight in 10 workers also find it a challenge to maintain a 1m distance from others due to "cramped conditions" at their dormitories, the survey found.
Professor Mohan Dutta, who was formerly head of the National University of Singapore's department of communications and new media, conducted the survey through phone interviews with the workers between April 9 and 20.
Prof Dutta, now the dean's chair in communication at Massey University in New Zealand, had recruited the survey participants through a link that was circulated among foreign workers.
The findings were presented in a white paper titled "Structural constraints, voice infrastructures, and mental health among low-wage migrant workers in Singapore: Solutions for addressing Covid-19".
It was jointly released on Thursday by Massey University's Center for Culture-Centred Approach to Research and Evaluation and Singapore migrant workers' rights group Humanitarian Organisation for Migration Economics.
Although the findings are based on a relatively small sample size, Prof Dutta told TODAY that it is "fairly typical" in the midst of a disease outbreak to report on the basis of observational data drawn from small samples.
"The emphasis is on developing a descriptive account within a strong health context," he added.
DEPRESSED AND WORRIED ABOUT WAGES
As the number of infections in dormitory clusters grows, the Government has assured foreign workers who are now serving a 14-day confinement at their dormitories that their salaries will be paid and their food and medical needs will be attended to.
Home Affairs Minister K Shanmugam reiterated this on Thursday, during a visit to a dormitory where a worker died.
"The Government will ensure that your salary is paid and that you will receive regular and timely meals. There are also medical facilities to care for you. No one needs to worry," he said.
In the survey though, 53.5 per cent of the workers interviewed strongly disagreed with the statement, "I am confident that I will get my salary although I have not been working because of Covid-19".
Those who disagreed and somewhat disagreed with the statement are also a sizable group, making up about one-third of those surveyed. Four per cent can neither agree nor disagree. One in 10 workers somewhat agreed with the statement, while 1 per cent each agreed and strongly agreed.
When asked if they feel sad or depressed, about the same results showed up, with seven in 10 of the respondents strongly agreeing, agreeing or somewhat agreeing with the notions.
Despite these concerns, 66 per cent of the workers indicated that they either are not really sure of or do not know how to approach the Ministry of Manpower (MOM) to address the challenges they face.
About the same proportion of them (70 per cent) indicated that they do not know or are unsure of who to talk to if they face difficulties.
Close to 63 per cent of them strongly agreed or agreed with the statement: "I feel scared to bring up any issues I am experiencing."
NOT ENOUGH SOAP AND WATER TO WASH HANDS
Apart from cramped conditions in the rooms, the workers also pointed to issues with toilets because more workers are now staying in their rooms all day long.
A 55.6 per cent majority of the respondents agreed or strongly agreed with the statement that their toilet is dirty, while 41 per cent agreed or strongly agreed that they don't have adequate supply of soap and hand sanitiser to wash or clean their hands.
Asked if they have enough water to wash their hands, slightly more than half (54 per cent) of the participants disagreed or strongly disagreed.
However, nine in 10 of them indicated an awareness of the preventive steps to be followed to stop the spread of Covid-19.
Close to 88 per cent said that they are avoiding or somewhat avoiding interactions with other migrant workers outside of their dormitories during this period, while 84.9 per cent said that they are avoiding inter-mingling with other residents between blocks or floors within the dormitory.
WHAT CAN CHANGE
These findings came after Prof Dutta published a white paper on April 13 that drew on in-depth interviews with 45 workers, who highlighted issues with overcrowding and a lack of toilet facilities.
He noted that a large number of those interviewed stated that it is common to find 15 to 20 workers sharing a room in a dormitory. For a block of five rooms, there would be five toilets and five shower spaces.
"These infrastructures are not adequate as there are often long queues and the facilities remain unclean," Prof Dutta wrote.
All in all, the responses do point to the existence of "unhealthy structures" which "most likely" contributed to the further spread of Covid-19 in the foreign worker community, Prof Dutta said.
"The power held by the employers and dormitory owners, accompanied by the absence of transparent and safe infrastructures for raising complaints translates into unhealthy structures remaining intact," he wrote in the white paper.
Some of Prof Dutta's suggestions for the short term include:
Reducing overcrowding by limiting the number of workers to three to four in each room

Limiting the numbers to three to four workers for each toilet and shower facility

Ensuring workers who raise concerns are protected

Ensuring workers are able to communicate with their families

Transfering salaries directly to their bank accounts
Over the long term, he suggested empowering workers by:
Legalising a framework for worker-led and worker-owned unions and groups that represent the needs of low-wage migrant workers

Conducting a review of all laws pertaining to the employment, well-being and living conditions of migrant workers, and ensuring that they conform to international standards
TODAY has reached out to MOM for comment.