Foreign workers from cleared dorms to be allowed to go out for personal errands
SINGAPORE — Foreign workers residing in dormitories cleared of Covid-19 will soon be allowed to leave the dorms for personal errands on their rest days.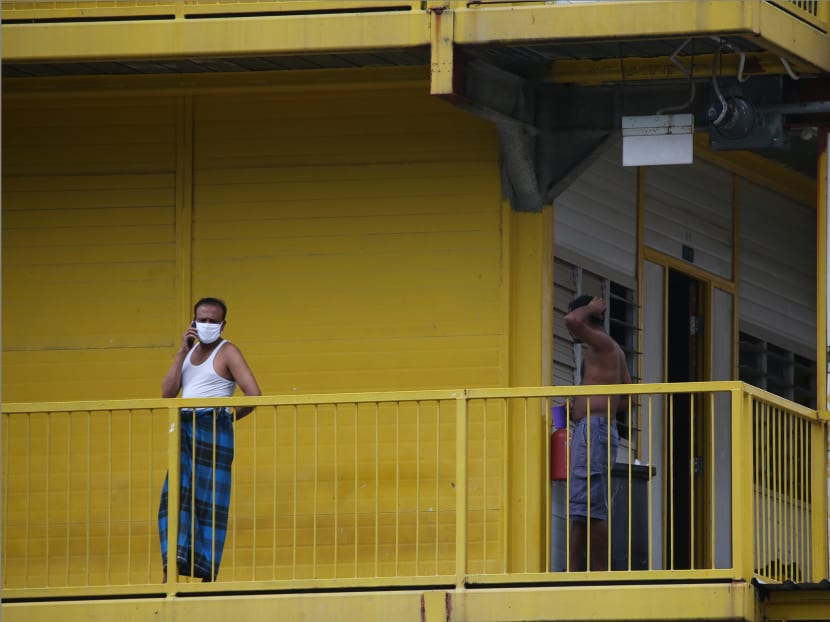 Workers will have to apply via the SGWorkPass mobile app for a timeslot to leave their dorms
The trial will progressively be extended to all cleared dorms by October
Work permit and S Pass holders in construction will be subject to staggered rest days from next Wednesday
SINGAPORE — Foreign workers residing in dormitories cleared of Covid-19 will soon be allowed to leave the dorms for personal errands on their rest days.
In a joint statement with industry associations and non-governmental organisations, the Ministry of Manpower (MOM) said on Wednesday (Aug 12) that it is starting small-scale trials this month for residents in selected cleared dormitories to visit recreation centres on their rest days, so that they may run personal errands such as buying groceries, Sim cards and remitting money.
Participating dormitories will be announced later. 
The move is part of the ministry's eventual goal to allow workers residing in cleared dormitories to enjoy their rest days without movement restrictions.
Right now, workers in cleared dormitories are allowed to leave their dormitories only to run essential errands, such as collecting their passports or attending medical appointments.
The latest announcement comes after Mr Lawrence Wong, who co-chairs the ministerial task force tackling Covid-19 and is also Education Minister, said at a press conference last Thursday that the authorities will look at expanding the provision for workers to head out, either to recreational centres or the community at large, on their rest days.
The mental health of foreign workers residing in these coronavirus-hit dormitories has come to the fore after a recent spate of suicides and attempted suicides at these dormitories.
Acknowledging the issue, Associate Professor Kenneth Mak, director of medical services at the Ministry of Health, said at the same press conference that the task force is committed to supporting the mental health needs of foreign workers, even after the Covid-19 outbreak is under control in dormitories.
In its statement on Wednesday, MOM acknowledged the importance of social activities to foreign workers.
"MOM recognises that such social activity is important for the mental well-being of the residents. The eventual goal is to allow residents from cleared dorms to enjoy their rest days without movement restrictions," it said.
It added that it will move towards this goal in a "measured way" to ensure the safety and health of dormitory residents and the broader community.
HOW THE TRIAL WORKS
Residents in selected dormitories will need to apply for a "dormitory exit pass" through their SGWorkPass mobile application, which will provide them with a specific exit timeslot. There will be several slots spread out across each day.
They must also meet the following criteria to be granted an exit pass:
Recovered from Covid-19 or received a negative swab test result within two weeks prior to the exit date

Not be on quarantine order or stay-home notice

Installed and registered the TraceTogether app on their mobile phones

Chosen an exit pass timeslot with available vacancies
The ministry aims to allow all dormitory residents to apply for exit passes to visit recreation centres by October.
It added that details of the eventual exit pass arrangements will be announced later.
STAGGERED REST DAYS FOR WORK PERMIT AND S PASS HOLDERS
Work permit and S Pass holders in the construction industry will also be subject to staggered rest days from next Wednesday, the Building and Construction Authority (BCA) and MOM said in a separate circular on Wednesday.
The staggered rest days will help spread out the number of workers at any particular location on any given day. This will prevent large gatherings and reduce the risk of cross-infection, said the circular.
BCA will begin notifying projects and firms of their rest days from next Wednesday. Companies will have a one-month grace period to roll out the new rest days.
NGOs URGE FURTHER EASING OF RESTRICTIONS 
Non-governmental organisations (NGOs) that look after the welfare of migrant workers are urging the authorities to ease the restrictions further. 
Mr Alex Au, vice-president of migrant workers' rights group Transient Workers Count Too (TWC2), called on MOM to allow workers to leave their dormitories for at least half a day.
Mr Au, who was briefed by MOM on the move, said he was told that workers in dormitories will have two hours at the recreation centres. This includes the time that they take to commute to and from the dorms.
Mr Au said that workers should also be allowed to go wherever they choose on their days off, rather than be restricted to visiting recreation centres. 
"In our view, recreation centres are so poorly equipped that workers will not be able to do much. These centres usually have a few convenience stores, some telephone shops and basketball courts," said Mr Au.
Mr Au said he was also told by MOM that employers would have to provide workers with transport to the recreation centres. He said this was unfair to the workers, since their welfare would hinge on the goodwill of employers.
In an emailed response to TODAY on Aug 19, MOM said that it had told TWC2 last month that it would be testing the arrangement of having dormitory operators provide workers with transport to the recreation centres. 
Employers may also allow workers to travel to these centres on company vehicles. Workers living near these centres may also cycle or walk there.
The ministry added that it would "take time and considerable adjustments" before all residents from cleared dormitories can go about their rest days without movement restrictions.
Meanwhile, Ms Dipa Swaminathan, founder of migrant workers' group ItsRainingRaincoats, said the move to allow workers to leave their dorms was a step in the right direction that will improve their mental health. 
But she hopes more restrictions would be lifted. 
"Our hope is that even if they move around for limited hours and (with) conditions, they will realise that progressively, it will get better for them," she said. 
In its statement, MOM said that it welcomes efforts from the community and NGOs to expand programmes and initiatives in dormitories, so that there are more options for residents on their rest days.
Ms Dipa declined to reveal programmes that her group has proposed because these are still being considered by MOM. Mr Au said he looks forward to TWC2 being allowed into dormitories to conduct activities.  
Migrant workers interviewed by TODAY welcomed the reduced restrictions on their movement.
Mr Selvaraj, 35, a resident of Tuas View Dormitory who declined to give his full name for fear of getting into trouble with the dorm, said that some workers have not gone beyond the confines of their dormitories for more than four months. 
Being allowed to go out on their rest days will reduce some of their stress, he said. 
While restrictions remain on the movement of workers, he said he understood the need to lift restrictions progressively to control the spread of the coronavirus.
Another worker, Mr Jayasankar Vinothkumar, 35, said that the move would allow workers to top up the credit in their Sim cards and buy groceries that are not readily available in shops near their dormitories.