Former SCDF NSF seeking probation for sharing photos of fatal SAF training incident
SINGAPORE — A full-time national serviceman (NSF) who received photographs of a fatal training incident on WhatsApp wanted his fellow NSFs to see what had happened, so he forwarded four of the images to them.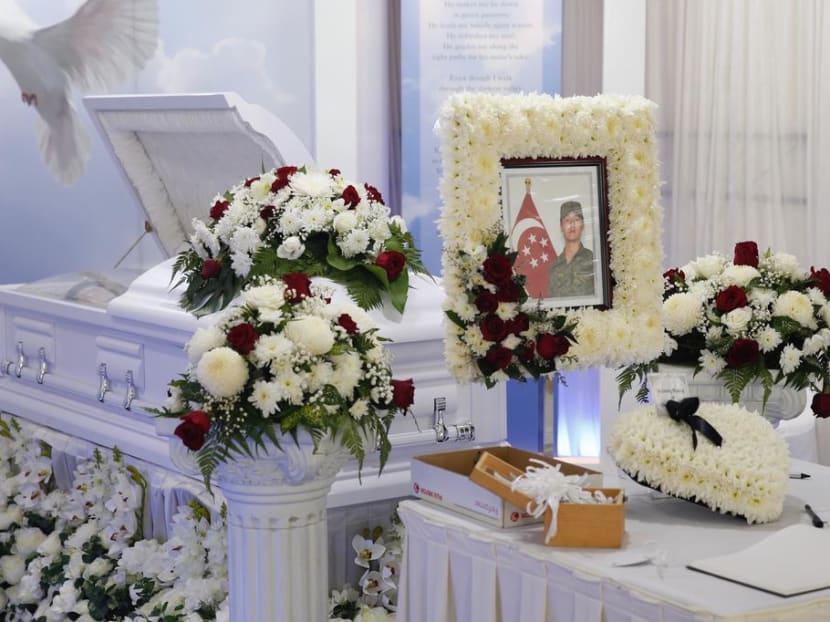 SINGAPORE — A full-time national serviceman (NSF) who received photographs of a fatal training incident on WhatsApp wanted his fellow NSFs to see what had happened, so he forwarded four of the images to them.
One of them showed the back view of a Bionic armoured vehicle, which had reversed into and mounted a Land Rover that Corporal First Class Liu Kai was driving.
Liu, 22, was killed that day — Nov 3, 2018 — in a field training exercise along Jalan Murai near Lim Chu Kang. He was a transport operator from Transport Hub West of the Singapore Armed Forces (SAF).
On Monday (Feb 24), Thng, 21, pleaded guilty to wrongful communication of information under the Official Secrets Act.
Then an NSF holding the rank of First Sergeant in the Singapore Civil Defence Force (SCDF), he is now studying in the National University of Singapore (NUS).
He was the last of five SCDF NSFs — all of them attached to the Jurong Fire Station — to be prosecuted for sending and sharing the photographs. The other four have each been fined between S$1,500 and S$3,000.
Aside from them, an SAF officer is claiming trial to his charge of causing Liu's death by a rash act. Captain Ong Lin Jie, 28, was the vehicle commander of the Land Rover.
He allegedly failed to keep a safe distance of 30m between the two vehicles, causing the Bionix to reverse and mount the driver's side of the Land Rover. He has been suspended from service pending the outcome of the court proceedings.
PARENTS WANT HIM TO GET SCHOLARSHIP
The prosecution is seeking a similar fine of S$1,500 for Thng, but his lawyer Simon Tan asked the court to call for a report to assess if he is suitable for probation.
Probation is usually offered to first-time offenders between 16 and 21 years old. This does not result in a recorded criminal conviction, and allows young offenders to continue with their education or employment while serving their sentences.
Mr Tan argued that his parents are ready to support Thng and are now "financially strapped". "In light of his young age and the bright future he has, we plead for leniency… We want him to apply for and obtain a scholarship from NUS. We fear a criminal conviction will adversely affect his chances," they wrote in a letter to the court.
Thng has matured since the incident and is truly remorseful for his actions, his parents said.
Mr Tan told District Judge Christopher Goh that Thng forwarded the photos to his close friends "on the spur of the moment" to remind them to avoid such training incidents.
Thng wrote to the court: "I was shocked and traumatised as it was such a gruesome scene… I realised I made a very bad error of judgement and I'm truly regretful of the trouble I caused. I take full responsibility for my actions and learnt from my mistakes."
However, the prosecution said that probation was not suitable, because there was "nothing exceptional" about the case to warrant it. Thng will be sentenced on March 3.
ABOUT THE CASE
The court heard that Thng and two other NSFs — Mohamad Haikal Mohd Zainal Abiddin and Muhammad Arif Azman — were part of an SCDF team who arrived at the accident scene.
Haikal forwarded the five photographs he took to a WhatsApp group comprising 24 present and former SCDF personnel attached to Jurong Fire Station.
He also sent the same photographs to a friend who was serving his National Service with SAF at Keat Hong camp. None of the pictures had Liu in them.
Thng did not take any photos but received them from the WhatsApp group. He forwarded four of them to another WhatsApp group he shared with five other friends, who were fellow NSFs from other camps.
Captain Dinesh K Verlachamy, commander of the Jurong Fire Station, was told that the photographs of the accident were circulating on WhatsApp. He immediately ordered everyone to gather at the fire station for investigations, to interview them and find out who had leaked the images.
Haikal and Arif were then identified as the ones who had taken and circulated the photos.
Captain Dinesh filed a police report the day after the fatal incident, reporting a breach of the Official Secrets Act by several of his subordinates at the fire station.