Four funeral parlour sites to be launched amid rising demand
SINGAPORE — Four new sites in Ang Mo Kio, Bukit Batok, Mandai and Woodlands — situated away from residential areas — will be parcelled out over the next decade or so for funeral parlours. This is to meet the expected rise in demand for such spaces with a greying population here.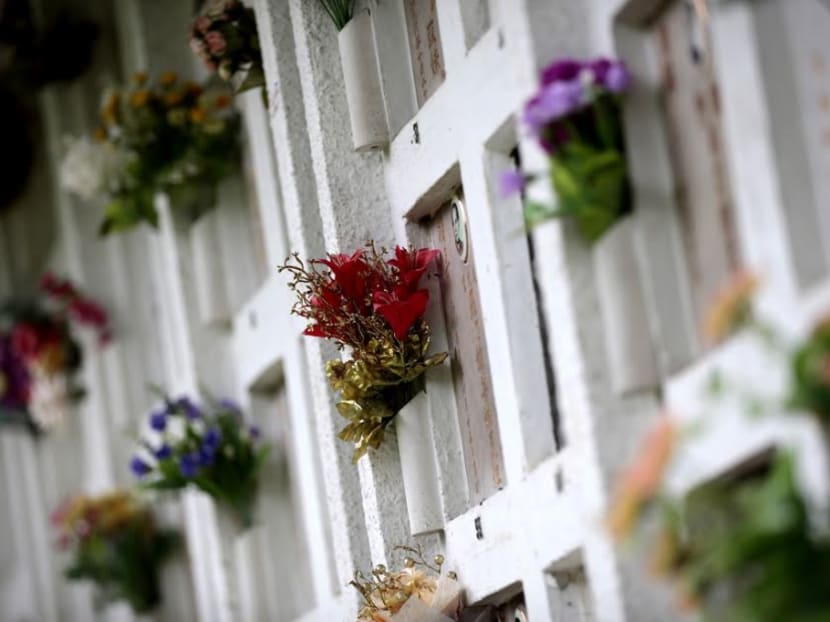 SINGAPORE — Four new sites in Ang Mo Kio, Bukit Batok, Mandai and Woodlands — situated away from residential areas — will be parcelled out over the next decade or so for funeral parlours. This is to meet the expected rise in demand for such spaces with a greying population here.
The National Environment Agency (NEA) announced on Tuesday (Jan 8) that the four sites will be at:
Ang Mo Kio Street 63, near a bus depot

The industrial area along Bukit Batok Street 23

Mandai Road, near the Mandai Crematorium and Columbarium

Woodlands Industrial Park E8
The sites were identified in a process involving various agencies, and are in different parts of the island to better distribute funeral parlours for bereaved families and their visitors, the NEA said.
The yearly demand for funeral-wake spaces is expected to increase in step with the rising number of resident deaths. By 2040, this number is expected to be about 40,000.
Total deaths in Singapore have been climbing. Figures from the Department of Statistics showed that there were 20,905 deaths in 2017, up from 17,140 a decade earlier.
Most funeral wakes today are held in the void decks of public housing flats and multi-purpose pavilions, but there is rising demand for wakes at funeral parlours, the NEA noted.
Right now, funeral parlours are in various parts of the island, such as Sin Ming, Lavender, Old Chua Chu Kang Road and Geylang Bahru.
The NEA said that the Government needs to plan ahead for after-death facilities, which are an "important public infrastructure that accords dignity to the deceased as well as comfort to bereaved families, in accordance with religious and cultural practices and preferences".
"The NEA will continue to work with land-use planners to meet the long-term demand for funeral spaces and ensure that they are ready ahead of demand," it added.
As for future funeral-parlour complexes, they will be designed and operated "sensitively" to minimise the impact on stakeholders near them, the agency said.
These could include providing barriers to keep funeral activities discreet, confining rituals and processions to the sites where possible, and ensuring a manageable traffic situation and adequate parking facilities at the complexes and the surrounding areas.
The NEA will engage the neighbouring stakeholders at the four sites identified to gather feedback, and include relevant suggestions into the development plans.
The agency acknowledged that because Singapore is small and densely populated, there will invariably be competing needs for space to meet various development needs.
While these developments may require Singaporeans to make some adjustments, government agencies will "make the best effort to minimise any inconveniences and disamenities arising from these developments as much as possible" through advance notice, careful planning and mitigating measures, it said.
CURBING PUBLIC FALLOUT
Property analysts interviewed said that locating sites for funeral parlours in industrial estates — and away from residential areas — means they are less likely to draw public opposition.
In 2015, some would-be residents of the Fernvale Lea Build-to-Order project in Sengkang were so dismayed by news that a columbarium would come up near their future homes, they sought refunds on their flats. More than 1,000 people also signed an online petition to stop the development of the commercial columbarium, which was to be housed in a Chinese temple.
To the residents' relief, the plans did not go ahead, after the site went up for tender again to restore the original planning intent for a Chinese temple site.
On the NEA's announcement, Mr Nicholas Mak, executive director of property consultancy ZACD Group, said that the decision to locate the funeral-parlour sites in industrial areas means that the authorities are less likely to face public objections.
"If you try to build it in a Housing and Development Board estate that is near… private condominiums, it will raise objections from the residents," Mr Mak said.
Agreeing, Ms Christine Sun, research and consultancy head at property agency OrangeTee & Tie, said that it was a "good move" to situate such services away from homes, given past concerns among residents that living near such spaces would affect the prices of their homes.
There may also be a "certain social stigma" associated with living or having offices near such services, the analysts said.
In contrast, the impact on businesses should be minimal, Ms Sun said. For example, the presence of Singapore Casket, a longstanding fixture along Lavender Street, has not deterred other businesses from operating there.
However, Mr Ku Swee Yong, chief executive officer of International Property Advisor, pointed out that those travelling to the wakes may be inconvenienced, because some industrial areas are underserved by public transport, particularly over the weekend.
The authorities could have designated sites for funeral parlours in new towns, such as the upcoming Tengah town, he suggested. "If designed and (included in the) masterplan correctly, it doesn't have to be too obvious," Mr Ku said.
To this, Mr Mak said that with taxis and private-hire cars widely available, the issue of getting to funeral parlours in industrial estates should not be a major issue.
WHERE THE SITES WILL BE: