Fresh grads forced to lower career expectations
SINGAPORE — In the last eight months he has sent out more than 100 applications for jobs, ranging from commodities and sales to consultancy and banking. But he has not had any luck.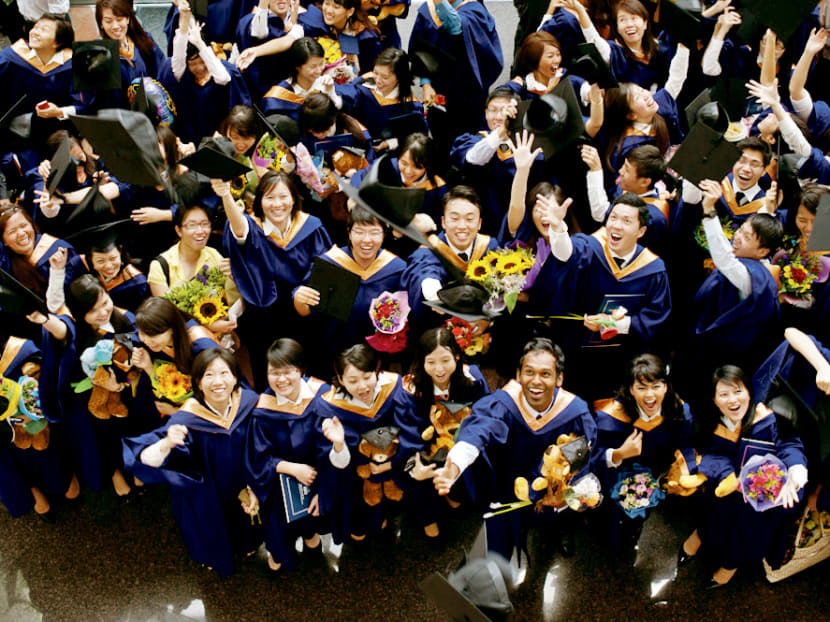 SINGAPORE — In the last eight months he has sent out more than 100 applications for jobs, ranging from commodities and sales to consultancy and banking. But he has not had any luck.
Only 10 people bothered to reply, including a recruiter who gave an ominous indication of the job market, saying something along the lines of "everyone has a degree, so just settle for anything and do not ask for too much".
The fresh maritime economics degree graduate from the Singapore Management University (SMU), who wanted to be known as Mr Goh, said he has been stressed out by the futile job hunt, even though many of his peers are in a similar situation.
He also feels "guilty for the financial burden my parents have to shoulder" and has resorted to ad hoc work, including Uber driving and waiting tables. Although he earns about S$3,000 a month from these jobs, 25-year-old Mr Goh hopes his situation will turn around soon, given that he considers such work lacks meaningful career progression and is "not something you would want to do as a fresh graduate".
He added: "To other graduates, I would say, 'Be prepared for a second option for your career because it's likely you won't get your first option at this point in time'."
Advance labour market  figures released by the Ministry of Manpower on July 28 showed that while there are bright spots in some sectors, the outlook remained uneven overall in the second quarter of this year, after last year saw the worst total annual employment growth since 2003.
Hiring remains cautious in industries such as construction and marine, the ministry added, but opportunities continue to be available in finance and insurance, infocomms and media, healthcare, professional services, and wholesale trade — which are the five sectors it recently identified as showing promise in job creation.
The labour market situation is foreboding news for this year's fresh graduates, who were hoping for a turnaround from what their seniors faced last year.
Joint survey data released in February by the National University of Singapore (NUS), Nanyang Technological University (NTU) and SMU showed a smaller proportion of last year's graduates securing permanent full-time jobs within six months of graduation — 80.2 per cent, compared to 83.1 per cent in 2015.
This was the lowest since the survey was first carried out for the 2012 cohort, of which 85.6 per cent landed permanent full-time jobs. Anecdotally, landing desired full-time jobs remains challenging for the class of 2017. 
Those interviewed by TODAY said they have been receiving replies to applications just 20 per cent to 30 per cent of the time.
Mr Muhd Fathurrahman, 24, who graduated from the University of Glasgow under the Singapore Institute of Technology (SIT) with a degree in computing science in May, received about 30 callbacks from more than 100 applications he sent to companies in what should be a robust IT industry.
Of these, only 10 or so led to interviews. None of the firms have indicated they are keen on hiring him.
In his cohort of around 70 students, more than half have secured jobs, mostly in the IT sector. The disparity in his experience puzzles him. 
"I know for sure that in the IT sector there is demand ... but I think a lot of the companies ... want only those with prior experience," he said. "Some of the companies, when I contact them to ask how I did in the interview, and how I could improve, did not reply."
By Mr Goh's estimate, the stiffer contest could have something to do with economic conditions making it an employer's market.
"I took it slow at first, mainly going through my school portal and external job portals," he said. "Then I realised people are just not replying, maybe because of the large number of applicants per job, or because they require experienced workers." 
Mr Sebastian Koh, who also just graduated from SIT, said some of his friends who also graduated this year have resorted to taking up jobs meant for diploma holders, such as technician or draftsman roles, to gain work experience.
Since graduating in May, the mechanical design and manufacturing engineering graduate has sent about 30 applications and received 10 callbacks. At one interview with an energy utility company, which had invited four other candidates, he had to give a three-minute presentation which was judged by 16 people from the company.
"I think they wanted to copy what Unilever and all the other companies are doing, but it wasn't planned as well as I expected it to be," the 24-year-old said. "I wonder how they measure everyone from just that."
Local universities told TODAY they have a raft of measures aimed at getting students ready for the job market. 
SMU, for instance, assigns a career coach to each student "to support them in their career planning through the four-year journey," said Mr Sim Cher Young, director of its Dato' Kho Hui Meng Career Centre, which organises more than 200 career-related events for its students.
In addition, the university offers compulsory career services workshops from freshman year as part of its Finishing Touch programme.
Meanwhile, at NUS, a Roots & Wings programme — launched last January — has attracted more than 7,000 student participants. It was developed to help freshmen develop personal and interpersonal effectiveness skills, and incorporates elements of career preparation.
NUS' Centre for Future-ready Graduates also organises career fairs, workshops and recruitment talks. On average, about 9,000 students and alumni attend the annual fairs, which typically feature more than 250 employers across various industries. About 70 per cent of its students go on some form of internship.
Despite the struggle to find work, some fresh graduates are not taking any job that comes along.
NTU communications graduate Chan Si Yong, 25, interned at a public relations firm during his third year in university. While he still wants to remain in that field, he is "keeping his options open" after spending the past one-and-a-half months searching for a job in PR. "The economy is not very good, and I think there are many others making career switches. Competition is very stiff. A lot of people are applying for one or two roles," he said.
Although he even applied — and failed — to be a casino services officer and an operations officer at a food delivery provider, Mr Chan said he would have considered them temporary roles: "It's important not to dive into a full-time job that you don't like."