The future is AI: China-backed S'pore tech firm Bigo looks to add 500 staff over three years
SINGAPORE — Fresh from an almost S$2 billion buyout from China, local technology powerhouse Bigo Technology is defying notions that artificial intelligence (AI) will wipe out jobs, with plans to hire 500 engineers here over the next three years, up from just 40 today.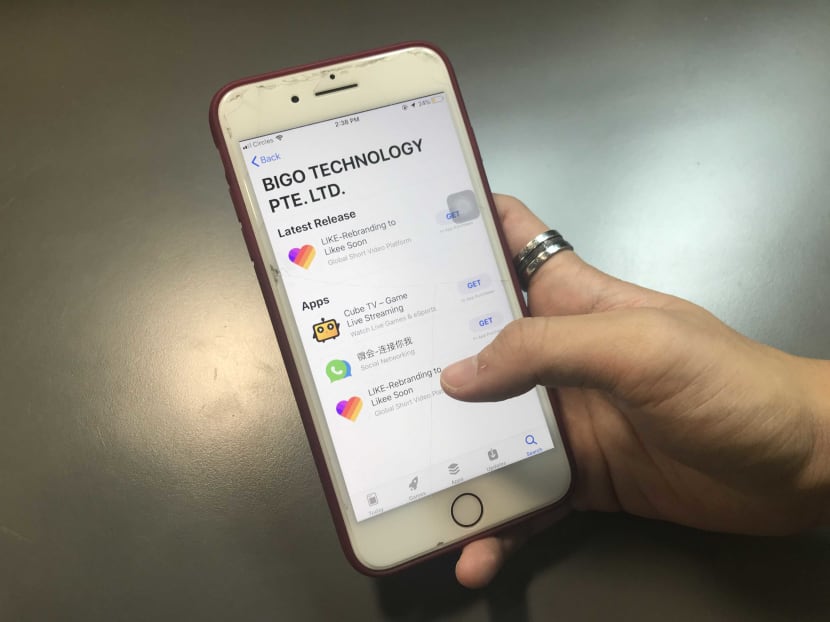 SINGAPORE — Fresh from an almost S$2 billion buyout from China, local technology powerhouse Bigo Technology is defying notions that artificial intelligence (AI) will wipe out jobs, with plans to hire 500 engineers here over the next three years, up from just 40 today.
It has also backed its big hiring plans with a S$500,000 scholarship fund, of which it said the Education Ministry had contributed S$165,000, to award scholarships to two Nanyang Technological University (NTU) students a year.
Fans of live streaming or making short videos for social media might have heard of Bigo, or at least some of its apps such as Bigo Live, IMO or Like, that are top grossers in the mobile app charts.
Founded and headquartered in Singapore in 2014, Bigo — an acronym for "before I get old" — was recently the subject of an eye-popping US$1.45 billion (S$1.98 billion) buyout by Chinese social network giant YY Inc, according to the website TechInAsia in a report in March this year. It said that the co-founder of Bigo, Mr David Li, was also the founder and chief executive of YY, which is listed on the US technology bourse Nasdaq. Before buying the whole of Bigo, YY had invested US$272 million (S$371 million) in the company.
The up-and-coming technology outfit is growing fast. With 20 regional operation offices and five research and development (R&D) centres around the world, the company offers live streaming, short videos, communication and social networking services, all supported by its artificial intelligence (AI) technology.
The firm now has about 40 staff at its Singapore office at Ngee Ann City, and it wants to hire 500 more technology and AI workers within the next three years to boost its research and development (R&D) efforts.
When asked about the reasons behind its dramatic manpower push, Bigo's president Jason Hu told TODAY on Tuesday (June 4) that it was "only natural" to solidify its Singapore base.
"We are very confident we can hire more than 500 engineers in the next three years."
In its efforts to seek the best hires, the company recently announced a collaboration with NTU with its Bigo Excellence Scholarship, which is intended to run in perpetuity. Bigo said interest from the principal sum would be used to fund the scholarship. The two recipients would be assured of an internship at Bigo.
Bigo told TODAY that the "two students will each get at least S$10,000 per year".
Bigo's collaboration with NTU is only the first step in its plans to engage and work with more students and graduates in Singapore, said Mr Hu. The company has already worked with other schools such as Stanford in the United States, and Peking University and Shanghai Jiao Tong University in China, in their video, media communications and coding programmes, and plans to do the same with students here, working with local universities however it can.
Mr Hu added that the company's talent search here is not limited to AI candidates, but also in areas such as R&D, products and operations.
BIG PUSH TOWARDS ARTIFICIAL INTELLIGENCE
In 2016, Bigo launched its first product, Bigo Live, which has amassed more than 20 million users in over 100 regions globally. It features a live-streaming platform that gives users live access to dance performances and video games uploaded by other users. It also offers video calls, voice chat rooms and an interface which lets multiple users play games simultaneously.
Its newer app IMO, a communication and social networking service — also launched in 2016 — surpassed Bigo Live's success, garnering more than 210 million users worldwide. This, together with its other apps, Bigo Live and Like, have attracted more than 300 million monthly active users across 150 countries.
Mr Hu told TODAY that he "wanted to create a world where there are no boundaries".
"My vision was to encourage people to do something now, not to put it off. So the apps are all focused on delivering instant connection," he said.
Over the past four years, Bigo has seen tremendous success, making US$550 million (S$751 million) in revenue last year. The company is currently valued at US$2.1 billion, Mr Hu said.
But while it might have found apparent success in the consumer market, most of its efforts are focused on AI, which is what powers its mobile apps.
For example, AI is behind recommendations from its apps that appear to fit a user's profile, and how digital images or videos seem to behave "intelligently".
The technology is also able to analyse a large amount of operating data, and "can help us to make decisions for company management", added Mr Hu.
'GROWING THE LOCAL INTERNET'
In late 2016, Bigo signed a contract with the Indonesian government's Ministry of Communication and Information Technology (Kominfo), allowing the ministry to tap on the firm's AI technology to aid cyber monitoring efforts on different types of social media platforms. And just this week, a similar collaboration was struck with India's Internet and Mobile Association of India (IAMAI).
When asked about the company's plans to work with the authorities in Singapore, Bigo said it is "happy to work with and tailor our AI solutions for the needs of any government, especially if it is to support and improve lives".
It also hopes to expand into India and other developing countries and "help the local Internet grow" there.
THE DOWNSIDE OF AI
Users of Bigo's applications, particularly Bigo Live, have expressed concerns about the platforms' propensity for enabling the sexual grooming of minors, derogatory comments and racism. Bigo Live's live streaming services permit viewers to reward streamers with the app's currency, "diamonds", that they can gift with an in-app purchase, subsequently allowing streamers to redeem them in cash. This incentivises streamers to grant their viewers' requests, who promise rewards in exchange.
In response to these concerns, Bigo told TODAY that the company has "zero tolerance towards pornography and illegal acts".
"We are aware that there has been sensationalised news regarding illegal acts on our platforms, however those make up an almost insignificant portion of our professional user generated content from our global base of 300 million monthly active users that use our platforms for talent showcase."
When asked about what has Bigo done to address these concerns, the company responded that it imposes "different levels of penalty and bans accordingly". With a team of more than 2,000 moderators around the world, Bigo is confident that its staff and technology can moderate all content, amounting to up to "60,000 daily bans across all their apps", attributing its successful partnerships with Kominfo and IAMAI to the strength of its regulation capabilities.
Bigo said that some its AI developments include image recognition, facial recognition, video intelligence and voice processing.
Addressing concerns about the direction of Bigo's AI technology and its future projects, Mr Hu said the company is "not hindered in the creation of other apps since they are of a different type", emphasising that Bigo mainly provides "solutions to governments, businesses and consumers". Their projects targeting consumers have "little or no influence when we collaborate with other businesses or governments".