Gaming rooms set up with Razer gear to open in Fairmont Singapore hotel for amateur and professional players
SINGAPORE — Luxury hotelier Fairmont Singapore and gaming company Razer have collaborated to create the world's first luxury gaming suites: A set of three rooms where casual and professional gamers are meant to get together to play.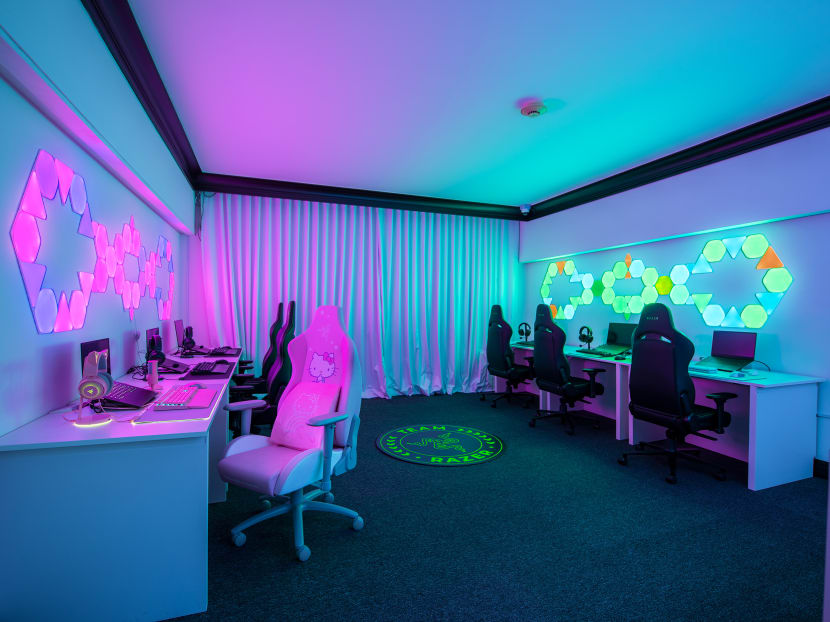 Gaming company Razer has teamed up with Fairmont Singapore hotel to set up three gaming rooms
Booking opens from May 18 and the rooms will be open for use from May 24, 2022 to April 2023
Booking fees start from S$180 for a two-hour slot for six players
The fees come with discounts for overnight stays at the hotel, at some of its restaurants and its spa
Gamers who were interviewed said they may be deterred by the cost and are unsure if there will be technical support during gaming
SINGAPORE — Luxury hotelier Fairmont Singapore and gaming company Razer have collaborated to create the world's first luxury gaming suites: A set of three rooms where casual and professional gamers are meant to get together to play.
From May 24 this year to April next year, the suites are available to rent in hourly blocks, with a minimum booking of two hours, the hotel said in a joint statement with Razer on Wednesday (May 18).
Only two-hour and four-hour time slots are available for bookings, which come with discounts for overnight stays at the hotel located along Bras Basah Road, at some of its restaurants and at its spa.
The suites will be open from 9am to 11pm daily and bookings can be made now.
The hotel said that dining and mini-bar menus are available, and assorted snacks and drinks will be served to any of the suites. It will also cater for birthday parties within any of the three rooms.
Although the rooms are furnished with accessories and equipment by Razer, guests are free to take along their own gaming ware and gear.
Mr Flo Gutierrez, director of global e-sports at Razer, said in the statement: "E-sports has grown tremendously in popularity, becoming a familiar fixture in mainstream entertainment.
"And so, we have been working hand-in-hand with Fairmont Singapore's team to create three unique suites made to offer phenomenal experiences to whoever enters them for a casual, hardcore or competitive gaming experience."
The first suite, the Razer Gamer and Streamer Suite, is equipped with five-versus-five stations and blackout shades.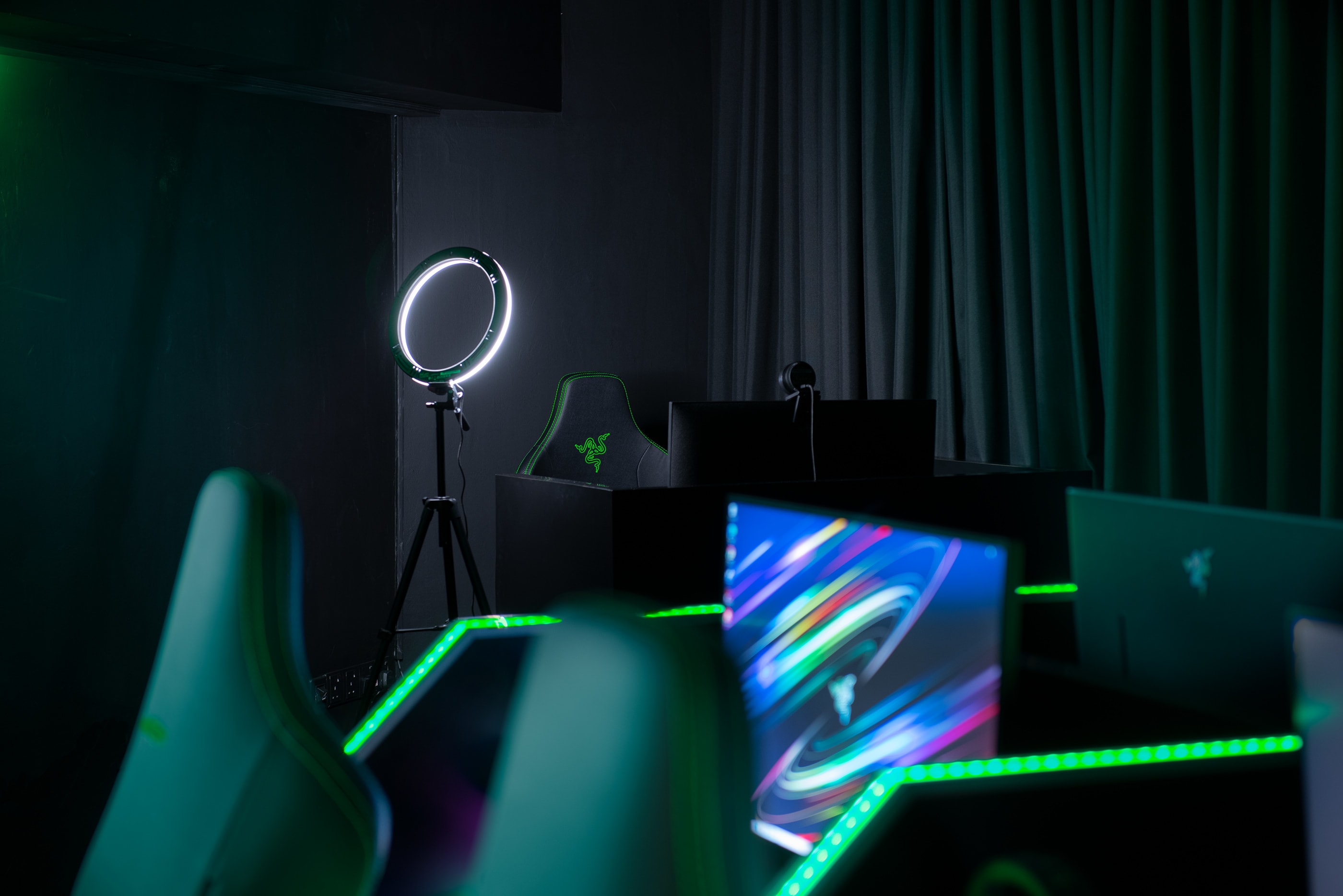 Every station comes with a Razer laptop, monitor, keyboard and e-sport headset, and has a Razer gaming chair.
The laptops have been preloaded with "AAA" games, which are high-budget, high-profile games produced by major gaming publishers such as Ubisoft and Electronic Arts.
In this suite, users may take over the streaming booth where they may choose to display graphics on the wall-mounted television sets or for gaming communities to watch on Twitch while they narrate and commentate on the streams.
The booth will be armed with Razer's latest broadcaster line-up for an optimised streaming experience, the two companies said in the joint statement. 
A two-hour slot for this suite costs S$240 for the first six people and S$35 for the seventh or more person. A four-hour booking will cost S$420 for the first six players and S$70 for every extra person.
In the second suite, the Razer Console Lounge, there will be Xbox and PlayStation5 consoles with Razer controllers, television and a library of AAA console games.
A two-hour block costs S$180 for six people and a four-hour block costs S$320 for six.
And the third suite, the Razer Mercury Suite, was designed specially for streamers, offering a Razer microphone, limited-edition gaming chair and headset.
A two-hour block costs S$240 for six people and a four-hour block is S$420 for six.
WHAT GAMERS SAY
Up until now, gamers who wanted to get together to play in the same space have gone to LAN (local area network) shops, which offer rows of computers connected to the same network and loaded with all kinds of popular games.
While the concept of a LAN shop in a hotel suite is a novel idea, some casual gamers who spoke to TODAY expressed their reservations about the suites.
Mr Glastian Pandji, 19, said that the prices would be prohibitive to young gamers such as himself who are still studying.
"Compared to other options that give similar utility, these services… would exclude a great number of gamers," he said.
Some LAN shops offer their services for just S$2 an hour, he added.
Mr Benjamin Moh, 24, an engineering undergraduate, said that his main concern is whether there would be technical support at the gaming suites.
Most LAN shops are experienced in maintaining LAN networks and so, there are usually fewer connectivity issues, he said.
They also often have technical support staff members available to fix any usage problems that customers have.
Mr Moh is unsure about the variety of games available in the gaming suites, since the laptops are said to contain only AAA games.
He noted that there are other categories of games that are very popular, such as Multiplayer Online Battle Arenas (Mobas). Mobas include popular games such as League of Legends and Dota 2.
However, at least one gamer is excited about the suites.
Mr Danial Roslee, 24, a delivery rider, believes that even though the cost is a tad high, the suites would make for a fun location for a "gaming getaway, once in a blue moon".
WHAT FAIRMONT AND RAZER SAY
In response to the comments from gamers, Fairmont Singapore and Razer said that what is special about the suites is that they are equipped with the very latest in award-winning peripherals from Razer.
"It is unlikely that many gamers would have such an advanced home set-up," the spokespeople from the two companies said. "A session in the suites will also offer players the chance to try before they buy."
They added that the suites provide an opportunity for gamers to play with their friends in person in a "fun, contemporary, and immersive" environment, after having had to play solo for the most part of the past two years.
The suites will also include technical staff who will provide support to gamers, they said.
"They have been involved in the set up of the suites from the start, and so are well versed in the back-end management of each suite."