The gardens at Alexandra Hospital that helped two women regain their mental and physical strength
SINGAPORE — With each admission to Alexandra Hospital, Madam Chang Sin Ngoh grew weaker and more upset.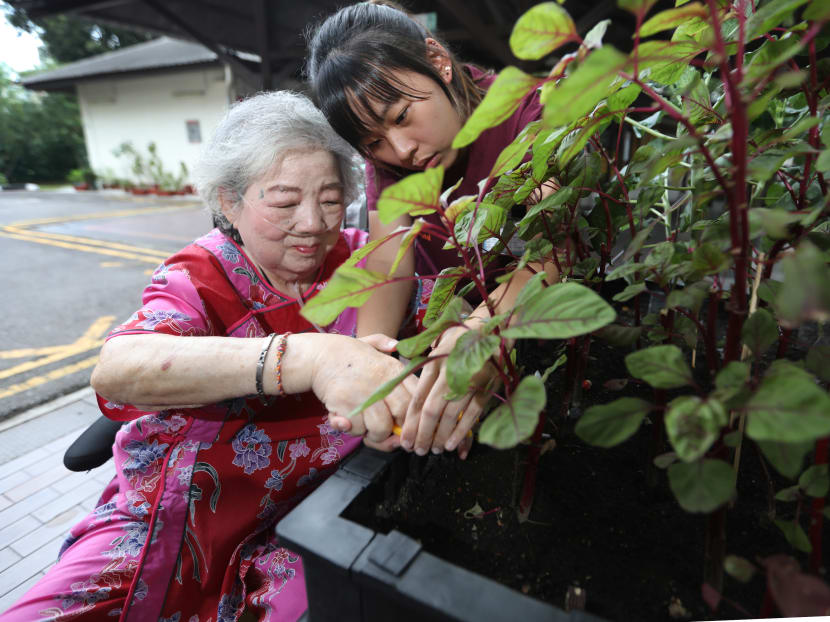 SINGAPORE — With each admission to Alexandra Hospital, Madam Chang Sin Ngoh grew weaker and more upset.
Mdm Chang, who has kidney and heart failure as well as mental cognitive decline, was 89 years old when she was first warded in October last year. She has since been in and out of the hospital three times.
Her occupational therapist Joyce Seah Qihui, 24, said: "The first time I saw her, she was quite moody and quite glum.
"I felt very heartbroken because her family kept telling me that this was not her and not how she usually is at home."
Trying to cheer her up, Ms Seah decided to take her down to the gardens on the hospital grounds for a walk.
"Immediately, she was a little happier and more willing to answer my questions."
As an occupational therapist, Ms Seah guides patients through daily activities to help them improve physically and psychologically. Occupational therapy engages patients to do daily tasks to restore their physical and mental capabilities as well as maintain their skills for working or living.
As it happened, Mdm Chang's stay coincided with the time that two gardens at the hospital was expanded and a Therapeutic Horticulture Programme was started on Nov 6 last year.
Ms Seah ended up taking Mdm Chang to the gardens almost every day. She became one of 80 patients who enrolled in the programme.
Patients make use of the time spent in the gardens for therapy sessions of about 30 to 45 minutes, and have regular breaks every 10 minutes in the shade.
New features that were added in the gardens last year included herbs and flowers, as well as a mobility walkway to help train patients to walk again.
It may sound run-of-the-mill, but the effects of this "green" therapy should not be underestimated.
REMEMBERING THE PAST
The herbs and plants in the garden help patients to recall their past.
Smelling plants such as jasmine orange and ylang ylang, which are common ingredients used in perfumes, can trigger past memories about the perfumes they had used to wear. 
Looking at herbs such as rosemary, pandan leaves also helps patients recall the dishes they used to cook. 
Occupational therapist Max Lim Bing Quan, 29, said that these familiar herbs and plants allow patients to remember their past roles and purpose.
"Letting patients smell common flowers helps us to guide them through reminiscent therapy to get them thinking about what they were doing at that point in time in the past," he added. 
Reminiscent therapy is a form of therapy to help patients remember their past lives. This helps to slow down mental cognitive impairment and the onset of dementia.
For other patients, evoking memories help calm them down and improve their self-esteem.
During the therapy sessions, patients can plant, water and harvest the "crops" and then cook dishes with them.
They may make crafts with dried flower petals or use the dried flowers to decorate keychains.
Gardening helps to improve their patients' mood, Mr Lim said. "When some of the patients are immersed in a garden, they become more calm and their mood is more alleviated."
For this reason, and for how it can also help to improve a patient's physical strength, the hospital's occupational therapy team comprising 12 occupational therapists initiated this new garden therapy programme after consultations with the National Parks Board.
Patients warded in the hospital may express interest in taking part in the programme and the therapists will assess what activities they can do and conduct regular sessions for them. 
"We saw the importance of allowing patients to do gardening as a form of occupational therapy, as it is something people enjoy and find meaningful," Mr Lim said.
COOKING AGAIN AFTER TWO YEARS
In Mdm Chang's case, she used to be a housewife and cooked for her children each day, but now lives with her fourth daughter in a flat.
As part of her therapy, Ms Seah suggested that she cooks a meal for her family.
"We wanted to kind of get her back into her role as a housewife and get her to be involved in a bit of cooking," Ms Seah said. "This is so that she feels she is still able to contribute to her family and play the role of a mother."
So on Jan 17, Mdm Chang cooked a reunion dinner for four of her seven children and her oldest granddaughter for the first time in two years. 
She stir-fried eggs with cherry tomatoes, and for dessert, she rolled tang yuan, or glutinous rice balls, and used ginger and pandan leaves from one of the gardens to make the soup to go with the rice balls. 
The dishes, including stir-fried brinjal and spinach harvested from the gardens and cooked by some of the therapists, were then laid out on a table set up at a pavilion next to the gardens.
Throughout the dinner, Mdm Chang was beaming as she was fed egg and other dishes by her daughters. 
Another occupational therapist, Jessica Tan Wan Ru, 34, commented that it was the first time she saw Mdm Chang so lively and cheerful. "She is usually engaged (with you) for only 30 minutes," she said. 
On Jan 20, Mdm Chang was discharged from the hospital just in time to celebrate the Chinese New Year at home. 
LEARNING TO WALK AFTER FALL
Apart from Mdm Chang, the gardens have helped other patients who needed physical rehabilitation, including 67-year-old Ho Ai Hoon who had a bad fall. 
Last December, Mdm Ho lost her balance, knocked into a display cabinet at her relative's home and fell face first onto the floor. 
The impact affected the nerves in her spinal cord, which caused her to have a seizure. She was then admitted into the emergency ward at the National University Hospital where she remained in bed and experienced pain and numbness throughout her body for weeks. 
After she could sit up on her own, she was transferred to Alexandra Hospital on Dec 20 last year for rehabilitation. 
There, Mdm Ho enjoyed having physiotherapy sessions outdoors, where she had to slowly start to walk again along the garden's mobility track.
Different parts of the track have different terrains to train patients to walk again on varying surfaces and slopes. 
"The gardens are beautiful," she said. "Instead of sitting in the ward, at least I get some fresh air and am close to nature," Mdm Ho said.
She did some squatting in the gardens as well and slowly began to regain strength in her legs and back, as guided by her therapist. After four weeks, she was able to walk on her own again. 
"I feel stronger after squatting and the other exercises," she said. "I have improved compared to when I was first admitted. Now I'm able to move on my own without any walking aid."