GE2020 constituency broadcasts: What Pasir Ris-Punggol GRC candidates have to say
SINGAPORE — Candidates for the Pasir Ris-Punggol Representation Constituency (GRC), which is the only GRC with a three-cornered fight at this General Election (GE), made their pitches to residents on the third day of the constituency political broadcasts.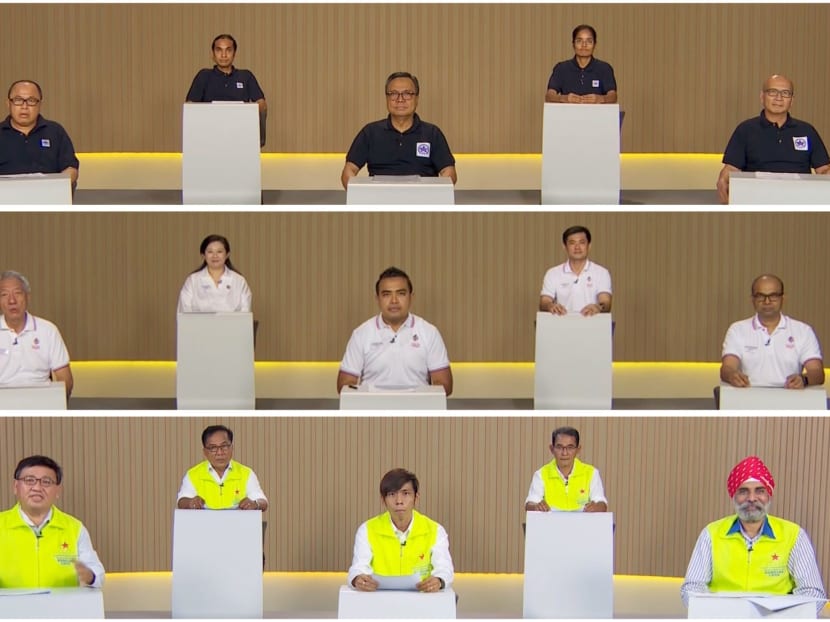 SINGAPORE — Candidates for the Pasir Ris-Punggol Representation Constituency (GRC), which is the only GRC with a three-cornered fight at this General Election (GE), made their pitches to residents on the third day of the constituency political broadcasts.
The incumbent team from the People's Action Party (PAP) comprises PAP stalwart Teo Chee Hean, 65, Dr Janil Puthucheary, 47, and three new faces who are Mr Desmond Tan Kok Ming, 50, Mr Sharael Taha, 39, and Ms Yeo Wan Ling, 44.
In the broadcast on Monday (July 6), Mr Teo spent some time introducing Mr Tan, Mr Sharael and Ms Yeo: "I have made sure that we continue to have a strong team to serve you."  This slate has the most number of new candidates for a PAP team in a five-member GRC.
Apart from pledging infrastructure upgrades for residents, the candidates repeatedly referred to the ongoing Covid-19 pandemic's impact on livelihoods, as well as the way the coronavirus is straining Singapore's social cohesion.
Dr Janil said: "We want our children to look forward to growing up in Pasir Ris and Punggol. But Covid-19 now threatens every aspect of our society… Facing the future as one united people, relentless in our pursuit for a better Singapore, has never been more important."
Contesting the constituency are two opposition teams from the Singapore Democratic Alliance (SDA) and the Peoples Voice.
SDA's team of candidates comprises: Mr Desmond Lim Bak Chuan, 53,  Mr Abu Mohamed, 69, Mr Harminder Pal Singh, 48, Mr Kuswadi Atnawi, 57 and Mr Kelvin Ong, 34.
Mr Lim, the chairman of his coalition, has said that GE2020 will be the last GE he will contest.
SDA has never left Pasir Ris-Punggol GRC despite past defeats, he said. The coalition, which was formed in 2001, contested there in 2006, 2011 and 2015 and lost each time.
Mr Lim, who delivered his speech in Mandarin, said: "Don't let the PAP move your heart. Non-Constituency MPs (NCMP) can only speak in Parliament but cannot help you appeal to government agencies who are outside of Parliament."
He was referring to the NCMP scheme in which some losing opposition candidates are offered seats in Parliament.
He added: "You need us to be your elected representative. Touch your heart and ask yourself why our standard of living has yet (to attain) the Swiss standard."
The Peoples Voice team is: Mr Gilbert Goh, 58, Mr Mohamed Nassir Ismail, 63, Mr Jireh Lim, 61, Mr Prabu Ramachandran, 32, and Ms Vigneswari Ramachandran, 38.
Ms Vigneswari said that the party would be advocating for the right for free primary and secondary education, as well as to push for an increase in Singaporeans' salaries "with regards to the rising cost of living".
"If I am elected as your Member of Parliament, I will fight for you, I will speak up for you based on all the social issues that have gone unanswered for too long.''
In these constituency political broadcasts, candidates vying for single-seat wards have three minutes each to speak. Those contesting in four- and five-member GRCs have 12 and 15 minutes respectively in total.
The broadcasts are being aired on Channel 5, CNA938, cna.asia, 8world.com, CNA YouTube, CNA Facebook and TODAY at 7pm from July 3 to 8.
PAP's proposals
Mr Teo said that amid the "most serious crisis" of Covid-19, there are local programmes in the constituency to help vulnerable families get through the pandemic, in addition to national programmes for families, businesses and the self-employed. "We have been here with you over the last 20 years," he said.

Pasir Ris is due for a major renewal, Mr Teo said. A new Cross Island Line for the MRT network is being built, with four MRT stations connecting Pasir Ris and Punggol, and linking them to the rest of Singapore. In Punggol, the new Punggol Digital District will bring education and job opportunities closer to home.

There are also plans to provide ample greenery, parks and waterways that are characteristic of the two towns. Dr Puthucheary said: "Pasir Ris is undergoing an extensive rejuvenation exercise, bringing all the best modern amenities into a green town. Punggol is still growing and developing as a new town for new families."

Ms Yeo pledged to continue the work in caregiving for the community, and to aid freelancers and self-employed persons hit by the Covid-19 economic turmoil. "I can see that there's a great need to set up good safety nets for freelancers," she said.

Mr Sharael said that he wants to work with the youth to grow their skills, and help create good jobs. "For the youth, the world with Covid-19 may be daunting, but we will work together to develop the Stem (science, technology, engineering, and mathematics) skills for the digital economy," he said.
Mr Teo said: "I served you for more than 20 years in Pasir Ris-Punggol. I've seen your children grow up, and your grandchildren, too. We've been through happy times and also difficult times together. This Covid-19 pandemic is the most serious crisis that I've encountered in more than 40 years of public service."
SDA's proposals
Introducing his team in Mandarin, SDA's Mr Lim said that the candidates have diverse backgrounds, including one candidate who is an educator and another who is an electrical engineer. Mr Lim said that he was pressing on despite past election defeats.

In the past five years, the party increased its activities in Pasir Ris-Punggol GRC, conducting seven food distribution exercises to needy residents. It also provided free monthly haircuts, visited the sick and infirm, distributed sanitary items and organised outings for seniors.

Mr Singh voiced his disapproval that the GE is being called during this pandemic and said that the PAP Government is putting lives at risk. "We expected that the PAP-led Government would do such a irresponsible thing, which is, to call for a GE at a time when Singaporeans are suffering from Covid-19, a rise in dengue cases, a time when ordinary Singaporeans are struggling to find good jobs. Touch your heart and ask yourself — why? Why did they do this?"

If elected, SDA will challenge the Government to allow members to withdraw their CPF monies at 55 so that elders may live with dignity.

It will also push for the use of an additional 1 per cent of economic output to uplift poor families, tighten controls on immigration and enact fair labour policies, and stop "irresponsible spending on extravagant government projects" so as to lower taxes and reduce the cost of living.

Mr Kuswadi said that SDA took up the challenge to contest in the GRC, despite Covid-19 risks, to try to deny PAP a majority in Parliament. SDA also wants to deny PAP the ability to pass bills or policies, or amend the Constitution in a way that would cause strain to citizens, he said.
Mr Lim said in Mandarin: "Rain or shine, we have not ceased (and have) continued to stay on to serve residents because our party regards it as our personal duty to care for residents' well-being, especially those who are elderly and the vulnerable."
Peoples Voice​'s proposals
Mr Goh said that the Covid-19 crisis had been made worse by the "high influx of foreigners", adding that many Singaporeans find themselves having to "compete for jobs (with the permanent resident community) aggressively".

He said it is "apparent" that financial assistance schemes for the seniors and the poor are insufficient, with many elders working in their old age to supplement their income.

"We hope that we can ask the Government to provide a pension for the elderly poor so that they do not have to work (and can retire)," he said. If elected into Parliament, Mr Goh said that he will "speak up for those who are poor and under-privileged and those who are unable to have a voice."

Mr Lim said in Mandarin that seniors here retire "without dignity". "We want to fight for our CPF money to be given back to us by retirement age of 65 with no further delays." 

Mr Nassir said that Singaporeans are "struggling for a living in a most expensive city". He said that some of their visits to PAP Members of Parliament for assistance have been "in vain", and that the "long time the PAP had been in power had led to incidents of complacency".

Mr Prabu said that Housing and Development Board (HDB) flats are unaffordable, adding that they lose value at the end of their 99-year lease. "People have worked 20, 25, 30 years of lives using their CPF to pay (HDB and) have a roof over their heads. Due to that, they are unable to retire."
Mr Prabu said: "We will put your interests first, we will put people first, we will make Singapore our home again. We will take back our country, our dignity, our jobs and our future."