GE2020 constituency broadcasts: What Sengkang GRC candidates have to say
SINGAPORE — Candidates from the People's Action Party (PAP) and the Workers' Party (WP) in the race for the newly formed Sengkang Group Representation Constituency (GRC) set out their plans for voters on Tuesday (July 7).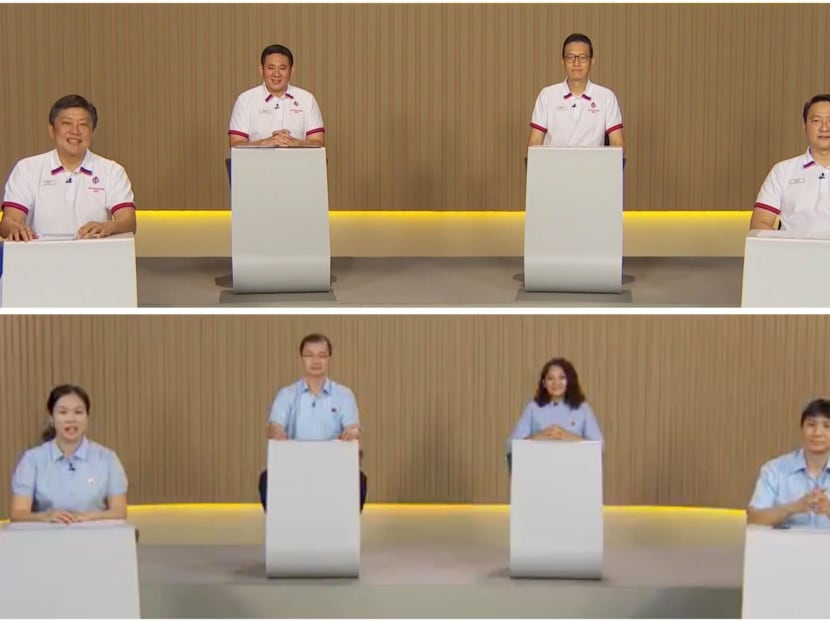 SINGAPORE — Candidates from the People's Action Party (PAP) and the Workers' Party (WP) in the race for the newly formed Sengkang Group Representation Constituency (GRC) set out their plans for voters on Tuesday (July 7).
They were speaking in a constituency political broadcast aired on the second last day of the campaign, with Polling Day set to take place on Friday.
The four-member GRC was formed in March after a review committee redrew electoral boundaries for the coming General Election (GE).
The GRC has 120,166 voters and comprises the former single seats of Sengkang West and Punggol East as well as the Sengkang Central ward, which was carved out of Pasir Ris-Punggol GRC.
The PAP team, headed by labour chief Ng Chee Meng, 51, also features Dr Lam Pin Min, 50, Mr Amrin Amin, 42, and new candidate Raymond Lye, 54.
Mr Ng said that if elected, the team's first order of business would be to set up a new town council to better serve the municipal needs of the residents of Anchorvale, Compassvale and Rivervale. Residents living in Sengkang GRC are now served by two town councils — Ang Mo Kio and Pasir Ris-Punggol.
Mr Lye, who has been serving as chairman of the Citizens' Consultative Committee in Rivervale, said that there will be a water-themed playground in Anchorvale and a S$2 million community sports hub in Rivervale — where a community club will open in early 2021.
PAP is up against a Workers' Party (WP) team led by Ms He Ting Ru, 37. Her teammates are Ms Raeesah Khan, 26, Associate Professor Jamus Lim, 44, and Mr Louis Chua, 33.
Ms He said that the team was standing in this election because it believes in "a Singapore for all", where future generations can achieve their dreams in a resilient and dynamic economy.
Assoc Prof Lim said that the team would tackle issues that matter to Sengkang residents, such as bottlenecks in childcare centres and more neighbourhood spaces. It will do this with a new town council system that draws on the party's experience managing other wards, which is just as good, if not better, than those run by PAP.
In constituency political broadcasts, candidates contesting four-member GRCs have 12 minutes to speak. Those in five-member GRCs have 15 minutes of airtime.
Candidates vying for single-seat wards each have three minutes to speak.
The broadcasts are being aired on Mediacorp's Channel 5, CNA938, cna.asia, 8world.com, CNA YouTube, CNA Facebook and TODAY at 7pm from July 3 to 8.
PAP'S PROPOSALS
Mr Lye said that the new town council in Sengkang would strive to give the town its own identity, as he pledged to build more and better communal facilities such as playgrounds, fitness corners and covered linkways, and pay special attention to amenities for seniors, such as activity centres, residents' corners and barrier-free access routes.

Mr Ng said that his team has listened to residents' concerns on loss of employment and income, as well as their responsibilities of taking care of their children and parents during the Covid-19 pandemic, and will do its best to help.

Dr Lam said that the team will help young families through the "Sengkang Together" movement — a new initiative to foster a "kampung" spirit and cultivate a community where everyone "takes care of each other".

Mr Amrin said that the candidates and residents have much to learn from one another, adding that he drew inspiration from many residents particularly in this time of crisis.
Wrapping up their statements, Mr Ng said: As a team, we have the experience and are committed to make all these things happen for you — not just talk about it but make it happen. Because at the heart of it all, our priority is you and your family. Together, let us build a Singapore and Sengkang that we all want."
WP'S PROPOSALS
Ms He said WP believes that all children must be given the chance to fulfil their potential and the party is calling for reduced class sizes, a more inclusive education system, and dedicated schemes to increase funding to less popular schools.

Mr Chua said in Mandarin that he was deeply pained that the quality of life of the people of Singapore has not improved significantly, and WP wants to ensure that people can support themselves and take steps to reduce cost-of-living pressures.

Ms Raeesah said that WP proposes expanding the bicycle path network to meet the strong demand for food delivery in Sengkang, to increase the number of food-and-beverage places such as coffee shops and to review the placement process at infant care centres, which now takes too long and does not take into account the distance from residents' homes.

Assoc Prof Lim said that the team would also push for more spaces for neighbourhood shops in Sengkang, which are limited at present, and lobby for a re-examination of Singapore's economic model to raise workforce productivity.
Concluding WP's segment, Assoc Prof Lim said that a new vision is needed to present alternatives that the incumbent government cannot imagine are even possible. "We ask you to help us make this possible. We ask you to make your vote count and vote the Workers' Party," he said.