GE2020 constituency broadcasts: What Tanjong Pagar GRC candidates have to say
SINGAPORE — Candidates from the People's Action Party (PAP) and the Progress Singapore Party (PSP) contesting Tanjong Pagar Group Representation Constituency (GRC) set out their plans for voters on Wednesday (July 8).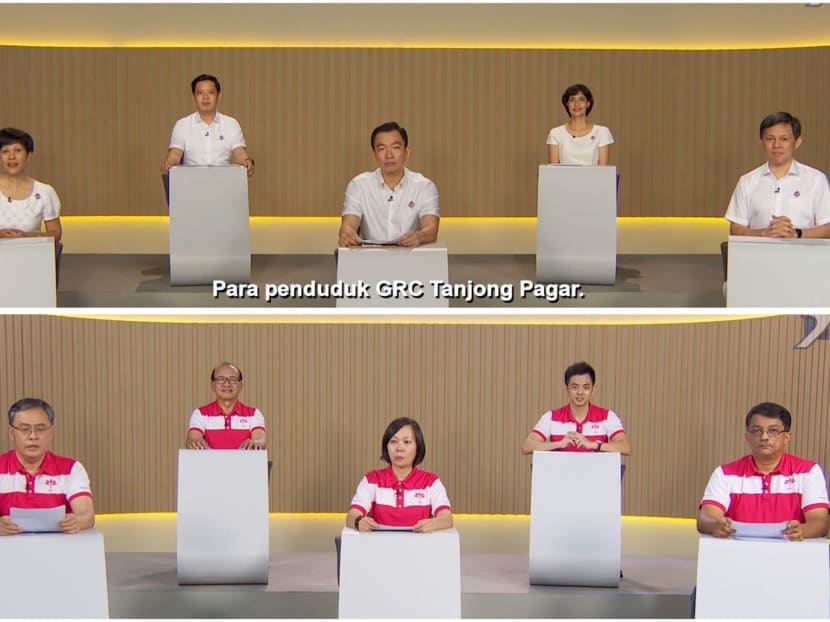 SINGAPORE — Candidates from the People's Action Party (PAP) and the Progress Singapore Party (PSP) contesting Tanjong Pagar Group Representation Constituency (GRC) set out their plans for voters on Wednesday (July 8).
They were speaking in a constituency political broadcast aired on the last day of the campaign, with Polling Day set to take place on Friday.
The PAP team comprises the party's second assistant secretary-general Chan Chun Sing, 50, incumbent Members of Parliament (MP) Indranee Rajah, 57, and Joan Pereira, 53, as well new candidates Alvin Tan, 39, a LinkedIn senior executive, and Mr Eric Chua, 41, a former public servant.
Mr Chan noted that founding prime minister Lee Kuan Yew, who began his political career in the 1950s in Tanjong Pagar, has set high standards for the PAP team to take care of Singapore and residents in the constituency.
"Our team is determined to do our best to uphold these high standards… regardless of the challenges ahead of us," Mr Chan said.
Ms Indranee said that Tanjong Pagar is "more than a constituency".
"It is a home with heart, the PAP's long history of service to Singapore and Singaporeans began in Tanjong Pagar. Our team will honour that legacy and build on it to improve lives for all," she added.
PSP is fielding its organising secretary Michael Chua, 55, IT executive Harish Pillay, 60, lawyer Wendy Low, 43, pilot Terence Soon, 29, and workplace safety senior trainer Abas Kasmani, 67.
Mr Chua said that his team is committed to serving residents and can run a town council.
He added that the Parliament is "not working well" because it is dominated by PAP MPs and because of groupthink as many of them "come from the same mould". 
As such, he emphasised the need to bring "fresh ideas" into Parliament.
"I will give you my word that our team will ask tough questions on sensitive issues in Parliament. We need transparency and we need it today," Mr Chua said.
He also assured residents of Tanjong Pagar that the team has the abilities and experience to manage town council operations, and Mr Soon spoke about having a government that is more compassionate and empathetic towards its people.
Tanjong Pagar GRC has more than 134,600 voters.
In these constituency political broadcasts, candidates vying for single-seat wards have three minutes each to speak. Those contesting in four- and five-member GRCs have 12 and 15 minutes respectively in total.
The broadcasts are being aired on Channel 5, CNA938, cna.asia, 8world.com, CNA YouTube, CNA Facebook and TODAY at 7pm from July 3 to 8.
PAP'S PROPOSALS
Ms Indranee said that there is "much to be done" in Tanjong Pagar and the team will continue to improve and beautify the town by introducing green initiatives, adding new social programmes and looking after the seniors in the area to "strengthen that special bond so that you know that you are part of a bigger community and not alone especially in this time of crisis".

Mr Tan said that he has been volunteering in the area for 16 years, serving seniors and building programmes to foster racial and religious harmony, as well as mentorship programmes for youth in the area. He hopes to build upon these programmes and raise awareness about climate change.

Mr Eric Chua said that he hopes to mentor the younger generation. He also wants to roll out other initiatives, which include giving a hand to those affected by the pandemic, helping hawkers and elders go digital, and working on estate improvement projects to create a more pleasant living environment.

Ms Pereira said that she has organised various care and support programmes to help residents in need, particularly the seniors, so that they would receive daily meals, fresh fruits and vegetables and are also checked upon daily to ensure they are well. 
Mr Chan, who ended off the team's speeches, said: "We are confident that walking with you, we will go through all these (challenges) together. You know us, we know each other. We will keep our promises, and do our best for you and for our country."
PSP'S PROPOSALS
Mr Kasmani said that the party hopes to tackle issues such as the high cost of living, the decreasing value of Housing and Development Board flats, as well as high healthcare costs in Singapore. He also said that more opposition voices are needed in Parliament in order to bring changes to these issues.

Ms Low spoke about the importance of improving training programmes for undergraduates as well as professionals, managers, executives and technicians (PMETs), and of providing seniors with training in heritage businesses in order to ensure that they are employable despite their age. She reiterated the party's call for a minimum living wage and also proposed establishing a database of the homeless and the "invisible poor" in Singapore. "We need to make the invisible visible for better relief planning."

Mr Soon pledged to maintain good communication with residents if elected, saying that the party would make use of social media to connect with the youth and make use of physical outreach for older residents.

Mr Pillay spoke about reviewing economic policies, such as tackling the rental costs of small- and medium-sized enterprises and reviewing free-trade agreements. He also brought up the importance of sustainability, and expressed hopes to see public buses being run as electric vehicles.
Mr Michael Chua said: "PAP is driven by their desire to take from you as much as they can. But the PSP is driven by our desire to give you as much as we can… PSP wants to make the lives of ordinary Singaporeans better."