GE2020 constituency broadcasts: What Yuhua SMC candidates have to say
SINGAPORE — Candidates from the People's Action Party (PAP) and the Singapore Democratic Party (SDP) running for Yuhua Single Member Constituency (SMC) laid out their plans for voters on Wednesday (July 8).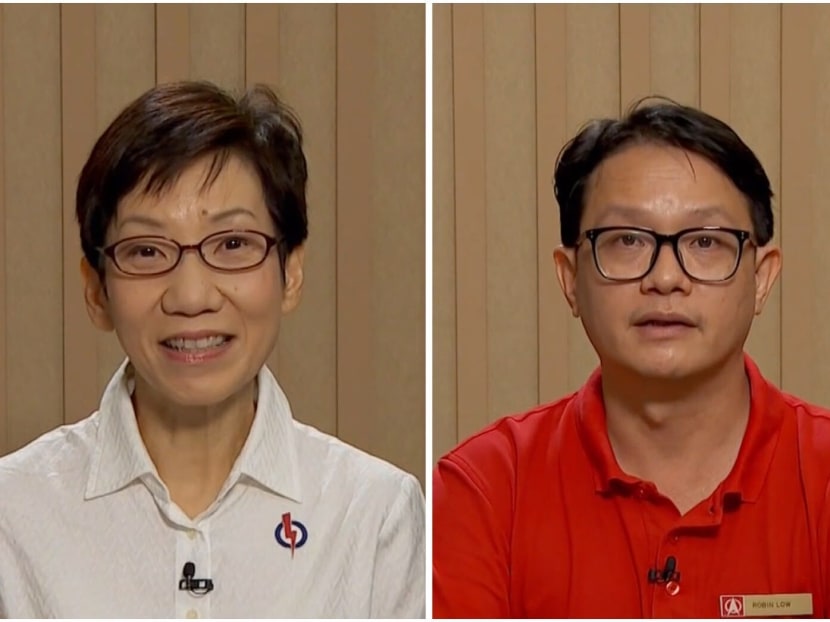 SINGAPORE — Candidates from the People's Action Party (PAP) and the Singapore Democratic Party (SDP) running for Yuhua Single Member Constituency (SMC) laid out their plans for voters on Wednesday (July 8).
They were speaking in a constituency political broadcast aired on the last day of the election campaign, with Polling Day set to take place on Friday.
PAP is fielding Ms Grace Fu, 56, who had contested and won her seat in this constituency in the 2011 and 2015 General Elections.
Addressing comments that PAP candidates sound and look the same, Ms Fu said that the candidates are consistent in being pragmatic and trustworthy, and share the common values of integrity, fairness and service.
"If you give us the opportunity and get to know us better, you will find that we have unique and interesting backgrounds, views and personalities. Our diversity will ensure that your views are heard, understood and presented in policymaking," she added.
SDP is fielding Mr Robin Low, 44, an entrepreneur who is contesting for the first time after joining the party in March last year from the Democratic Progressive Party.
Mr Low criticised PAP for its lack of solutions and relying on outdated modes of solving problems, by getting in more multinational companies and importing more cheap foreign labour.
It usually solves problems by raising costs or by carrying out vanity projects costing billions of dollars, he said.
Yuhua SMC has more than 21,300 voters.
In these constituency political broadcasts, candidates vying for single-seat wards have three minutes each to speak. Those contesting in four- and five-member GRCs have 12 and 15 minutes respectively in total.
The broadcasts are being aired on Channel 5, CNA938, cna.asia, 8world.com, CNA YouTube, CNA Facebook and TODAY at 7pm from July 3 to 8.
PAP's proposals
Ms Fu identified integrity as the first core value shared by PAP candidates, saying that they deliver what they promise and are honest in sharing their constraints with residents.

She highlighted fairness as the second value, and said that PAP candidates will run a system that ensures fairness "to all races, faiths and segments, whether young or old, rich or poor".

The third value she raised was service to the people and the nation. "We are motivated to serve the people and not have the people serve our political gains." 

Ms Fu, who has been a Member of Parliament for Yuhua for the past 14 years, said that she takes her role and responsibility seriously and will put the interests of residents as her priority.
She said: "The next five years will be a challenging time for all of us. Our lives, our jobs and our future are at stake. This is not a time for trial and error. Please vote wisely. Please vote carefully."
SDP's proposals
Mr Low criticised the PAP Government's decision to hold an election in the midst of the Covid-19 pandemic. He cited the example of how the cluster infection at a block in Tampines is an example of how dangerous the situation is and how Prime Minister Lee Hsien Loong has put Singaporeans at risk.

He also said that PAP does not have solutions for a new world. "The old formula of inviting multinational corporations into the country and flooding the country with cheap foreign labour will not work anymore." 

He added that many of the solutions proposed by PAP "feel like vanity projects that cost billions". He cited the example of a waste conveyance system that costs S$11 million in Yuhua alone.

Mr Low also criticised Ms Fu's handling of an expensive bin centre costing more than S$800,000 by the National Arts Council, a statutory board under the Ministry of Culture, Community and Youth that she helms.
He concluded: "Make your vote count. If you don't want the problems solved by increasing costs, please vote for me, vote for the SDP. Let us work together to embrace a new normal that sees more ideas and options needed to bring us out of this current crisis."
CORRECTION: An earlier version of this story stated that the National Arts Council's bin centre cost more than S$800 million. This is incorrect. The cost was S$880,000. We are sorry for the error.