GE2020: PAP unveils 8 new candidates, including UOB banker and former People's Association chief
SINGAPORE — The ruling People's Action Party (PAP) introduced its first slate of eight candidates on Wednesday (June 24), a day after Parliament was dissolved.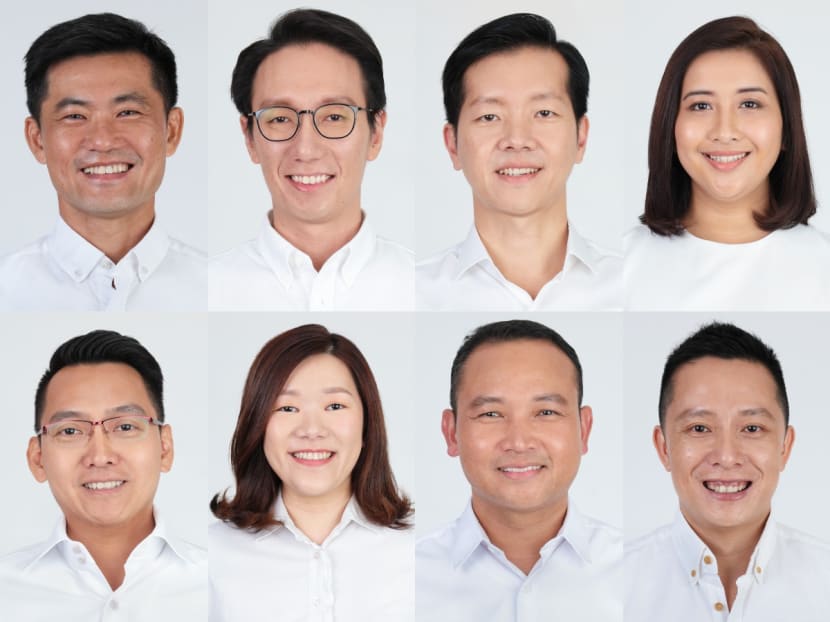 The People's Action Party introduced eight new candidates in two virtual press conferences
The candidates' ages range from 30 to 49
They include three former public servants and five from the private sector
Slate of new candidates part of party renewal, said DPM Heng Swee Keat
Candidates have been on the ground with MPs, residents
SINGAPORE — The ruling People's Action Party (PAP) introduced its first slate of eight candidates on Wednesday (June 24), a day after Parliament was dissolved.
Divided into two virtual sessions, the first four candidates were introduced by Deputy Prime Minister and the party's first assistant secretary-general Heng Swee Keat, and the second group by Environment and Water Resources Minister Masagos Zulkifli, who is PAP vice-chairman.
The first set of candidates are former People's Association chief Desmond Tan, 49; managing director and co-founder of lifestyle and entertainment group Timbre Edward Chia, 36; associate director at corporate law firm TSMP Law Corporation Nadia Ahmad Samdin, 30; and general manager at Keppel Offshore & Marine Ivan Lim, 42.
In the second session, the party introduced lawyer Hany Soh Hui Bin, 33; UOB senior vice president Don Wee Boon Hong, 43; union executive Mohd Fahmi Aliman, 48; and former civil servant Yip Hon Weng, 43.
Mr Heng said the renewal of candidates for this election will allow the party to bring in new faces from various segments of the society, so that they can represent these segments and bring forward different interests for discussion.
"We have been strengthening our capacity to serve our people and bring Singapore forward," said Mr Heng.
"What has been very encouraging for us is that we have now seen many people, many Singaporeans, who have taken the opportunity of embarking on different pathways in education or in their career aspirations, or in the courses that they are interested in, and being able to make headways to develop themselves fully in this process."
Mr Masagos added that it is the value system and life experiences of the new candidates that led them to come forward to stand for election, he said after introducing the second group of candidates.
He said: "For all of us, if you look at what we have gone through our life, we have never stopped learning… Having a degree, a diploma, whatever we start from, or whatever school we went to, it does not matter.
"This is the value system that the PAP brings for Singapore," he said.
All 93 seats will be contested by the PAP, said Mr Heng. The party kept mum about where the new candidates will be fielded.
Asked if there is insufficient time for residents to get to know the new PAP candidates, Mr Heng said that they have been "on the ground" in various capacities, learning from the incumbent MPs and doing volunteer work with residents.
"I hope that with the activities we will be organising in the coming days, you will get to know them better," he said, without giving specifics of the party's plans.
Responding to a question about the prospect of facing Mr Lee Hsien Yang, now a member of the Progress Singapore Party (PSP), in the polls, Mr Masagos said: "We don't know, and we won't speculate on whether he (will be) running as a candidate."
The eight new PAP candidates unveiled on Wednesday are among 26 that will be introduced over three days, the party said on its website. In the 2015 election, when 89 seats were contested, it unveiled 24 new candidates. 
NEW PAP CANDIDATES
Mr Desmond Tan Kok Ming, 49
Mr Tan stepped down as People's Association (PA) chief on June 15, after a stint of three-and-a-half years. He led PA's ground operations as part of the whole-of-government Covid-19 response, said the association in announcing his departure. Prior to that, Mr Tan was a brigadier-general and his last appointment was Chief of Staff of the General Staff in the army. He served in the 1st Battalion Singapore Infantry Regiment and was the Chief Guards Officer.
He is married with three children, and has been active in Pasir Ris-Punggol Group Representation Constituency (GRC).
Mr Tan said he joined politics to do his part "to shape a society that we truly want". He also hopes to contribute to "preserve social mobility that is crucial in our growing society". "And I want to do my part to ensure that every child, every youth in Singapore can continue to succeed in life," he added.
Mr Edward Chia Bing Hui, 36
Mr Chia is the managing director and co-founder of lifestyle and entertainment group Timbre, founding Timbre @ the Substation, a live music bar, at the age of 21. He also currently serves as the co-chair of a National Environment Agency work group on sustaining the hawker trade, and sits on the board of the Ngee Ann Polytechnic Council.
Through the SG Youth Action Plan, which he co-chairs with Senior Minister of State for Culture, Community and Youth Sim Ann, he aims to work with fellow youths to chart a path for the future, and transform ideas into action for a better Singapore. He has been spotted with Holland-Bukit Timah GRC Member of Parliament (MP) Liang Eng Hwa.
Mr Chia hopes to be the voice for small- and medium-sized enterprises, especially after the "big blow" Covid-19 has dealt them. He also intends to champion mental health issues if elected, and hopes to upskill members of the community to be "effective first responders and good caregivers". Mr Chia also wants to promote policies on more inclusive work environments.
Ms Nadia Ahmad Samdin, 30
Ms Nadia is an associate director at TSMP Law Corporation, a corporate law firm. She is a board member and head of youth at LBKM, also known as Prophet Muhammad's Birthday Memorial Scholarship Fund Board, a charity for the Malay and Muslim community in Singapore.
Ms Nadia was formerly a current affairs producer at CNA and has also served with the National Youth Council, the Singapore Council of Women's Organisations and as a panel advisor to the Youth Courts. She hopes to cut down on plastic pollution and to be "a voice for (her) generation" in pushing for sustainable economic growth.
"We value sustainability, and not just sustainability in the traditional sense, but also thinking about sustainable economic growth, that is equitable first and foremost, while preserving the environment and upholding the values of Singapore," said Ms Nadia. 
Mr Ivan Lim Shaw Chuan, 42
Mr Lim is a general manager at Keppel Offshore & Marine. In 2018, Prime Minister Lee Hsien Loong wrote on Facebook about how Mr Lim began his working life in Keppel Harbour Yard in 1994 right after his O-Levels at the age of 16, before being given a scholarship by Keppel to pursue a diploma and, later, a degree.
"His circumstances were such that he had no choice but to start work at that young age... It is an inspiring story of how Keppel nurtures its talents," wrote Mr Lee.
Having benefited from the scholarship, Mr Lim said he wants to pay it forward and help others who are in need of assistance. He is particularly concerned about seniors and children who require social assistance, especially those with special needs. Mr Lim has been seen volunteering in Jurong GRC.
Ms Hany Soh Hui Bin, 33
Ms Soh is a director at MSC Law Corporation, a litigation and dispute resolution law firm. She sits on the Young Lawyers' Committee, Criminal Legal Aid Scheme Committee and Community Legal Clinic Committee of the Law Society of Singapore.
Ms Soh is also a grassroots leader in Bukit Panjang Single Member Constituency and has served on the Bukit Panjang Citizens' Consultative Committee and Residents' Committee. She was formerly the Young PAP chairman of the Bukit Panjang branch and was elected to the PAP HQ Executive Committee in 2016. Described by Mr Masagos as being active in sustainability initiatives in Bukit Panjang, she hopes to be the voice of her residents in Parliament.
Ms Soh hopes to change how people can apply for Lasting Power of Attorney — which allows individuals to appoint another person to act on their behalf should they lose mental capacity — as it is currently a "tedious" process. She intends to streamline these procedures so that the process can be "as easy as the Central Provident Fund nomination form", which is done online. 
Mr Don Wee Boon Hong, 43
Mr Wee is currently working in UOB as a senior vice president. He also sits on the Institute of Mental Health's Visitors' board and works with the Ministry of Social and Family Development's Office of Public Guardian on a pro bono basis, according to his LinkedIn profile.
Mr Wee is a council member of the Institute of Singapore Chartered Accountants, and a member of its Continuing Professional Education Committee.
Growing up in a rental flat, Mr Wee said he has had an unconventional upbringing and "has been a beneficiary of Singapore's meritocratic system" and wants to help the less privileged. He hopes to digitalise the ways less-privileged families can apply for social services.
Mr Mohd Fahmi Aliman, 48
Mr Fahmi joined the Islamic Religious Council of Singapore last year but left on March 24. The former colonel was in the Singapore Armed Forces for 26 years and at one point, served as director of the Changi Regional Humanitarian Assistance and Disaster Relief Coordination Centre.
He is now with the National Trades Union Congress. He grew up in a rental flat, and his parents had worked as a gas worker and a cleaner. "I want to raise awareness for low-wage workers and for essential services workers, for them to continue to upskill themselves," he said.
He wants the progressive wage model to be applied to every service industry with low-wage and essential workers. "We realise that there is no bonus, or little bonus, given to low-wage workers… I want to be the voice to fight and make sure low-wage workers are taken care of," he added.
Mr Yip Hon Weng, 43
Mr Yip was until recently group chief of the Agency for Integrated Care's Silver Generation Office, and was the advisor of care integration in the Ministry of Health. The career public servant of 17 years had served in the education, defence, health and national development ministries.
He was previously the founding director of the Municipal Services Office, which works across various ministries and agencies to resolve municipal issues. A father of five children, he said joining politics — like having a big family ⁠— comes with joys and rewards that "far outweigh the costs". 
Mr Yip said the Government can do more to help seniors in terms of mental health support and raising awareness of resources available. He also intends to help them embrace digitalisation in a post-Covid-19 world.