German firm hopes to debut flying taxis in Singapore as early as 2021
SINGAPORE — German company Volocopter hopes that its air taxis can make their debut in Singapore as early as 2021.
SINGAPORE — German company Volocopter hopes that its air taxis can make their debut in Singapore as early as 2021.
Speaking to TODAY on Wednesday (Oct 16), Volocopter's spokesperson, Ms Helena Treeck, said that the company is currently in "introductory talks" with the Singapore Government to bring its air taxis, which are named after the firm, here.
The German company has been in talks with the Economic Development Board, Transport Ministry and the Civil Aviation Authority of Singapore for the past year to assess the feasibility of bringing in air taxis, although Ms Treeck was quick to caution that nothing had been firmed up yet.
"We hope to have our first commercial routes open in the next two to five years. Singapore is one of the potential contenders to be among the first routes, but from Volocopter's side, we cannot say yet when the first route will actually be open," said Ms Treeck.
The other contender for Volocopter's commercial debut is Dubai. The air taxi had performed a public unmanned test flight there in 2017.
A research and development version of the air taxi, named the Volocopter 2X, will be flown in Singapore for the first time on Oct 22 at Marina Bay. It will fly for three minutes at noon as part of the Intelligent Transport Systems World Congress, which runs from Oct 21 to 25 at the Suntec Singapore Convention and Exhibition Centre.
In another first, Volocopter, together with its partner, British firm Skyports, will display its take-off and landing site for the Volocopter called the VoloPort at the Marina Bay Floating Platform during the congress. The VoloPort's structure resembles a helipad with an attached passenger terminal to cater to the high number of passengers expected.
However, the Volocopter 2X will not be taking off or landing from the VoloPort during its demonstration here. Ms Treeck was unable to disclose where the air taxi would do so.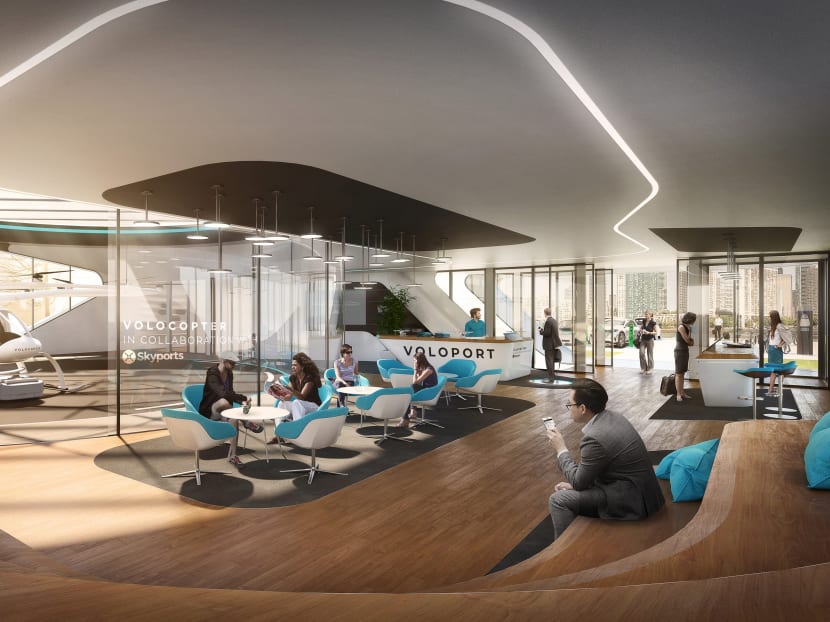 Skyports' infrastructure manager Damien Kysely, who was also at the interview with Ms Treeck, said that Skyports and Volocopter were considering sites such as Marina Bay, Changi, Sentosa and Seletar for their commercial services, although these have yet to be approved by the authorities here.
When asked why Singapore was a potential contender, Mr Kysely said that even though cities like Los Angeles, Jakarta and Bangkok suffer from traffic congestion and are where Volocopters will have the biggest market, he said that Singapore is being considered due to its "great innovation culture".
Citing the example of Changi Airport's skytrain, which is autonomous, Ms Treeck added that Singapore is "forward-thinking" when it comes to new technology.
"It's about having a fertile environment where you know authorities in the country and potential customers are open to trying new things," she said.
HOW THE VOLOCOPTER WORKS
The Volocopter is an electronically-powered drone which runs on 18 rotors. It differs from helicopters which are fuel-powered and run on main and tail rotors as well as a turbine. The difference in design means that Volocopters also fly more quietly than helicopters.
The Volocopter 2X can be flown by a pilot with a joystick, or remotely from the ground. When commercialised, the Volocopter will be able to fly autonomously as well, although initial flights are expected to be piloted.
At maximum speed, the Volocopter can travel at 110km per hour and carry 200kg, or two passengers and their luggage.
Ms Treeck said that if the Volocopter is any heavier, its systems would automatically prevent it from taking off. In this regard, the Volocopter is safer than a helicopter which can be flown by a pilot against stipulated regulations, increasing the risk of accidents.
There are, however, limitations to where a Volocopter can fly or land. For instance, it cannot fly in areas populated by tall buildings and trees. If it were to land on a building, the building must be able to support the weight of the air taxi.
WHO CAN HOP ON A VOLOCOPTER
Unlike helicopters which are designed for "low-frequent, private services", Volocopter aims to market its air taxis as an "on-demand public transport service".
It will serve as a premium taxi service as part of the larger public transport landscape, and cost more than regular taxis.
While it may initially be used by tourists and business travellers who may want to save time, Ms Treeck said that the plan is to eventually commercialise it for the general public. With the addition of more routes and more passengers adopting the service, prices for air taxis could also fall with time, she reckoned.