Get the right travel insurance for your varied holiday plans
A remarkable 90 per cent of Singaporeans get travel insurance when they have to travel overseas, and experts concur that it is the right choice. More than just buying any policy, though, it is important to get the right coverage at the right price.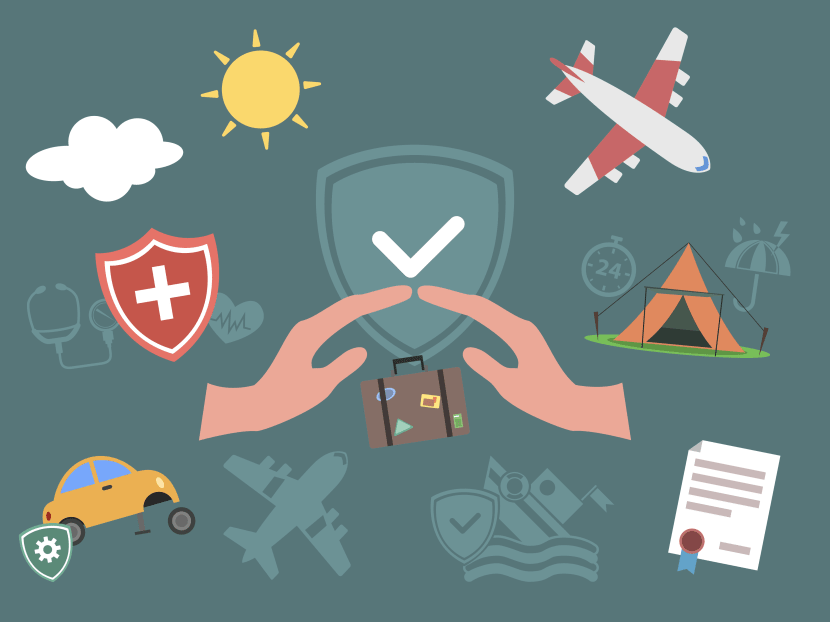 A remarkable 90 per cent of Singaporeans get travel insurance when they have to travel overseas, and experts concur that it is the right choice.
More than just buying any policy, though, it is important to get the right coverage at the right price.  
Travel insurance is designed to give you compensation and emergency care when things go wrong while you are travelling. It can give you protection for everything from delayed flights to lost baggage to medical care, if you are in an accident or being caught in a terrorist incident.
It is usually worth buying so that you are covered when unexpected events you never thought could happen to you do occur.
In most cases, you will pay for the insurance policy and submit documents to the insurance company later to get reimbursed — so save those receipts. 
In a major medical emergency where you need immediate hospitalisation or emergency repatriation, you can often contact the insurance company to ask for help with making arrangements and payments.
And technology is making some reimbursements faster and easier.
Maybank's Etiqa Insurance, for instance, can give you instant pay-outs if your flight is delayed by more than three hours. It uses real-time tracking of flight delays and digital assessments to give instant approval for travel delays and inform you about real-time payments.     
TYPE OF COVERAGE
While friends and family may have various views on whether you need travel insurance, experts recommend that you get it for every trip.
The type of coverage you need can vary.
If you are taking an inexpensive trip to a nearby and safe destination, you may just need a very basic policy that covers large costs such as emergency medical treatment or evacuation.
And it is surprising how many people make claims for medical care in nearby places. The Singapore Tourism Board noted that more than half of the claims made by people travelling to neighbouring countries such as Malaysia or Australia were for medical expenses.
If you are doing something exotic or travelling to remote locations, you may need much more coverage so that you are fully covered if something happens.
Sometimes, you may be able to skip the insurance altogether. If you pay for travel with a credit card that provides travel insurance, for instance, you may not have to buy another policy if the card company provides everything you need. It is worth checking to see what is provided.            
CHOOSING THE RIGHT POLICY
With so many policies offering a wide range of coverage at very different prices, what is essential is choosing the right policy rather than just the cheapest one.
To figure out what you need, take time to make a list showing where you are travelling, whether you need coverage just for flights or for rental cars, whether you will be doing adventurous activities such as skydiving, how long you will be away, and the value of the things you are taking with you such as expensive gadgets, cameras or golf clubs.
In many cases, a simple policy that covers medical emergencies or repatriation as well as lost luggage or cancelled flights may be enough. 
In other cases, it is worth paying extra to cover specialised needs.
When you are going somewhere with poor healthcare, make sure your emergency evacuation limit is at least S$1 million so that you can get evacuated back home for good medical care.
If you have a pre-existing medical condition that could cause issues overseas, you may need to look for a policy that covers your situation.      
If you travel to a place that has volcanic eruptions or floods, or where demonstrations or a terrorist incident may close the airport, check to ensure that these events are not excluded.
Or if you are planning to take part in higher-risk activities such as bungee-jumping, running a marathon or riding hot-air balloons, make sure the policy includes them.
Frequent travellers may find that they save by getting an annual plan. For people who rarely travel, single-trip coverage may offer the best deal.
Check, too, to make sure the region you are travelling to is covered, since some policies exclude the United States or other destinations with higher-cost medical care unless you pay a higher premium. 
COMPARE PLANS
To get the best deal, it is helpful to use comparison websites such as SingSaver or GoBear.
Some websites also offer advice, such as suggestions for the most "Yolo-friendly" travel insurance plans for thrill-seeking travellers and the best cheap travel insurance that still provides good coverage.
You may also look at recommendations on the sites to see which companies are easiest to work with and have the best customer service when you need help.
Boring as it might seem, be sure to read the policy — and check especially for exclusions.
If you think you are going to be covered for those balloon flights or typhoons when they are specifically excluded, you could come up short.
Financial website Seedly also suggests buying your travel insurance as soon as you book your flight, since complications such as volcanoes erupting or snowstorms that close airports can happen anytime, even before your trip.
While travel insurance may seem like an unnecessary expense, it can literally mean the difference between a full recovery from illness and something far worse.
Pay just what you need, to maximise the value.