Given low adoption rate of TraceTogether, experts suggest merging with SafeEntry or other apps
SINGAPORE — To get more people to use the TraceTogether mobile application, its contact-tracing functions can be integrated with apps that Singaporeans already use, or merged with the SafeEntry system that is already in place at shopping malls, experts said.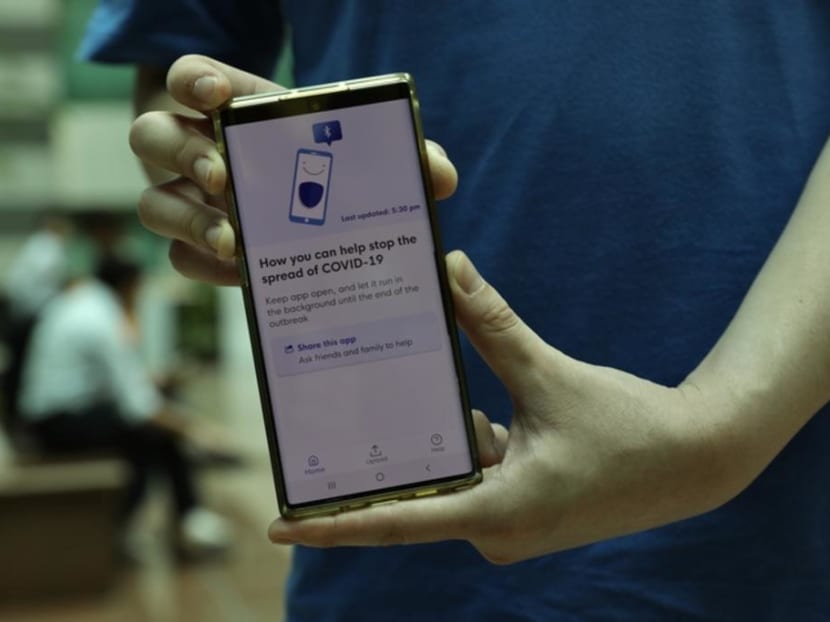 SINGAPORE — To get more people to use the TraceTogether mobile application, its contact-tracing functions can be integrated with apps that Singaporeans already use, or merged with the SafeEntry system that is already in place at shopping malls, experts said.
Based on the TraceTogether website, only 25 per cent of the population had downloaded the app since its launch on March 20, far below the 75 per cent required for it to be effective.
Privacy concerns as well as how it drains batteries of iPhone users have been cited as reasons for its low adoption rate. The app aids the authorities in contract-tracing efforts.
National Development Minister Lawrence Wong said on Friday (May 8) at a multi-ministry task force press conference that the use of TraceTogether and SafeEntry needs to be in place before more businesses open on June 1, when the circuit breaker is expected to end.
He said in Parliament on Monday that the team in charge of TraceTogether is working with Apple and Google to enhance it and make it more effective.
TraceTogether works by exchanging Bluetooth signals between nearby mobile phones that have the app installed, estimating the distance between users and how much time they spent in contact.
This information will be stored locally in users' mobile phones. During contact tracing, they can consent to send the data to the Ministry of Health.
On April 26, Australia launched a coronavirus tracing app that is modelled on Singapore's TraceTogether, drawing criticism on extensive control over users' private information.
MAIN PROBLEM WITH THE iOS VERSION
In Singapore, some experts said that the main issue that discourages people from downloading the app is that the current iOS version of it drains the iPhone's battery.
"Users need to keep the application open when in public spaces… and an open application also drains the phone batteries faster," said Mr Adrian Ng, 45, the chief executive officer of Codigo, a mobile app developer.
"(Keeping the application open) is also pretty difficult as users will be using their phone for other purposes, which cause the TraceTogether application to go into the background," he said.
This means that the user has to constantly reopen TraceTogether after using another app.
Even so, Apple is developing a new operating system, called iOS 13.5, that will allow apps to send Bluetooth signals even while they are running in the background. It has not been publicly released yet, but is available in beta, or prototype, form for developers.
INTEGRATING CONTACT TRACING WITH EXISTING APPS
Another expert said that as TraceTogether was released as a standalone app, people have to "hunt down the app" to make use of the contact-tracing feature.
"Instead of having an application, it could be integrated with different applications that Singaporeans already use, such as a bus-timing application or Grab, or other local apps," said Mr Calixto Tay, 32, managing director of mobile app development agency Originally Us.
He acknowledged that there may be privacy concerns among Singaporeans when the contact-tracing function is integrated into third-party apps. But this can be overcome by embedding features such as data encryption, he added.
Mr Wong Hong Ting, 36, founder and chief executive officer of 2359 media, a mobile app developer, said that as people frequently use SafeEntry, it can be integrated with the TraceTogether app.
From May 12, it will be compulsory for all businesses to use SafeEntry to track the entry and exit of workers and visitors on their premises for as long as it is required by law.
SafeEntry is a system that requires users to scan a QR (quick response) code to check in with their personal details when entering a place and to check out upon leaving.
Mr Wong said: "We use SafeEntry when we go into malls, grocery stores to run daily errands, so it makes sense to tag it to such an app."
He added that users who are concerned about their privacy when using TraceTogether can rest assured as the data is stored locally in the user's mobile phone.
"So it is only activated when someone I have been in contact with is likely Covid-19-positive, then the data would need to be downloaded from my phone to continue the contact-tracing process."
Another expert suggested that wristbands equipped with Bluetooth be issued to people who do not own smartphones.
"Customised wristbands, like the fitness trackers given out as part of the Singapore National Steps Challenge, can be distributed to the elderly to help them be involved in contact tracing, too," said Mr Nikhil Gupta, 29, the founder of Hipster, a software and mobile app development agency.
Mr Wong said on Friday that the authorities are looking at options such as wearable technology.
SHOULD IT BE MADE MANDATORY?
One expert TODAY spoke to was averse to the idea of making the use of TraceTogether mandatory.
"We should strongly encourage the use of the application, but making the application mandatory is quite a strong-handed approach," said Mr Tay of Originally Us.
"I think we still remember the SGSecure application where, during basic military training, soldiers were asked to download it and there was quite a big hoo-ha about it. It is more about Singaporeans needing to see the value in it."
Mr Tay was referring to an incident in 2017 when some complained that they had been threatened with disciplinary measures if they did not install the SGSecure app, which sends alerts during major terrorist attacks or other emergencies.
As most people are staying home now, they might also not see a need to use TraceTogether, since they will not be in contact with others outside their household, said Mr Patrick Sim, 43, director of mobile app developer RoubstTechHouse.
But it is a good time to encourage people to download it, he said, as contact tracing will become even more crucial after the circuit breaker ends.