Golden Mile Complex gazetted as conserved building
SINGAPORE — The iconic Golden Mile Complex has been gazetted as a conserved building, a year after the Urban Redevelopment Authority (URA) had proposed to do so.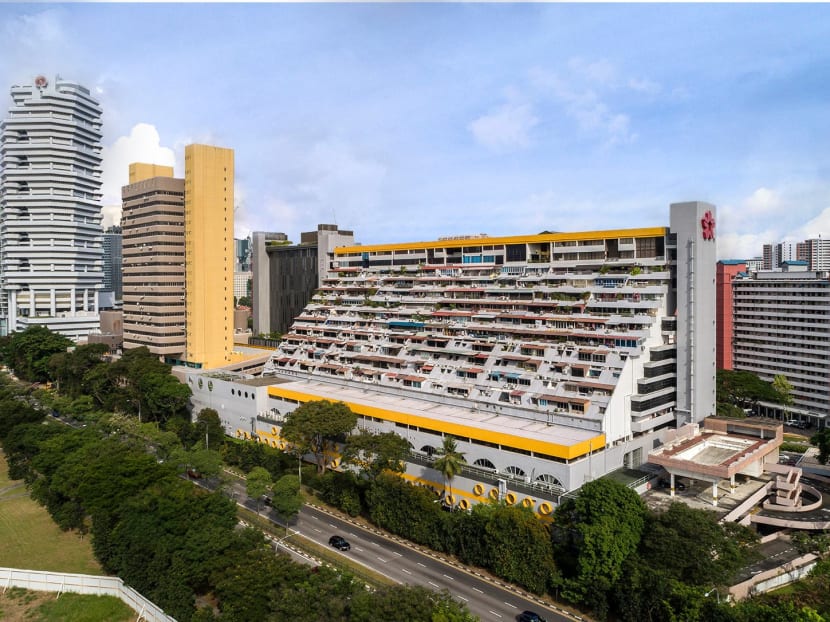 SINGAPORE — The iconic Golden Mile Complex has been gazetted as a conserved building, a year after the Urban Redevelopment Authority (URA) had proposed to do so.
This makes it the first modern, large-scale, strata-titled development to be conserved in Singapore, Minister for National Development Desmond Lee announced on Friday (Oct 22).
Golden Mile Complex, located along Beach Road and Nicoll Highway, is recognisable by its signature step-terraced facade.
Completed in 1973, the 16-storey building was one of the first high-rise, mixed-use developments in Singapore.
SUPPORT FOR COLLECTIVE SALE EFFORTS
Mr Lee acknowledged that the owners of Golden Mile Complex have been planning for a collective sale, and that some might see conservation of the ageing building as a "constraint".
He said URA has made efforts to ensure that conservation does not undermine the owners' collective sale efforts.
The authority's conservation proposal last year was accompanied by a "significant" incentive package to make development options for the site more attractive to buyers, he said.
These incentives have been refined over the past year, taking into consideration the owners' feedback, he added.
"The development potential of the site is increased with conservation. The developer will be able to build a new tower block about 30-storeys high, beside the main building," said the minister.
"The site boundary may also be extended to include part of the adjacent state land, for more design flexibility."
Tax incentives will be offered, including a partial development charge waiver on the bonus floor area and a full waiver on the conserved floor area.
There is also the possibility of lease renewal to a fresh 99-year lease, subject to approval from relevant agencies.
"The incentive package is unique to Golden Mile Complex, as its conservation is the first of its kind, another pioneering endeavour," Mr Lee said.
"We hope that developers will consider the potential of the site, alongside our vision to rejuvenate a national icon."
"HIGHLY SELECTIVE" IN CONSERVING BUILDINGS
Noting that Singapore has conserved almost 7,200 buildings, Mr Lee said the decision to conserve Golden Mile Complex "was not taken lightly".
"In our small city-state, we have to steward our limited land carefully, balancing many competing needs — housing and social amenities, offices and factories, nature and greenery, and more," said the Minister for National Development.
"Over time, we will have to redevelop and rejuvenate parts of our city to meet these needs as well as aspirations of our people, both current and future generations."
Mr Lee said the Government will do this "sensitively", considering the historical and architectural significance of buildings, the interests of building owners, the heritage community and wider public, as well as cases when the "physical aspects" of buildings have great value.
"We will need to build up local capabilities to retain and adapt these structures to meet new needs, including significant modern buildings such as Golden Mile Complex," he said.
"At the same time, we must remain highly selective in conserving buildings, bearing in mind other competing needs for land.
"In other cases where the physical form is not as critical, we can find other appropriate ways to celebrate the memories behind these older buildings, such as by integrating key artefacts and heritage markers thoughtfully into new developments." CNA
For more stories like this, visit cna.asia.