Goodbye, 5BX: Army's new strength-training exercises look to halve soldier injuries, improve form
SINGAPORE — A new set of stretching and strengthening exercises aimed at reducing injuries among soldiers will replace the longstanding "five basic exercises", better known as 5BX, which servicemen perform as soon as they wake up every morning.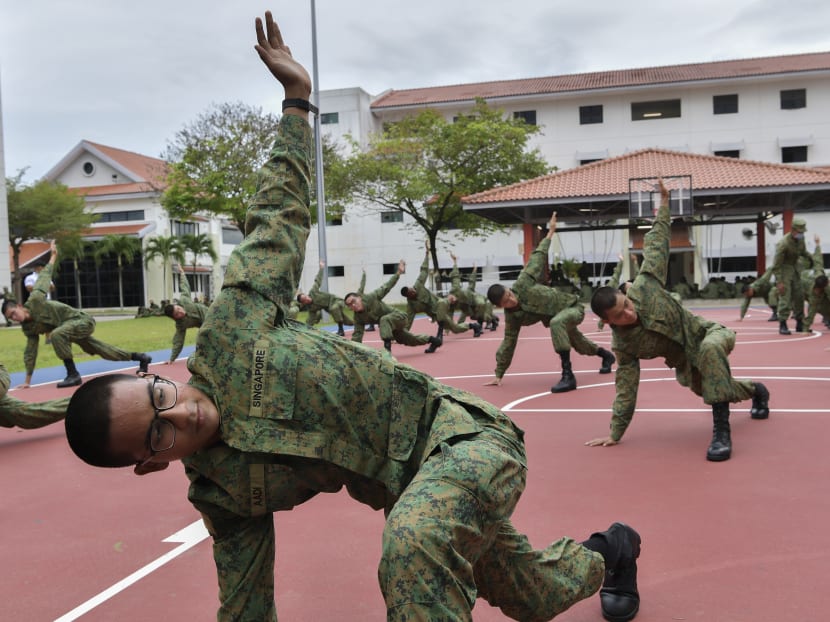 The Singapore Army will be replacing the decades-old "five basic exercises" with a new set of exercises aimed at conditioning muscles
Soldiers who have to perform strenuous activities for three or more days in a row will get two hours of extra rest
They will also get snacks before or after an intensive activity
An earlier trial found that these initiatives decreased the rate of physical injury from 6.3 per cent to 2.6 per cent
SINGAPORE — A new set of stretching and strengthening exercises aimed at reducing injuries among soldiers will replace the longstanding "five basic exercises", better known as 5BX, which servicemen perform as soon as they wake up every morning.
Since April, the Singapore Army has begun rolling out these "prehabilitation exercises", which it has termed PX, to its various units and training schools and expects to finish by next month.
Lieutenant Colonel (LTC) Chong Yi Tat, head of training and development at the Centre of Excellence for Soldier Performance (CESP), said at a media briefing: "If you've been in National Service before, at reveille (the time when soldiers have to get up), you'd do your 5BX. Now, you do your PX."
Its introduction follows a successful two-year trial that started at the Officer Cadet School in 2018 involving some 1,100 cadets across four cohorts. 
Among the cadets, musculoskeletal injury — physical injuries commonly sustained as a result of a strenuous activity — more than halved from 6.3 to 2.6 per cent, when compared with the previous four cohorts.
Common injuries that soldiers face in the army include chronic back pain, runners' knee and ankle sprains.
The cadets were put through a new training regime that included the PX in place of the 5BX, as well as given snacks before or after these activities and extra rest after several days of intensive training.
First introduced in the late 1960s, the 5BX is a set of simple aerobic exercises conducted usually at dawn to warm up a soldier's body for the day's activities.
It consists of push-ups, crunches, high jumps, jumping jacks and running. 
The PX are targeted at increasing soldiers' mobility, flexibility and core strength, LTC Chong said. 
Commanders may choose from two sets, consisting of 14 and 15 exercises lasting 30 seconds for each exercise. 
These exercises include knee rolls, lunges and mountain climber, a compound exercise done on all fours that work various muscle groups and joints.
Unlike the 5BX, these exercises can also be done at any time of the day.
Ms Grace Heng, head physiotherapist at CESP, said that the exercises are meant to be performed slowly and deliberately to target the appropriate muscle group.
"Unlike the high tempo in high-intensity exercises that are needed to build physical fitness, PX focus on form and controlled movements," she explained.
Over the past 30 years in the force, First Warrant Officer Arivalagan Kottamuthu said that he has seen a number of his colleagues suffer from back injury, likely because of a lack of proper stretching and understanding of sports science.
"Those days, physical training was very straightforward," the platoon commander at the Basic Military Training Centre said during the media briefing. "There was no recovery time, it was very demanding."
Giving his thoughts on the new prehabilitation exercises, he said: "I think it's a very good initiative to prevent injury."
The Republic of Singapore Navy and the Republic of Singapore Air Force do not practise the 5BX.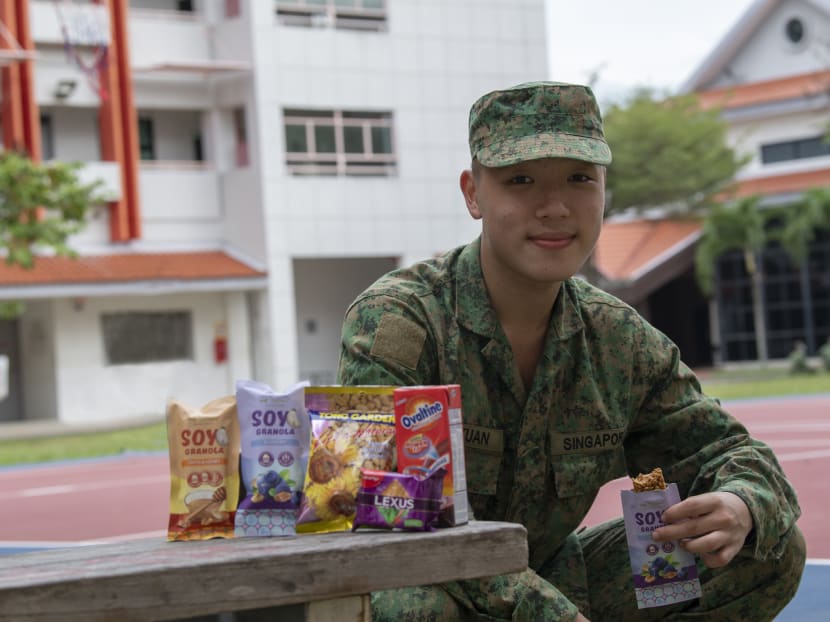 The PX are structured into two programmes.
Programme 1:
Station 1 — Half squats, mountain climbers
Station 2 — Step lunge, static hamstring stretch
Station 3 — Single leg bridging, static hip flexor stretch
Station 4 — Sit-ups, stretching of iliotibial band (tissue outside of hip, thigh and knee) in side-lying position
Station 5 — Spiderman stretch (to stretch hips and back), knee-rolling stretch
Station 6 — Alternate arm and leg lifts, buttock stretch in sitting position
Station 7 — Stretching of the piriformis (muscle that moves the hip joint), high plank with alternate hip taps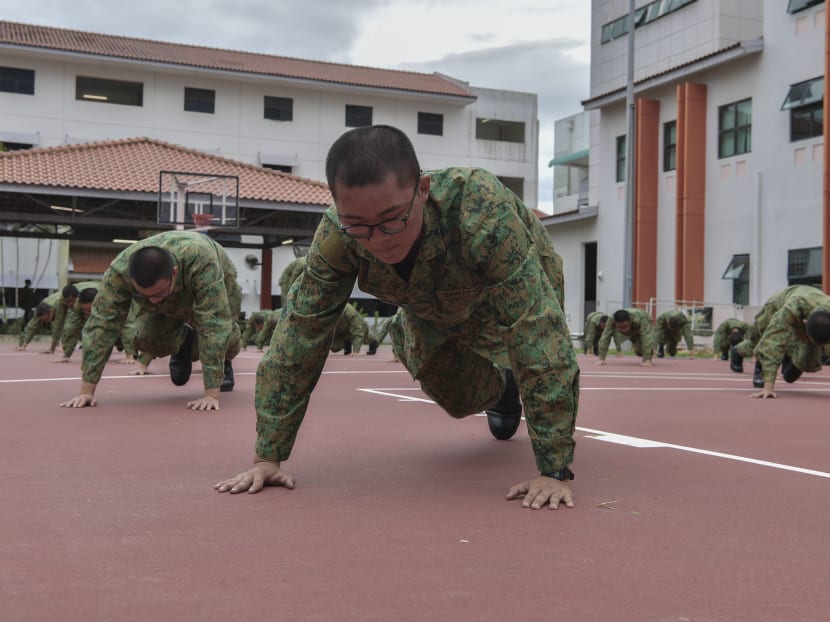 Programme 2:
Station 1 — Single-leg or double-leg tip-toes on ground, upper calf stretch
Station 2 — Wall squats or buddy squats, six-point star hops
Station 3 — Burpees, sumo squats (to condition hips, inner thighs and butt)
Station 4 — Iliotibial band stretches in side-lying position
Station 5 — Clamshell exercise (to strengthen hip abductors), single-leg half squats
Station 6 — Static lunges, lower-calf stretch
Station 7 — Single-leg deadlift (to strengthen lower back, butt and core), side-plank hold
Station 8 — Squat jumps, seated hamstrings stretch
DIFFERENT STANDARDS FOR RESERVIST TRAINING
The Singapore Armed Forces, which is facing a shrinking intake of full-time national servicemen, has in recent years been implementing changes to make training safer and soldiers more effective. 
CESP, the institute behind the introduction of the PX, was established in late 2017 to improve soldier performance through sports science, psychology and nutrition. 
Along with the PX, CESP is also rolling out two other initiatives to provide soldiers in the army with better nutrition and rest. 
Soldiers who have to perform three or more strenuous activities such as long runs or field training for three or more days in a row will get two extra hours of rest in the middle of that week. 
This is on top of the seven hours of rest that soldiers typically get each night.
Operationally ready national servicemen (NSmen) will not receive extra resting time when they return for reservist training.
The idea behind the extra rest, LTC Chong said, is to promote recovery and distribute the stress on the body for full-time national servicemen and is not required for NSmen given that they return to camp for only one to three weeks at a time.
Before or after an intensive activity, soldiers will also get a snack that is rich in carbohydrates or protein, depending on the activity being performed.
Soldiers going for a long run, for example, may get a banana and a packet drink an hour before their run, or a hot-dog bun and milk after strength training.