Changing mindsets, building trust among challenges Govt will face in remaining term of office, say analysts and MPs
SINGAPORE — Analysts and Members of Parliament (MPs) said that the Government should focus on changing society's mindsets, to get them to be more involved in bridging social gaps, and building trust with the people as it reconvenes for the second session of the current Parliament.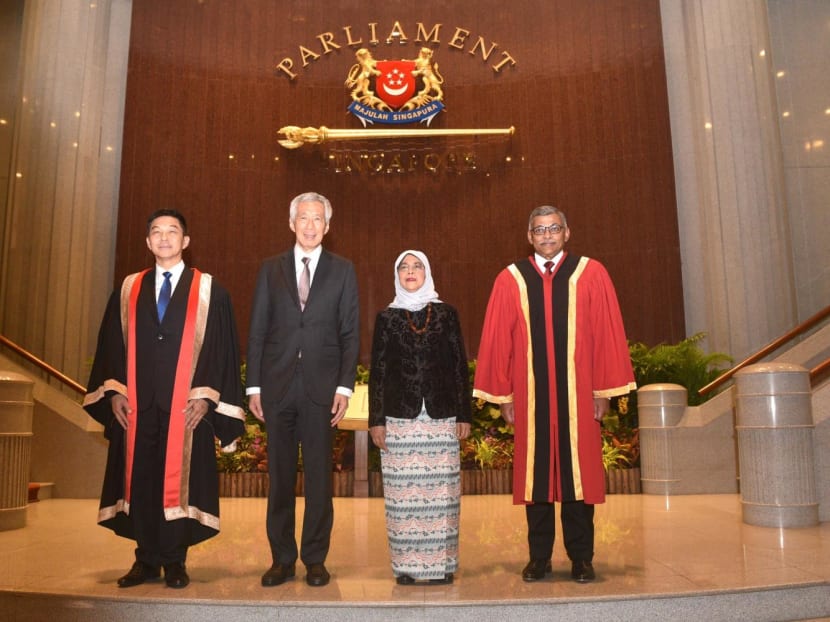 The Government should focus on changing society's mindsets, to get them to be more involved in bridging social gaps, and building trust with the people, said political analysts and MPs
They were commenting on President Halimah Yacob's parliamentary speech on Monday, where she laid out the Government's priorities for the remainder of the current term of office
Analysts said the country's leaders will have to engage society in frequent dialogue so that they become less reliant on the Government for support
MPs whom TODAY spoke to agreed with Mdm Halimah's call for a "broader and more open meritocracy"
They highlighted the need to move away from an over-emphasis on academic qualifications, and to level the playing field for individuals from different backgrounds
SINGAPORE — Analysts and Members of Parliament (MPs) said that the Government should focus on changing society's mindsets, to get them to be more involved in bridging social gaps, and building trust with the people as it reconvenes for the second session of the current Parliament. 
The country's leaders could also face challenges going forward, such as in getting society to reduce its reliance on the Government as part of a new social compact, said analysts. 
They were commenting on President Halimah Yacob's speech at the opening of the second session of the 14th Parliament on Monday (April 10). Parliament reconvened on Monday following a mid-term break since March 24.
During her speech, which laid out the priorities, policies and programmes of the Government for the remainder of the current term of office, Mdm Halimah said that one of its priorities is to strengthen its collective responsibility to shape Singapore's new social compact.
In doing so, it will involve more stakeholders, such as youths and civil society, in participating in nation-building.
However, more action on its part should not result in a greater sense of dependency and entitlement, she said. 
Instead, the Government will, through its actions, reinforce individual and family efforts, and bring forth contributions from other stakeholders.
CHALLENGES
Dr Felix Tan, a political analyst from the Nanyang Technological University said that while the Government wants to engage more stakeholders in the building of a refreshed social compact, it will be challenging for it to do so.
This is because there is always some social issue that pits one group with a stance that opposes another group's, he said.
"I think it's about changing that mindset… (and recognising) that there is a social divide and we all need to be responsible for bridging that gap."
In doing so, the Government will have to mediate and implement dialogue between different social groups, said Dr Tan.
"The Government can act as a neutral arbiter in such instances, especially if the issues will have ramifications on public policies," he said.
In a society that feels "handicapped" without government support, the Government will also have to constantly remind people, through frequent dialogue and engagement, to be more self-reliant, said Dr Tan.
However, he acknowledged that such a change in mindset could face resistance from society in the initial stages and could take several years.
Political analyst Eugene Tan said that Mdm Halimah's speech indicated a "potentially fundamental shift" in how meritocracy and social safety nets will work in Singapore.
"There will always be the pressure to do more and so nudging people to adapt will be crucial while also managing their expectations," said Associate Professor Tan, who is from the Singapore Management University.
He added: "The President reiterated the communitarian ethos and this attitude of looking beyond one's self-interests and paying it forward offers the promise of overcoming the challenges."
Assistant Professor Elvin Ong from the National University of Singapore's political science department highlighted building trust between the fourth-generation (4G) leadership and the people as one challenge ahead.
Even as the Government asks people to deepen their trust in the leadership, the 4G leadership team must place its trust in its people that they can develop a social consensus on important issues, and exercise collective wisdom and judgement on existing policies. 
The leadership must also trust that the people can "legitimately and constructively critique the Government's policies where reasonable", he added.
As it is, Mr Murali Pillai, the MP for Bukit Batok, said the Government has already built a "reservoir of trust" with the people. 
The question, he said, is what needs to be done to maintain it.
"It is obviously not just on the part of the Government," he said. "It has to be something that is fashioned by fellow Singaporeans — where everybody knows what each individual, each community in the nation should be responsible for."
Non-Constituency Member of Parliament Leong Mun Wai said in a statement to the media that while his party agrees with Mdm Halimah that Singapore's social compact needs to be renewed to give citizens a stake in society, it believes that many policies will require a "fundamental rethink" to achieve this.
This includes, among others, those on jobs, public housing and past reserves, said the Progress Singapore Party's secretary-general. 
Mr Leong said his party will continue its efforts in engaging the Government "meaningfully through constructive and robust debates on these necessary changes".
A MERITOCRACY THAT WORKS 
Several MPs also gave their view on Mdm Halimah's call for a "broader and more open meritocracy that works well for all Singaporeans".
In her speech, Mdm Halimah said that in preparing children for the future, the Government will provide everyone with access to a good education, and many chances in life to learn and improve.
However, she also cautioned against being "unwittingly drawn into an educational arms race".
Ms Carrie Tan of Nee Soon Group Representation Constituency (GRC) said she was heartened to hear this as it sends a "very positive signal" that an overemphasis on academic qualification may not be constructive in the long run.
Looking ahead, Ms Tan said she hopes the Government can engage with employers to realise the importance of hiring someone based on merit and not just on academic performances.
That way, she said parents will benefit from knowing that the future their children will be entering will hold many different ways for them to succeed.  
Mr Gerald Giam (Aljunied GRC) similarly spoke about the need to reform Singapore's education system.
Citing the Primary School Leaving Examination (PSLE) as an example, Mr Giam pointed out that as it comes at an early stage of student's life — the age of 12 — some may lack the maturity to cope with all the pressures associated to such a "high stakes" examination.
Instead, Mr Giam said the Workers' Party is proposing an option for a through-train programme from Primary 1 to Secondary 4 for students who do not wish to go through the PSLE.
"We believe that will facilitate a greater love for learning… rather than just studying for the sake of an exam," he said.
Education aside, Mr Murali said it is also important to ensure that less privileged children, such as those living in rental flats, are not held back because of their background.
Hence, he emphasised the importance of having programmes such as KidStart, which supports low-income families, to level the playing field for them. 
Otherwise, Mr Murali said it would be "a bit difficult (for these children) to make sense of meritocracy in these kinds of circumstances".
Ultimately, calls to redefine and refine meritocracy in Singapore's context allude to the ideal that no one should be left behind, and MP Tin Pei Ling (MacPherson) highlighted the collective role Singaporeans can play in ensuring this.
"As we continue to strive to excel, for those who have already gotten ahead further, that they would remember to look out — left, right, back, in all directions — for fellow Singaporeans and help those who may be struggling a little bit more, to move along as well," she said.
"Because at the end of the day, we don't want a stretched-thin long line. We want everyone to be one mass, together, to move ahead. I think that would be more powerful as an engine for Singapore."