Government has bridged digital divide but has 'humility' to try to do more: Iswaran
SINGAPORE — Two Nominated Members of Parliament (NMPs) on Tuesday (May 26) called for universal digital access that would make the internet a public utility — akin to electricity and water — rather than a privately supplied service. They said that Covid-19 had exposed a "digital divide" in Singapore.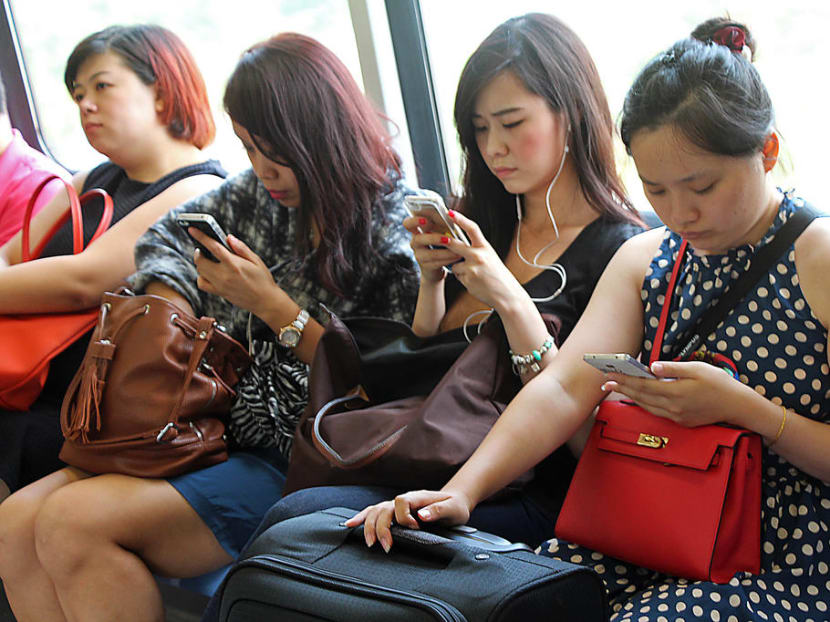 SINGAPORE — Two Nominated Members of Parliament (NMPs) on Tuesday (May 26) called for universal digital access that would make the internet a public utility — akin to electricity and water — rather than a privately supplied service. They said that Covid-19 had exposed a "digital divide" in Singapore.
In an adjournment motion in Parliament on Tuesday, NMP Anthea Ong asserted that many have become "digital outcasts" rather than "digital natives" during the pandemic, owing to a lack of internet access and computer devices. They also lack computer literacy, she added.
"Today, internet connectivity and personal computers are necessities but they are still priced beyond the reach of the low income in our society. This disparity in turn perpetuates further inequality," she said.
The need for classes to be conducted via home-based learning, for example, has exposed certain on-the-ground realities, during the circuit breaker period where people have to stay home, Ms Ong said.
The Government's latest household expenditure survey released last year found that at least one in 10 households in Singapore is not plugged in digitally, the NMP noted.
The survey also showed that 81 per cent of resident households have a personal computer and 87 per cent have internet access.
Adding to the debate, NMP Lim Sun Sun, who heads the humanities, arts and social sciences programme at the Singapore University of Technology and Design and who specialises in communication and technology, argued that different segments of society have been shown to have unequal digital access during this period.
Professor Lim said: "Some have had no devices, others the wrong kinds of devices of which many were slow or malfunctioning. And yet others have no internet connections and still more have limited digital skills.
"Families on the right side of the digital divide are (conversely) happy, with robust internet connections, reliable devices and digital competencies to see them through their online needs for learning, working and transacting."
IDEAS TO BRIDGE DIGITAL GAP
The NMPs then gave several suggestions on how to tackle the digital divide by ensuring universal access to the internet, to digital devices as well as to skill sets that would enable people to benefit from a digitalising world.
1. Internet access as a public utility
Through a concerted effort with telecommunications companies, free wireless internet such as Wireless@SG could be extended to residential areas, both NMPs suggested.
This is especially so for low-income households, with both Ms Ong and Prof Lim suggesting that the free-to-use Wireless@SG service be extended to all rental flats in Singapore.
Ms Ong also urged the Government to improve government metrics to measure "under-connectivity", since statistics do not show if the hardware or the internet services are sub-par.
"Simply owning a personal computer and being connected to Wi-Fi is not the end of the matter. Poor connection or an underperforming hardware creates further obstacles," Ms Ong added.
2. Equal access to personal computers
Prof Lim said that universal access to computing devices could be achieved by automating the computer subsidy for low-income households, such as the way that the Baby Bonus and the Workfare Income Supplement schemes are administered.
Ms Ong proposed to enhance the NEU PC Plus Programme by the Infocomm Media Development Authority (IMDA), which subsidises the purchase of a new computer for low-income households where there are either students or persons with disabilities.
More than half of those living in one- and two-room rental flats have no access to the internet or a personal computer, she said.
She also highlighted that the scheme falls short due to a complex application process, precludes preschool, homeschool and university-going learners, and provides a lower subsidy than for students and persons with disabilities.
Originally, the scheme catered one laptop for each eligible household, which was raised to two only during the circuit breaker period that lasted from April to June, she noted.
Adults have no option to apply for personal computers, only a tablet or a smartphone, under IMDA's Home Access Programme, she added. This scheme allows eligible persons to apply for fibre broadband connectivity and a tablet at a subsidised rate.
Ms Ong said: "A child who has to type out an essay on a smartphone or a tablet is not on the same footing as a child with a laptop. Yet some low-income families reported that their children were told to do home-based learning on their mobile phones." 
She mooted the idea of a "digital empowerment voucher", similar to the existing public transport vouchers, for families to buy devices from Singapore-based firms.
3. Improve digital literacy and readiness
Prof Lim observed that some donors of computers and internet access to low-income households had been reluctant to provide such access because they feared that the needy would be vulnerable to online risks such as pornography and online gambling.
"Invariably, better-educated parents will be more tech-savvy and can better guide their children's digital access," Prof Lim said of the differences between people of differing income and demographic profiles when it comes to using technology.
She also said that in-school digital literacy programmes should be intensified "to help these children make up for the lack of scaffolding at home". In this context, "scaffolding" means parental support for students, for example.
"Poor digital literacy should not be used as justification to deny low-income families access to a vital resource from which the rest of society benefits," Prof Lim said.
Ms Ong suggested setting up a "digital adequacy framework".
This could be used to determine the type and number of personal computing devices in each household, the level of internet speed, hardware functionality and digital literacy needed to enable meaningful digital participation by everyone.
GOVERNMENT'S RESPONSE
Responding to the NMPs' speeches, Mr S Iswaran, Minister for Communication and Information, agreed that the adoption of digital technologies has been uneven across the economy and society, despite the Government's drive to include everyone in its national digitalisation effort.
"Covid-19 has brought that same message across more starkly, highlighting to all the value and even the urgency of digital solutions at a time when we have all had to learn and work from home, and interact and transact online," he said.
There is an opportunity to give digitalisation a "renewed impetus", he added, noting that digitalisation was a key thrust of Deputy Prime Minister Heng Swee Keat's ministerial speech when delivering the Fortitude Budget on Tuesday. Mr Heng is also Finance Minister.
However, Mr Iswaran stressed that Singapore's state of digital readiness is not as bleak as Ms Ong suggested, highlighting how IMDA's recent surveys found generally high access to the internet or to personal computers, including among low-income families and households more generally with school-going children.
On Ms Ong's criticism of IMDA's programmes, that the eligibility criteria were raised only during the circuit breaker period, for example, Mr Iswaran urged the House to "have some perspective in evaluating how fit for purpose the programmes were".
"The question has been asked: Why only one device per household in the NEU PC Plus programme? But we are talking about an environment pre-Covid, and I think the members would agree that the last two months have changed the world.
"I think we have made progress, but at the same time, we must have the humility to acknowledge that there is more that we can do," he said.