Govt bans electric scooters from all footpaths from Nov 5
SINGAPORE — The use of electric scooters on all footpaths will be banned from Tuesday (Nov 5) and riders may only use them on cycling paths and park connector networks.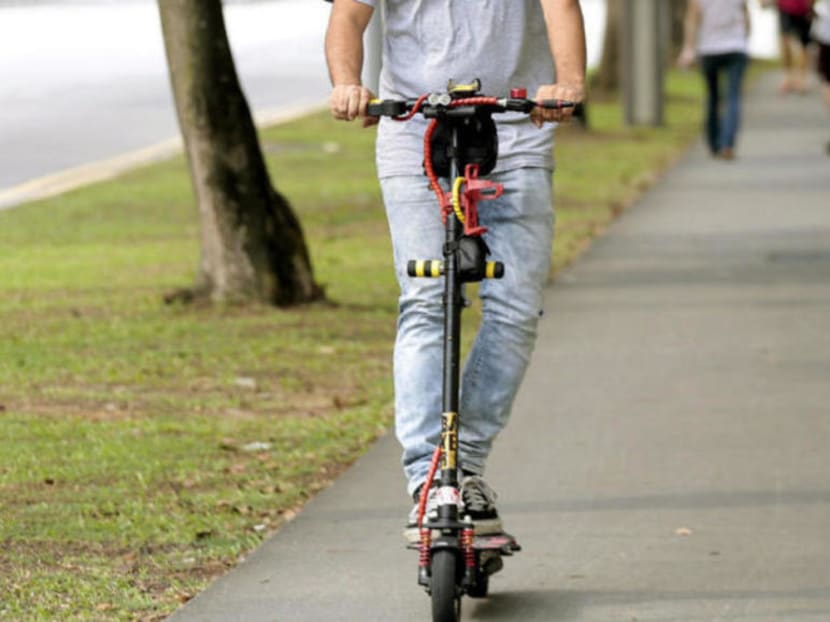 SINGAPORE — The use of electric scooters on all footpaths will be banned from Tuesday (Nov 5) and riders may only use them on cycling paths and park connector networks. 
Such devices will continue to be banned from roads as well.  
Those who do not comply can be fined up to S$2,000, jailed up to three months, or both, but to allow users to adjust to the new rules, the Land Transport Authority (LTA) will provide an "advisory period" till the end of the year. 
During this period, warnings will be given out but LTA will reserve the right to enforce the rules for more serious cases.
From Jan 1, 2020, a "zero-tolerance" approach will be taken, and those caught riding an e-scooter on footpaths will face regulatory action, said the LTA.
The ban from footpaths does not affect bicycles, kick-scooters and personal mobility aids such as motorised wheelchairs and mobility scooters.
In response to queries from TODAY, the LTA said that it intends to ban the usage of all motorised personal mobility devices (PMDs), including hoverboards, on footpaths eventually. A ban on other PMDs will be rolled out progressively by the first quarter of 2020. 
"Currently, e-scooters are the most prevalent form of motorised PMDs on our paths. Hence, there is an urgent need to remove them from footpaths," it said. 
In the meantime, LTA will issue warnings to all motorised PMD riders found riding on footpaths, it added.
The new rule comes as offences relating to errant behaviour and incidents involving e-scooters remained on an upward trend – with authorities catching some 370 offenders a month on average – "despite significant efforts", Senior Minister of State for Transport Lam Pin Min said in Parliament on Monday. 
Dr Lam noted that Singapore's clampdown comes just a week after France announced that it would no longer allow the riding of e-scooters on its pavements following hundreds of e-scooter-related incidents, including several deaths. 
"Cities have allowed the use of such devices on footpaths as they are non-pollutive, inexpensive and, if properly used, convenient for short intra-town travels. We expected the co-sharing of footpaths to be challenging but were hopeful that with public education, PMD users would be gracious and responsible. Unfortunately, this was not so," he added.
In Singapore's case, Dr Lam said there had been "more severe" accidents, including a fatal one involving a cyclist in September. He added that many riders have themselves suffered severe injuries, including a few who had lost their lives.
In an update sent to TODAY on Monday (Nov 4), the LTA noted that there were about 184 reported off-road accidents involving PMD riders between Jan 1 and Sept 30 this year. Of these, about 64 per cent occurred on footpaths, while 8 per cent took place on cycling and shared paths and park connector networks.
In all, there had been three fatalities, two of which involved PMD riders who skidded on footpaths in separate incidents while one involved a cyclist who collided with a PMD rider on a cycling or shared path, it added.
Singapore has put in efforts to regulate the use of such devices over the last two years, including legislation compliance standards for the devices and their proper usage, mandating an e-scooter registration regime and lowering speed limits on footpaths to 10kmh earlier this year.
Despite that, the ban of e-scooters from footpaths is a "difficult" but "necessary step" for pedestrians to feel safe again on public paths, while still allowing e-scooters to grow in tandem with cycling path infrastructure, Dr Lam said.
While the ban will impact food delivery riders who rely on them for work, Dr Lam said major food delivery companies had given feedback that they rely mainly on motorcycles and delivery vehicles for their services. 
Less than 30 per cent of riders of Foodpanda and Deliveroo use e-scooters, he noted, adding that the LTA will work with these companies to allow as many of their delivery riders to switch to motorcycles or bicycles.
Stressing that this is not a complete ban of e-scooters in Singapore, Dr Lam said the e-scooters are still allowed on dedicated cycling paths, adding that its network will be extended from about 440km today to 750km by 2025 at the latest. 
The expansion of the network comes in tandem with the completion of several cycling path projects in major towns such as Ang Mo Kio, Bishan, Bukit Panjang, Taman Jurong and Tampines from next year.
Subsequently, cycling path projects will complete in Choa Chu Kang, Toa Payoh and Woodlands by 2025. 
And by 2030, the network will be triple the current distance covered, and all Housing and Development Board towns will have a cycling path network, the LTA added.
In new precincts such as Kampung Bugis, Tengah and Woodlands North Coast, the LTA plans to build cycling paths on both sides of the road. 
New cycling paths may also be added in private residential estates and industrial estates, the LTA added.
E-scooter riders can check the MyTransport.SG app for the areas where they can ride their devices. 
Graphics: Samuel Woo/TODAY