Govt to beef up preschool subsidies for middle-income families from 2020
SINGAPORE — To soothe concerns over the cost of preschool education, the Government will beef up subsidies — including for middle-income families — as it seeks to make the provision of support more akin to that of public housing and healthcare.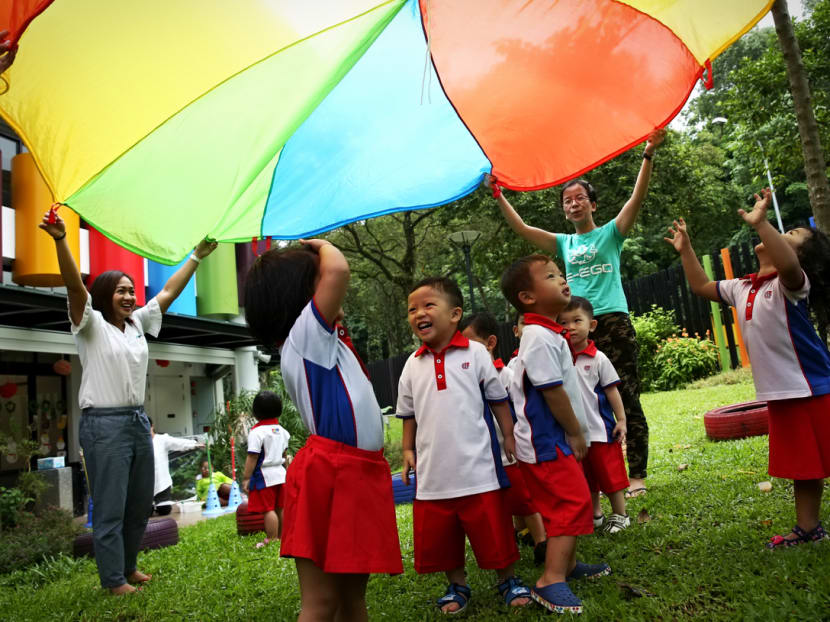 SINGAPORE — To soothe concerns over the cost of preschool education, the Government will beef up subsidies — including for middle-income families — as it seeks to make the provision of support closer to that of public housing and healthcare.
It will also more than double its spending on early-childhood education, from about S$1 billion a year today, in order to raise the share of preschool places that are government-supported from just over 50 per cent to 80 per cent.
At the National Day Rally on Sunday (Aug 18), Prime Minister Lee Hsien Loong said that the authorities would raise the income ceiling for families seeking to qualify for more preschool subsidies.
Today, families with a monthly household income of up to S$7,500, and with mothers or single fathers who work at least 56 hours a month, are eligible for extra subsidies.
The income ceiling will be raised to S$12,000, bringing another 30,000 households into the fold from next year, Mr Lee said at the rally, which is widely seen as the most important political speech of the year.
Right now, households receive a S$300 basic childcare subsidy, and up to S$440 in additional childcare subsidies, which are means-tested.
Mr Lee said that across the board, the amount of preschool subsidies will also rise, although he did not give details.
MORE GOVERNMENT SUPPORT
The prime minister pointed to a recent poll by the women's wing of the ruling People's Action Party, which showed that parents spend 6 to 15 per cent of household income on out-of-pocket expenses for preschool.
The group of female PAP Members of Parliament behind the poll had urged the Government to see preschool education in the same way as general medical services and housing.
Agreeing, Mr Lee said that Singapore should have good-quality, government-supported preschools available to Singaporeans, similar to public housing and healthcare.
"Today, just over half of all preschool places are government-supported," he added. "Over time, we will bring this up to 80 per cent, just like HDB (Housing and Development Board)."
At present, one in two preschoolers has a place in government or government-supported preschools, which receive funding to keep fees affordable.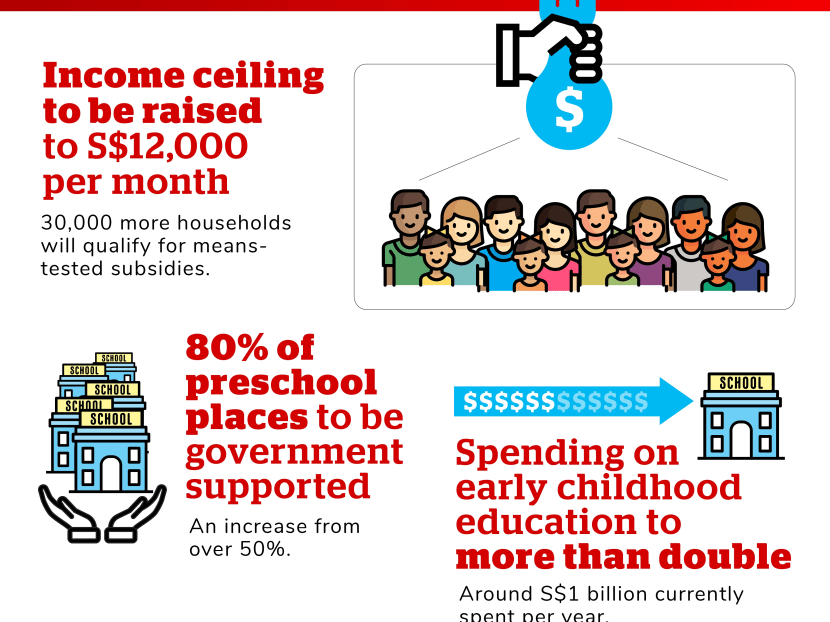 WITH NEW SUBSIDIES, HOW MUCH MORE SAVINGS?
Mr Lee gave the example of the Low family, a middle-income household where both parents are working.
They do not qualify for additional subsidies, as their household income surpasses the S$7,500 cap.
The Lows have two boys, aged two and four, who attend a government-supported preschool.
Mr Lee acknowledged that for middle-income parents, preschool fees could still form a chunk of the household budget, especially if they have two or more children in preschool concurrently.
Before the changes, the Lows shell out about S$560 a month for the preschool education of each son.
The higher subsidies will reduce this by about a third to S$370 or so for each child.
Their expenses will drop even further when the two boys start primary school, which is almost free. If they decide to send the boys to student care in the afternoons, it will cost the Lows S$300 or so for each son. "(This) is even lower than the S$370 that they will be paying after the enhanced (preschool) subsidies," Mr Lee said.
The aim in the medium term is to lower all-day preschool expenses to the levels of primary-school education and after-school student care.
"We need a while to get there, but we are working towards that," he said.
EXPANDING KIDSTART PROGRAMME
Separately, KidStart, a programme helping children from low-income and vulnerable families, will be expanded to reach another 5,000 children in the next three years, Mr Lee said.
The Government will then reassess how to extend it further.
Under the programme, announced in 2016, trained officers visit families before a baby is born to support expectant mothers, and impart skills and knowledge on health, nutrition and child development.
The officers continue to coach the parents after the child is born, all the way through preschool.
While the Government is "very happy" with the results of the programme — which has reached 1,000 children from lower-income families — Mr Lee said that it would be several more years before it can assess the benefits more exactly.
"But for each new cohort of babies, there is no time to lose," he said.