Govt to build 2 migrant worker dorms by 2024 with improved living conditions; shelves plan for 11 dorms by next year
SINGAPORE — The Government will build two new purpose-built dormitories over the next three years, officials said on Friday (Sept 17), after shelving earlier plans to have 11 of these large dorms ready by next year.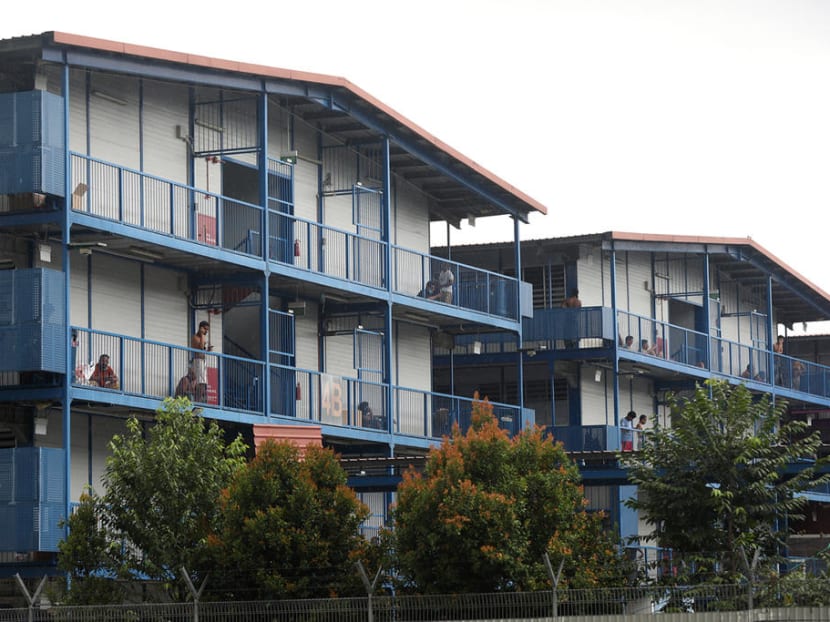 Two migrant worker dormitories will be built, one each in Kranji and Jalan Tukang
They will, for the first time, be constructed and owned by the Government but run by a dorm operator
Newly-built dorms will also have to follow a new set of standards with improved living conditions for migrant workers
The new guidelines come after a review conducted in the wake of a huge outbreak of cases in migrant worker dorms last year
SINGAPORE — The Government will build two new purpose-built dormitories over the next three years, officials said on Friday (Sept 17), after shelving earlier plans to have 11 of these large dorms ready by next year.
The two new dorms will be located at Kranji and Jalan Tukang in Jurong. They will be able to house a combined 12,500 workers when completed — with at least 10,000 beds in Kranji and 2,500 in Jalan Tukang.
Mr Cham Dao Song, senior director of strategic planning at the Ministry of National Development (MND), said the decision to build fewer dorms was based on the Government's latest assessment of the evolving pandemic situation as well as the demand and supply for beds.
"Right now, we think that building two is the appropriate number," he told a news briefing.
In response to questions from TODAY, an MND spokesperson said that the decision to build two rather than 11 dorms was based on factors such as the number of migrant workers entering Singapore and the availability of other housing options for workers.
In a joint statement in June last year, MND and the Ministry of Manpower (MOM) had said that they were planning for new purpose-built dorms to house up to 100,000 workers in temporary housing.
These included temporary quarters at worksites and unused state properties such as schools and vacant factories. The Government also started constructing quick-build dormitories meant to last for two to three years.
The ministries said then that they aimed to have 11 of the purpose-built dorms ready by 2021 or 2022.
The announcement on Friday was the first time the Government had indicated the earlier plan had been shelved.
At the news conference on Friday, Mr Poon Hong Yuen, MOM's deputy secretary (workforce), said that some dorms today in fact have higher vacancies than before the pandemic.
"It really is quite a dynamic situation that we need to watch," he said.
The two dorms will also, for the first time, be built and owned by the Government as a result of the challenging economic climate and needs brought about by Covid-19 pandemic, officials said.
Day-to-day operations of the two dorms will be run by a dormitory operator, although no information was yet available on how these operators will be selected.
IMPROVED STANDARDS
The two new purpose-built dorms will follow new building guidelines launched on Friday that require newly built dorms to allocate more living space for residents and en-suite bathrooms to be built for each room.
The new standards are aimed at strengthening dorms against future pandemics and improving the living conditions of migrant workers.
They come after a review of dormitory standards was conducted in the wake of a massive outbreak of cases in the migrant worker dormitories early last year.
Under the new standards, no more than 12 residents can occupy each room. Previous requirements did not set a cap and 12 to 16 residents typically shared a room.
The minimum living space for each resident will also be raised by 20 per cent from 3.5sqm to 4.2sqm per resident, excluding shared facilities.
The requirements include:
Spacing between beds: Beds must be spaced at least 1m apart. There is no current requirement for spacing between beds.

Communal facilities: Shared facilities such as cooking, dining and laundry areas must be segmented for use by up to 120 residents per facility. There is no current cap on how many residents are allocated to each set of facilities.

Toilets: At least one en-suite bathroom, toilet and sink must be provided for every six residents. Right now, for every 15 beds there must be at least one toilet, bathroom, sink, and urinal. Bathrooms can also be communal and do not have to be connected to the bedrooms.

Wi-Fi: All rooms must have Wi-Fi access, on top of just being available in the common areas.
Other requirements include having better ventilation, more isolation facilities as well as requiring all dorms with at least 50 residents to have an outdoor recreational area available for the migrant workers.
This set of standards will apply only to new dormitories whose construction applications are submitted from Saturday onwards.
For existing dorms, Ms Chew Ee Tien, director of MOM's foreign manpower unit, said the Government is working out a plan with dorm operators to have them transit to the new standards.
The Government hopes to announce this plan by early next year, she said.
These standards will apply to all newly-built dormitories, including those converted from factories and temporary ones.
Launching the new standards on Friday, Manpower Minister Tan See Leng said Covid-19 has highlighted the importance of making dormitories more resilient against future pandemics.
He acknowledged that the added requirements may result in higher costs for dormitory operators and employers.
"However, prevention is always better than cure, especially as we've seen the potentially grave implications of a disease outbreak on migrant workers, employers, and our Singapore's economy."
Investing in these measures today, he said, will put Singapore in stronger stead against future pandemics.
The Migrant Workers' Centre, a non-government organisation that advocates for proper housing for migrant workers, welcomed the improvements and urged workers to inform the organisation of any housing violations.
"It will take some time for all dormitory operators to come into compliance," said the centre in a Facebook post. "But even so, we know for certain now enhanced standards will become a reality."