Govt launches project to unite S'poreans through football; 1st phase involves standardised national curriculum, starting elite youth league
SINGAPORE — The Government on Monday (March 8) announced that it is launching a new national project to unite Singaporeans through football.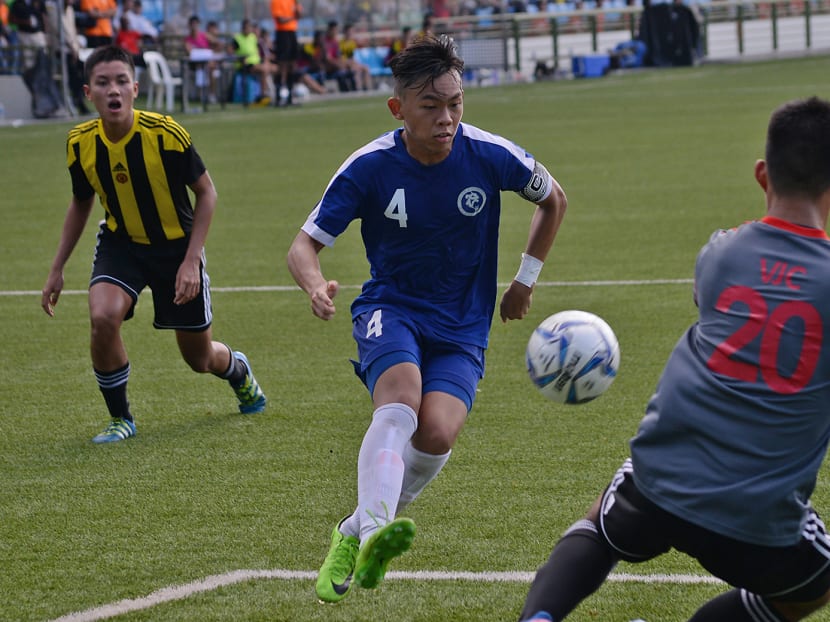 The new national project for football aims to raise the standard of football among young Singaporeans
The FAS will introduce a standardised national football curriculum for primary schools
An elite youth league will be set up in secondary schools on top of the current school games
SINGAPORE — The Government on Monday (March 8) announced that it is launching a new national project to unite Singaporeans through football. 
The project aims to do so by raising the standard of football among young Singaporeans through a structured training programme and encouraging Singaporeans to support the national football team.
Announcing this in Parliament during a debate on his ministry's budget, Mr Edwin Tong, Minister for Culture, Community and Youth, said that football is the "most participated" team sport in Singapore, bringing together Singaporeans from all walks of life.
"A national team that can perform at the highest levels affirms Singapore's multiple pathways of success and is a source of national pride. It can also expand opportunities for all — to play, to coach or just to be that crazy football fan cheering our team on. 
"Our football is not quite where we would like it to be. We can do more and we can do better, to rekindle the Kallang Roar and give our young Lions every opportunity to pursue their dreams," said Mr Tong.
The latest project is related to the Goal 2034 ambitions mooted by the Football Association of Singapore (FAS) two years ago to have the national team, also known as the Lions, qualify for the 2034 World Cup.
In 1998, Singapore launched a similar Goal 2010, but failed to qualify for the 2010 World Cup in South Africa. 
Elaborating on the project, Mr Eric Chua, Parliamentary Secretary for Culture, Community and Youth, acknowledged that Singapore has not been doing well in football in recent years. 
He recalled that he, like many in his generation, could rattle off the names of local footballing stars such as Fandi Ahmad and Nazri Nasir. 
"In the Kallang Stadium, at the coffee shops, in our homes, the entire neighbourhood would shake each time we scored a goal and we would rally behind our football teams," said Mr Chua.
"So this is my plea, not just to members of this chamber but to all Singaporeans, whatever your views on the state of football now, I ask for your support as we reimagine and re-energise Singapore football," he added.
The first phase of the latest project, which will take place over the next two years, will lay the foundation for Singapore's football teams across different age groups to be more competitive on the regional and international stages.
To this end, the FAS will introduce a standardised national curriculum for football co-curricular activities, to promote interest in the sport and to improve football standards among primary school pupils. 
MCCY will work with the Ministry of Education to build up a participation base, with about 2,000 boys from each primary school cohort exposed to football techniques and tactics under FAS' national curriculum.
Mr Chua said: "This is an inclusive vision, as we also want to grow the participation base for women's football." 
The curriculum will also be made accessible to public and private football clubs and academies to encourage its adoption islandwide. All football coaches will be trained to teach the curriculum. 
At the same time, the FAS will increase the number of qualified football coaches in primary and secondary schools, with the aim for all school coaches to attain at least the Asian Football Confederation 'C' coaching licence, which allows them to teach basic techniques and skills in football.
At the secondary school level, football academies will be established in selected schools. 
These academies will be places where aspiring footballers can further develop their skills in a school-based training environment, supported by an "augmented coaching bench, enhanced facilities and an intensive training programme", said Mr Chua.
Youth footballers under these academies will also compete in a new elite youth league to hone their competitive edge.
This league will be organised on top of the current school games to provide more opportunities for youth to compete at different ability levels.
Talented students outside these school football academies will be scouted to join the ActiveSG Football Academy Development Centres, so that they may receive similar levels of training support and exposure to competitions, said Mr Chua. 
Local and overseas scholarships will also be offered to those who wish to pursue a professional career in football.
"FAS is in discussions with overseas football institutions, such as La Liga, Bundesliga Club Borussia Dortmund as well as Australian colleges such as Maribyrnong College. Locally, we will work with clubs, such as the Lion City Sailors, to provide similar opportunities," said Mr Chua.
MCCY is also working with the Ministry of Defence to explore opportunities for footballers to continue training and playing at top levels while fulfilling their National Service obligations.
MCCY did not directly respond to queries from TODAY on how many phases there are in the football plan, how many qualified coaches there are in schools now and how many more new coaches will be introduced in schools.
Instead, a spokesman for the ministry said: "This long-term national project is an enduring rallying call for the Lions to inspire our nation and the next generation. 
"As a Singapore Together project, we work towards forging a strong partnership between the Government and Singaporeans to uplift Singapore football."
The spokesman added that to make "breakthroughs" in football, there is a need to "broaden and deepen the talent pipeline". 
This includes having more youth going through sustained and structured football training as well as enhancing capabilities in areas such as coaching, infrastructure and sports science. 
"This requires a concerted effort and a national strategy to guide and implement the plans, with long-term commitment that is insulated from disruptions, if any, within the football fraternity," said the spokesman. 
The ministry said that it wanted to ensure that proper foundations are put in place first. Targets for the plan will also be realistic and commensurate with the growth of the football ecosystem. 
Mr Tong said: "It has to be all of us working together, united, pulling in the same direction, for this project to have a chance. Uplifting Singapore football is a national project and I encourage all of us to rally around our common goal."
MCCY said that FAS and national sports agency Sport Singapore will provide more details of the plan on Tuesday.