GPC members file first-ever parliamentary motion on climate change; at least 12 MPs to speak at Feb 1 sitting
SINGAPORE — A group of Members of Parliament (MPs) have filed a private member's motion on climate change, the first of its kind, and will be raising related issues at the next Parliament sitting on Monday (Feb 1).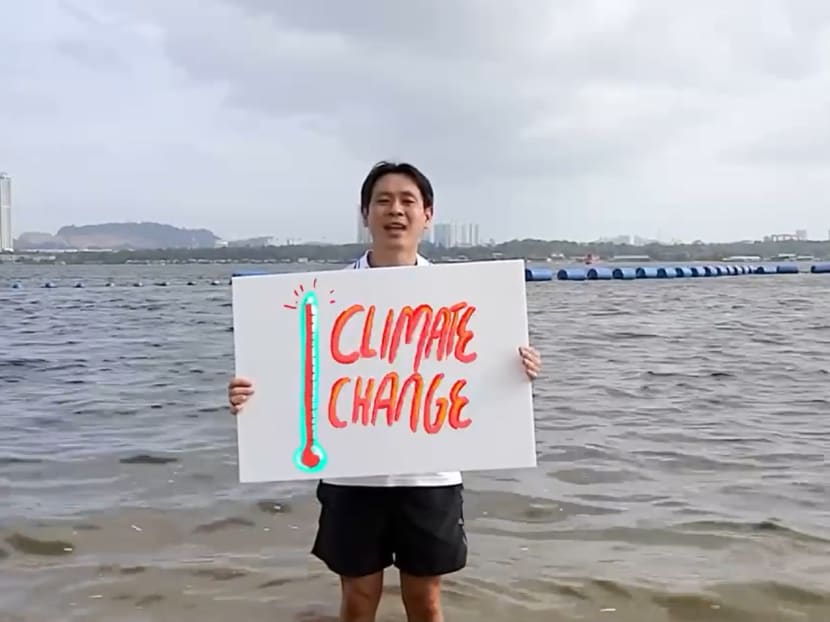 A group of MPs have filed the first parliamentary motion on climate change
They will be raising issues such as carbon tax, climate education and the Green Mark scheme in Parliament on Feb 1
Recommendations are based on issues put forth by the Young PAP in its position paper on sustainability
SINGAPORE — A group of Members of Parliament (MPs) have filed a private member's motion on climate change, the first of its kind, and will be raising related issues at the next Parliament sitting on Monday (Feb 1).
The motion will be tabled by six members of the Government Parliamentary Committee (GPC) for Sustainability and Environment, which is chaired by MP Louis Ng. The GPC includes seven other MPs from the ruling People's Action Party (PAP).
The motion was drafted in collaboration with the PAP's youth wing, Young PAP, the party said in a press statement on Friday.
"The motion states: 'That this House calls on the Government, in partnership with the private sector and the people of Singapore, to deepen and accelerate efforts to mitigate and adapt to climate change, and to embrace sustainability in the development of Singapore'," it added.
At least 11 PAP MPs — including seven from the GPC — and one Nominated MP will present several recommendations on climate-related issues such as carbon tax, sustainable development and climate education.
Among them are MPs Poh Li San, the GPC's vice-chair, Christopher De Souza and Gan Thiam Poh, and NMP Koh Lian Pin, a conservation scientist who heads the new Centre for Nature-based Climate Solutions at the National University of Singapore (NUS).
"Climate change is an existential threat that we cannot ignore," the PAP statement quoted Mr Ng as saying.
"The recommendations in the motion include considerations and input gathered from a series of public consultations with environmental groups, industry, academia, and Singaporeans. We hope to get the whole House to support this motion."
Mr Ng, MP for Nee Soon Group Representation Constituency (GRC), will be opening and closing the motion, and intends to cover issues such as the possibility of Singapore reaching net zero carbon emissions by 2050.
In a media interview on Thursday (Jan 28), he added: "Our motion statement is about how we now need to deepen and accelerate our efforts, because time is not on our side when it comes to climate change."
The motion builds on the Young PAP's position paper on sustainability, which was first released in March last year and revised in November.
The paper — titled Singapore: A Green Hub — was developed following consultations with climate activists and businesses such as Changi Airport Group, Woodlands Transport and ExxonMobil over the span of a year.
"It's been a whole year of listening to what the concerns are on the ground," Mr Ng told reporters. "I think we're ready now to bring this debate into Parliament."
Ms Hany Soh, MP for Marsiling-Yew Tee GRC and a member of the GPC, said during the interview that she has spoken to residents and most feel that efforts to combat climate change have to be accelerated.
"It's also tied to the motion that we have put forward, that more needs to be done to raise awareness," she added.
The motion will include some of the recommendations put forth in the position paper, such as revising the Green Mark scheme, which assesses buildings' environmental impact and performance, and including climate defence as a pillar of Singapore's Total Defence principle that calls on every Singaporean to play a part in building a secure nation.
The 10 main topics in the motion that will be raised in Parliament are:
Increasing carbon tax and conducting reviews every five years after the Covid-19 pandemic

Professionalising the carbon accounting and reporting industry by setting industry standards, grooming resident talent and providing certification

Creating a roadmap to drive industry transformation for the sustainability sector

Raising standards for the Public Sector Taking the Lead in Environmental Sustainability initiative, which encourages public agencies to implement environmental sustainability measures, such as by incorporating sustainability principles in government procurement contracts

Providing incentives and rules to encourage private developers to build public charging points for electric vehicles

Revising the Green Mark scheme for buildings by increasing standards for carbon intensiveness. This can be done, for instance, by making it a mandatory criterion to assess how efficiently a building uses carbon 

Expanding climate education in school curricula, by including it in the syllabus for Character and Citizenship Education in primary schools and increasing funding and support for climate change-related activities

Adding climate defence as a seventh pillar of Total Defence and reinforcing the Government's stance that climate problems are a long-term threat

Introducing frameworks that help industries share data on clean energy technology and energy efficiency

Increasing public access to emissions data of private companies and public entities that emit the most amount of carbon
While the position paper also covered other issues related to climate change, the 10 discussion points were selected to provide more focus for discussion in Parliament, Mr Ng said.
"We narrowed down to the 10 most important topics that we feel resonate with not just climate activists, but business leaders as well," he said, adding that other topics such as the preservation of Dover Forest will also be brought up.
"We wanted topics that can bring about a sort of fundamental change (and create) a very big multiplier effect."