Grab muscles into school transport sector with new shuttle service for students, staff
SINGAPORE — Weeks after acquiring its main rival's South-east Asian operations, ride-hailing firm Grab is muscling into the school transport sector here with a new shuttle service aimed at both students and school staff.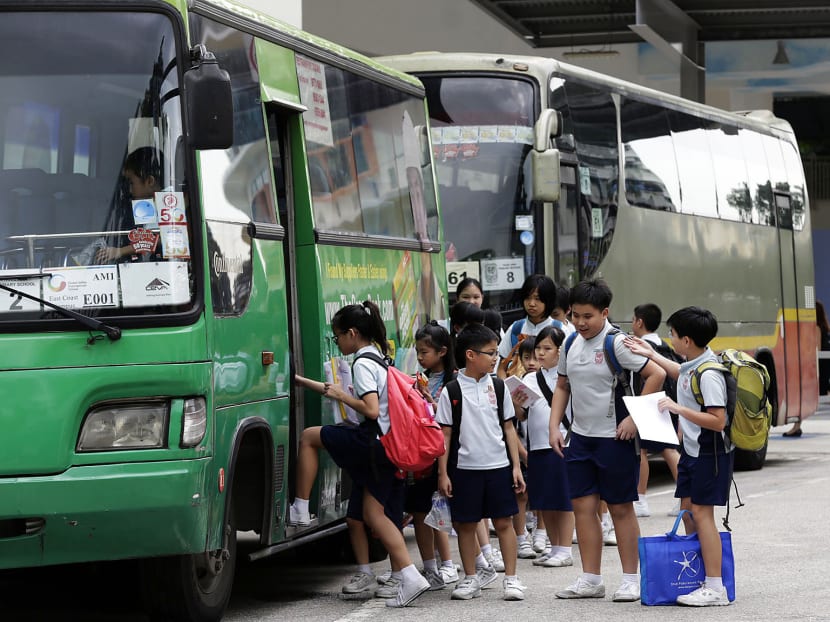 SINGAPORE — Weeks after acquiring its main rival's South-east Asian operations, ride-hailing firm Grab is muscling into the school transport sector here with a new shuttle service aimed at both students and school staff.
The service targets students across the board, from primary schools to those in tertiary institutions. Prices start from S$130 monthly for one-way trips, and users must commit to at least two months of rides. They can opt to take cars and electric taxis, on top of regular 13- and 23-seater GrabShuttle buses, Grab said in a statement on Friday (April 20).
Traditional school bus operators currently charge between S$100 and S$200 a month for two-way rides per child, depending on factors such as the distance involved and the vehicle's capacity.  
Touting its new service as faster and more "personalised and flexible", Grab took a swipe at the traditional bus operators by pointing to their early pick-up times, long journeys, and the practice of making parents pay for bus services even during school holidays.
Students who use Grab's service, for instance, will only have three to four drop-off points if they opt for a taxi. They will also have the flexibility to customise their drop-off points on their return trip (up to 5km from the original destination), say, to go for tuition classes, without additional charges, the company said.
"Since we launched GrabShuttle over a year ago, we have had parents and teachers requesting for routes to and from schools, as well as a more personalised service that better meet their needs," said Mr Alvin Wee, head of GrabShuttle Singapore.
The new service is available via the company's Grabshuttle app, with the first pick-ups expected in May. Grab said that it will crowdsource similar pick-up and drop-off points and start a route once there is enough demand.
Screenshots of GrabShuttle for Schools booking. Photo: Grab
To allay concerns about safety, Grab said drivers for the new service will go through "rounds of screening and be trained to handle younger children". Parents will also be able to track routes in real-time through the GrabShuttle app and directly contact the driver if necessary.
School bus drivers interviewed by TODAY believe Grab's entrance will not disrupt the school bus sector as much as it did in the taxi industry, primarily because its services are tagged with a "high price premium".
"(Grab) are offering packages starting at S$130 one-way, presumably S$260 two-way, that means you have to pay quite a premium for the flexibility they are offering," said Mr Philip Tay, chairman of the Singapore School & Private Hire Bus Owners' Association.
Still, Mr Tay foresees some "knee-jerk reaction" among bus drivers when Grab's service is initially introduced in schools. "But how significant an impact it will have in the long-term will depend on whether Grab changes its pricing structures, and how," he said.
Mr Tok Teng Aik, who manages about 30 school buses under Tok's School Bus Service, also questioned if the GrabShuttle buses would have the same bus drivers plying a certain school route. "If the drivers are different, there could be some safety concerns too," he said.  
It could also be challenging for Grab to fulfill its promise of reducing the number of pickup and drop-off stops, Mr Tok pointed out.
"We usually do not get that many students, going to the same school, who live in such proximity that they can be picked up from the same spot," he said.
Still, Mr Tok acknowledges that the flexibility and shorter journey times that Grab is touting could help to spur current players in the industry to "up their game".
"I think they could help to open up the market and make it more competitive. These days, students have so many activities after school and I think we should be trying to enhance the traditional bus services for them as well," he said.
Mr Wilson Tan, director of Aviva Coach Services, said that Grab's one-way transport package could have a competitive advantage for certain routes, as traditional bus transport operators usually offer only a "small discount" of about 20 per cent if students opt for a one-way service.
"So S$130 could be quite competitive, depending on the distance traveled," said Mr Tan.
However, he noted there are various other responsibilities that traditional school bus operators take on, such as watching out for students who are late, or sending additional buses for those who stay in school for co-curricular activities.
"It remains to be seen whether Grab can offer similar services, especially if they require 10 passengers to run a route," Mr Tan said.
Former school bus driver V Anilan pointed out that Grab could be a more formidable competitor to bus drivers serving international schools, which are typically more expensive.
Mother-of-three Cindy Low, who currently takes her children home via Grab's private-hire services, is not enticed by GrabShuttle school transport services. She said it would still be more economical and flexible for her to continue her present transport arrangement.
Ms Low, 40, typically hails one car to pick up her two sons from Maris Stella High School in Bartley, then her daughter from Paya Lebar Methodist Girls' School at Lorong Ah Soo, before heading home to Pasir Ris. She spends less than S$300 per month on these trips.
Grab's latest foray is not the first attempt by new entrants here to disrupt the school transport sector.
In October 2016, a couple here launched a new service called Schoolber that recruits parents already making the school runs to pick up other children living nearby — for a fee.
Asked if Grab's entrance into the sector would disrupt their nascent business, Mrs Charlemagne Teh, one of Schoolber's co-founders, said: "Grab is a big player. We are a small player. We are open to collaboration with anybody or any platform."
Singapore's competition watchdog is currently reviewing Grab's acquisition of Uber's operations in South-east Asia, and has ordered a set of enhanced interim measures to take immediate effect to keep the ride-hailing market "open and contestable".