Grounded at home, NTU's journalism students look within S'pore to uncover stories of migrant workers amid pandemic
SINGAPORE — After circling the Tuas area for an hour looking for migrant workers to speak to, undergraduate Yong Jun Yuan finally found a factory converted dormitory, where he came across migrant worker Anisur Rahman, who had just recovered from Covid-19.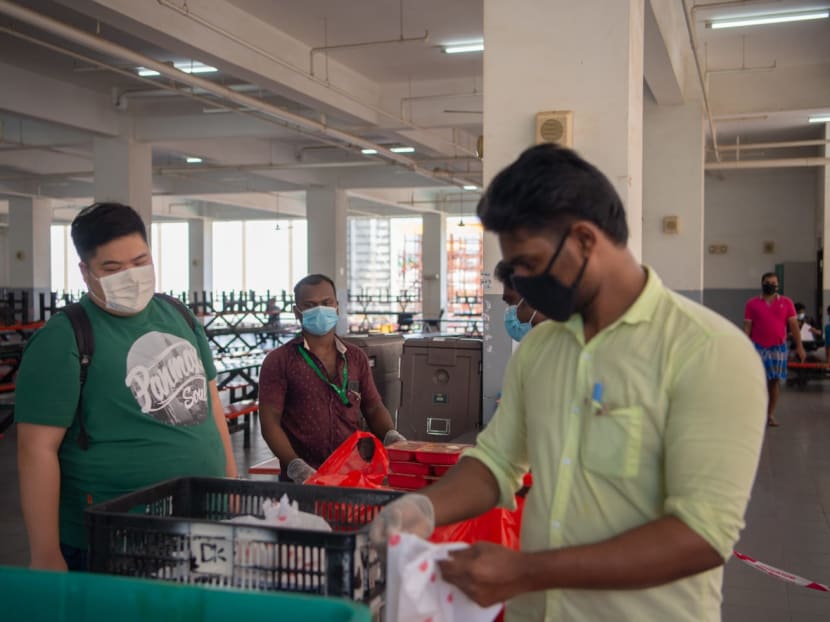 Under NTU's Go-Far programme, journalism students traditionally get to go abroad to report on issues overseas

Amid travel restrictions due to Covid-19, this year's cohort of students reported on the plight of migrant workers in Singapore instead

Their stories have been compiled into a book titled "Invisible Men"
SINGAPORE — After circling the Tuas area for an hour looking for migrant workers to speak to, undergraduate Yong Jun Yuan finally found a factory converted dormitory, where he came across migrant worker Anisur Rahman, who had just recovered from Covid-19.
The Bangladeshi told Mr Yong the story of how he had volunteered to cut the hair of the 240 workers who had been quarantined alongside him at the Singapore Expo isolation facility, then asked the 24-year-old student journalist for a favour in return.
"He didn't want money or help… He wanted me to pray that he still has a job," said Mr Yong. "It made me realise that these workers don't want a lot."
Mr Yong is one of the 14 undergraduates from Nanyang Technological University who set out in late July to uncover stories of migrant workers in Singapore as part of the Go-Far programme, and discovered much more than they expected to. 
Traditionally, this annual programme by NTU's Wee Kim Wee School of Communication and Information sends students to different parts of the world to get a taste of overseas reporting. Past cohorts have reported from places as varied as Nepal, Iran and Japan.
But with travel restrictions firmly in place amid the pandemic this year, Mr Yong's cohort of journalism students was forced to stay in Singapore. 
Nonetheless, their journalism lecturer Hedwig Alfred noted that they now had an opportunity to report on the biggest story at the time: The plight of migrant workers in quarantine. 
The stories that the students ended up writing, on topics ranging from the mental health of migrant workers to their migration woes in search of greener pastures, culminated in a book published last month, titled "Invisible Men".
The team plans to make it publicly available online in the next two months. 
Even though there are over 300,000 low-wage migrant workers in Singapore, Mr Yong said it was quite hard to find workers to interview, especially as many were quarantined or isolated in their dorms.
On several occasions, he resorted to shouting across fences to get the attention of migrant workers living in high-rise dorms.
"We exchanged phone numbers by shouting at each other. When we got tired, we tried using hand signals," he said.
Mr Cornelius Tang, 24, who had to do the same, accidentally found an innovative way to get the attention of dorm residents — by flying a drone.
 "I was flying the drone to take an overhead photo of the dormitory when it caught the eye of a worker who started taking pictures of it.
"I flew the drone nearer to him and he waved back, so I knew he was willing to talk to me," he said.
Mr Tang then used hand signals to get the phone number of the worker, whom he later interviewed with a translator. While the worker's story did not make it into the book, Mr Tang said every story was important in giving insights to their lives.
Ms Mandy Lee, 22, faced other challenges. She was told to leave the Changi Airport twice when she tried to interview workers who were leaving for home.
So she then decided to find workers near money changers and banks at Little India, where she would not be chased away.
"If they are heading home, I'm sure they'll have to change money, right?" said Ms Lee.
It was there that she met Bangladeshi Hossen Amin, who had been forced to head home, S$15,000 in debt.
He told Ms Lee he had a diploma in computer engineering and came to Singapore three times, working for only a year each time as a cleaner or construction worker, before being made to go home.
Each time, he took a loan of about S$7,000 to pay job agents back home.
"He was desperate to stay here but he had no choice. I didn't expect the migrant workers to have to go through so much just to come and work here," she added.
FEAR OF GETTING INFECTED
While they were busy scouring dormitories for migrant workers willing to share their stories, the students were also concerned about getting infected with Covid-19.
Mr Yong said the group was worried that they could be a carrier of the coronavirus so they took necessary precautions, such as physical distancing and washing their hands frequently.
"Every time I got home, my mother would make me shower right away," he added.
Similarly, Ms Natasha Ganesan, 22, said her mother was very concerned about being infected by the virus and initially kept a physical distance from her at home.
Chuckling, she quipped: "This was before I even got to enter the dormitories."
While they did not get to travel for the highly-anticipated programme, Mr Matthew Loh, who was part of the team of young reporters, said he was grateful that he got to see a side of Singapore he had not seen before.
Although he initially felt shortchanged that he would not get to travel, the 24-year-old said: "It showed me how little I knew about these migrant workers. I always thought they had a better life here than in their home countries but that's not always the case."
Their lecturer, Ms Alfred, told TODAY that many of the undergraduates had never spoken to a migrant worker aside from the occasional nod or hello, nor had they ever visited worker dormitories.
She said: "Looking back, it really feels like we went away even though we were right here in Singapore, because the team went into a world that was totally unfamiliar and learnt things they didn't know even though they grew up with foreign workers around them for the past 20 years."