DPM Wong flags concern over growing pay gap based on education levels; calls for greater recognition of 'hands-on', 'heart' work
SINGAPORE — Singapore places too much of a premium on intellectual "head" work and does not sufficiently value "hands-on" technical jobs or "heart" work such as services and community care roles, said Deputy Prime Minister Lawrence Wong on Tuesday (Oct 18).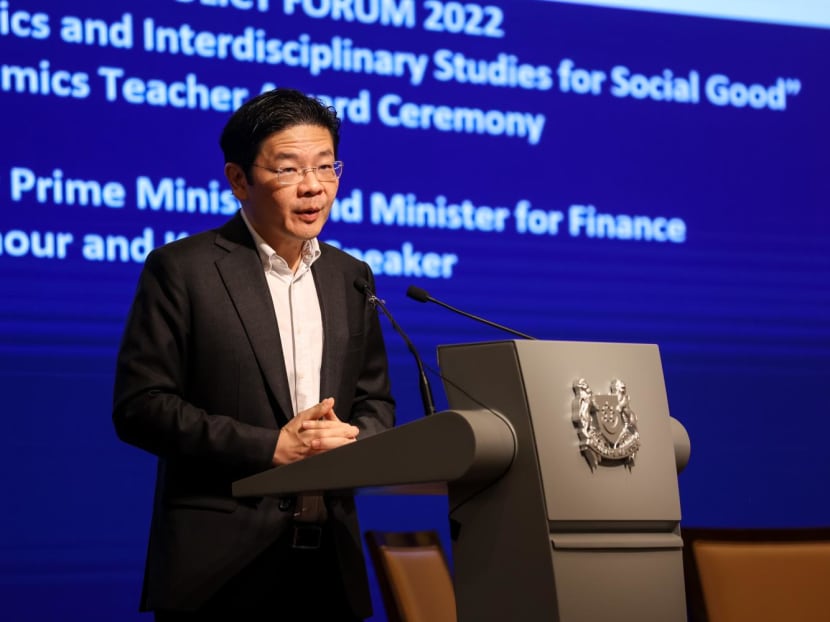 Singapore places too much of a premium on intellectual work, and undervalues technical, service and community care roles, said Deputy Prime Minister Lawrence Wong
Worryingly, this has led to a growing divergence in salaries between workers of different educational backgrounds
A revamp of Singapore's training ecosystem is thus needed to enable workers to advance in their careers and to strengthen different pathways to success
People should also be given the same level of recognition and respect regardless of their occupation
SINGAPORE — Singapore places too much of a premium on intellectual "head" work and does not sufficiently value "hands-on" technical jobs or "heart" work such as services and community care roles, said Deputy Prime Minister Lawrence Wong on Tuesday (Oct 18).
As such, this has led to a worrying divergence in salaries between workers of different educational backgrounds, said Mr Wong, who is also the Finance Minister.
Speaking at the annual Singapore Economic Policy Forum 2022 held at the Regent Singapore hotel, Mr Wong laid out the country's strategy for a "fundamental upgrading" in the Republic's training ecosystem to help workers build skills, as well as to strengthen the different pathways to success.
Organised by the Economic Society of Singapore in partnership with the Singapore University of Social Sciences, the event was attended by more than 150 guests, ranging from executives, academics, students and teachers from tertiary institutions. Mr Wong was the keynote speaker.
He said: "We must move away from preconceptions that academic success should be prized above all others. Instead, we must respect those who labour with their hands and hearts, and confer upon them the same status as other paths."
Mr Wong then said that these workers should also be given opportunities to advance in their respective fields, and employers should not "pigeonhole" them into specific tasks or hold them back unfairly.
"This will require fundamental mindset changes in society — by employers in hiring, training and promotion, and by each of us, in how we respect one another, regardless of our occupation or station in life," he added.
Ultimately, Singapore's promise is that people will be accorded recognition for their skills, given opportunities to advance and rewarded for their effort as long as they work hard and continually upskill, no matter which path they take, said Mr Wong.
WIDENING SALARY GAP
Earlier in his speech, Mr Wong voiced his concern about the widening gap between the starting salaries of Institute of Technical Education (ITE), polytechnic and university graduates.
The median starting salary for a university graduate is now almost twice that of an ITE graduate, noted Mr Wong, adding that this earnings gap increases over the graduates' lifetimes.
This is because the Singapore economy pays too high a premium for jobs that require cognitive abilities. On the other hand, it undervalues technical hands-on work as well as jobs in services and community care.
To address this, the Government has tightened foreign worker quotas and local qualifying salaries. The latter sets out a minimum salary level of S$1,400 for locals, before firms can turn to hiring migrant manpower.
It has also rolled out the Progressive Wage Model for lower-income workers in the cleaning, security, landscape, lift and escalator, and retail sectors, as well as raised the quality of vocational instruction and improved ITE skills-based curriculum.
Beyond this, Mr Wong said that a wider change across the economy is needed to recognise the "hands" and "heart" work, of which many can be found in the local services sector.
"There is a need for painstaking effort, industry by industry, to look at ways to redesign jobs and raise productivity; to upgrade skills and establish better career progression for workers," he said.
Giving an example from the early childhood education sector, Mr Wong said preschool teachers' starting salaries are improving as clearer paths for skills upgrading and career advancement are laid out.
Some preschool teachers have also become specialist teachers, while others take on leadership roles and mentor newer teachers. 
'SPORADIC' SKILLSFUTURE CLASSES AREN'T ENOUGH
Mr Wong noted how Singapore has made a good start with SkillsFuture to encourage lifelong learning, with over 660,000 people benefiting from programmes supported by the scheme last year.
"But frankly, just going for sporadic half-day courses can't possibly be enough. At best, you get a taster of what to learn, but it surely isn't enough to build deep skills," he said.
Hence, he said Singapore needs to support workers and enable them to invest their time in "more meaningful, more substantial" training — be it a few days, weeks or even longer.
This is particularly so for mature and mid-career workers who on the one hand are more at risk of career disruption, but on the other hand are shouldering heavier obligations like caring for their parents and children.
"All this will require a fundamental upgrading of our SkillsFuture ecosystem," said Mr Wong.
Some areas to consider include providing more SkillsFuture credits, time off from work to allow employees to focus on skills upgrading and income support for workers who pursue full-time training.
He said Singapore has studied the upskilling models adopted in many countries, but there are only a "few" that are good. He did not elaborate which countries these are.
"(There are) some good practices in certain industries, but no country has a comprehensive, nationwide system of adult education and training that achieves all that I've just described."
To improve the skills upgrading system further, a tight collaboration between stakeholders such as training providers, employers, workers and unions is needed, he said.
This is because as the Government invests in the people and "reduces the material gaps in wages and incomes between different types of work", businesses also need to recognise the value of such work, while redesigning their jobs and business processes and paying workers well.
Singaporeans have to do their part too, urged Mr Wong, adding that people have to "be willing to bear the higher cost of goods and services" delivered by workers in these sectors and occupations.
FORWARD SINGAPORE
Mr Wong then sketched out the vision that has come up from the various Forward Singapore engagements, which was launched in June to canvass views from the public to refresh Singapore's social compact.
He spoke about the importance of Singapore keeping to its "double-barrel" strategy of keeping its economy open while developing local capabilities.
He cautioned against being swayed by anti-foreigner sentiments that are "cleverly packaged to sound as reasonable as possible", as such protectionism would only be at the detriment of Singaporeans.
"If our policies become overly restrictive, global companies based here will simply find other places to operate in, places with larger markets or larger pools of expertise," he said.
Based on the various Forward Singapore engagement exercises so far, he said that people want a place of opportunity where people can aspire to exciting careers and good jobs.
"(Singaporeans also want) a place where everyone is assured (that) they will always be supported to achieve their potential and succeed, especially if they fall on hard times," he added.
They also want Singapore to be a place that values the contributions of all Singaporeans, "regardless of who they are or what they do", said the minister.
Mr Wong then acknowledged that while some of these shifts might not be easy to attain, it would create a version of Singapore that he hopes to see in his lifetime.
He reiterated that this goal would require the Government, businesses, the labour movement as well as society to do their part.
"If we work together, I am confident we can expand the possibilities for fulfilment and success for every generation. This is the great task of nation-building that falls upon our shoulders," he said.