Handmade prostheses, wigs give a boost to breast cancer patients coping with body image issues
Women with breast cancer often face changes to their bodies that can affect them psychologically
After surgery to remove a breast or both, use of a well-fitted prosthesis or wig can support the recovery process
A study by KKH finds that most patients prefer a pure cotton hand-knitted breast prosthesis
These are more comfortable and fit better than commercially available versions
The Breast Cancer Foundation has programmes to help patients and survivors cope with changes
SINGAPORE — When Ms Ng Sock Peng, 48, was diagnosed with breast cancer twice in five years, she was determined to survive the disease. The single mother told herself she had to live on for her children's sake.
In 2011, she underwent surgery to remove a cancerous tumour in her right breast.
When cancer was also found in her left breast five years later, she made a swift decision to undergo a mastectomy, which involved surgically removing the entire breast. At the time, her son was 15 years old and her daughter was nine years old.
Recounting her daughter's encouragement during the darkest period in her life, Ms Ng, who works part-time washing dishes in a food centre, said in Mandarin: "My daughter told me, 'Mummy, you must be strong'. She told me it is okay to lose a breast as long as I'm alive. For my children, I told myself I had to be strong."
However, Ms Ng did not anticipate the psychological impact of the physical changes in her body due to cancer treatment.
Although she wore a conventional commercially manufactured breast prosthesis, a common practice following a mastectomy, she felt uncomfortable and self-conscious as it did not fit her well and looked very unnatural under her clothing.
A bra customised for the prosthesis was required and Ms Ng had to stop wearing her own bras.
Going without a breast prosthesis was out of the question as she felt "imbalanced" without it.
"Although I was fine living with one breast, it felt strange going out without a prosthesis. People will definitely stare because one side looks flatter than the other," Ms Ng said in an interview with TODAY in support of Breast Cancer Awareness Month this October. 
SELF-ESTEEM TAKES A HIT
Breast cancer is the most common cancer among women in Singapore, affecting more than 2,000 women each year.
While cancer treatments can save lives, studies have shown that the associated body-altering changes can take a heavy psychological toll on patients and survivors.
Ms Samantha Seah, general manager at Breast Cancer Foundation (BCF), said that scarring from surgery, changes to the affected breast and hair loss — which may include loss of eyebrows and eyelashes — are among the visible physical changes that affect breast cancer patients undergoing treatment.
Ms Teresa Ng, assistant director of nursing of the KK Breast Department at KK Women's and Children's Hospital (KKH), has observed patients whose body image and self-esteem take a hit after a mastectomy. This has an impact on their psychosocial and emotional well-being, which can affect the recovery process.
For many patients, adapting to the body changes on top of their breast cancer diagnosis can be overwhelming.
Ms Seah said: "Some women report feeling a loss of identity, that they don't feel like themselves anymore after cancer. The physical toll that treatment takes on them is hard. Each time they look in the mirror, they are reminded that they have cancer. This may lead to isolation and depression."
A woman may also equate her femininity with hair and breasts, Ms Seah said.
"When you take those two things away, she can feel lost. Something as simple as a wig may give them the confidence to go out again. Looking good cheers them up," she added.
With this in mind, KKH launched a three-year pilot study in 2016 comparing the benefits and comfort level between two types of breast prosthesis for mastectomy patients: A pure cotton hand-knitted breast prosthesis and a conventional standard-sized commercially manufactured breast prosthesis.
The study, led by Ms Teresa Ng, involved 150 patients from the hospital who underwent a single mastectomy.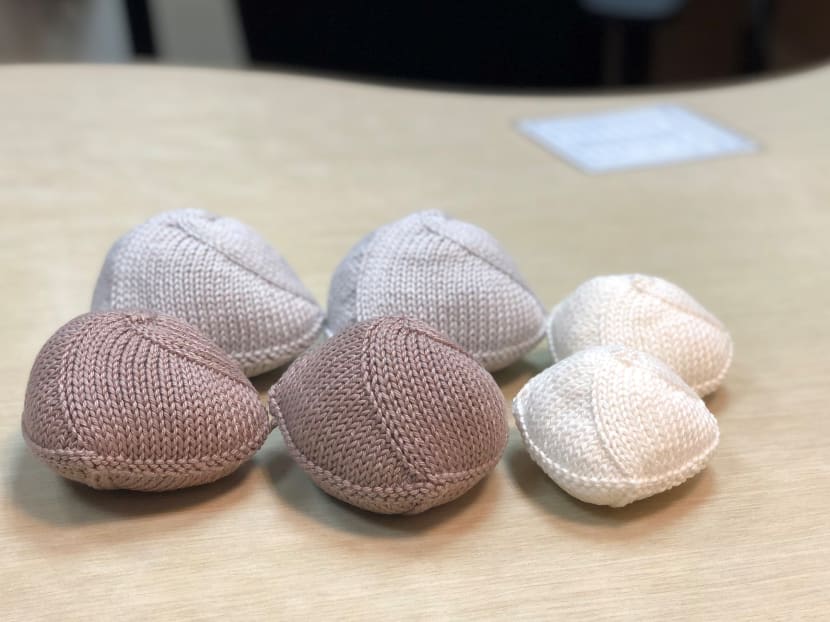 KKH manages about 250 cases of breast cancer every year. Last year, around 66 per cent of its patients underwent a single or double mastectomy due to breast cancer, and around half will opt to wear a breast prosthesis.
Others may opt to go without a breast prosthesis or undergo breast reconstruction surgery.
The cotton prostheses offered by KKH are specially made by a group of volunteers led by a breast cancer survivor, who customised her own hand-knitted prosthesis during her cancer journey.
CARE FOR POST-SURGERY PATIENTS
Ms Teresa Ng said that the aim of the study was to enhance patient care and improve quality of life in breast cancer patients following a mastectomy.
Besides breast reconstruction, the use of breast prostheses or none, some patients also just use cloth or even bra paddings as alternatives, she said.
If they choose a prosthesis, one of the major challenges for patients after a single mastectomy is to ensure that they have a well-fitted one that also stays in position as they go about their daily activities, she added.
Recalling how some patients may not even have the confidence to step out of their home without a breast prosthesis, Ms Teresa Ng said that a well-fitted breast prosthesis plays an important role in the healing process.
"When patients know there is an option to wear a breast prosthesis, even before their surgery, they may feel more comforted. A comfortable breast prosthesis can boost the patient's confidence and improves body image."
MORE 'BALANCED'
Results from the KKH study found that seven out of 10 patients favoured the hand-knitted cotton versions. Ms Ng Sock Peng was one of the patients who took part in the pilot study and preferred to use the hand-knitted breast prosthesis.
She said: "It feels comfortable, looks natural, and the best part is that I can wear it under my bras (unlike the conventional breast prosthesis that requires a customised bra).
"Psychologically, I feel more 'balanced'. I've done housework, exercised and gone shopping wearing it."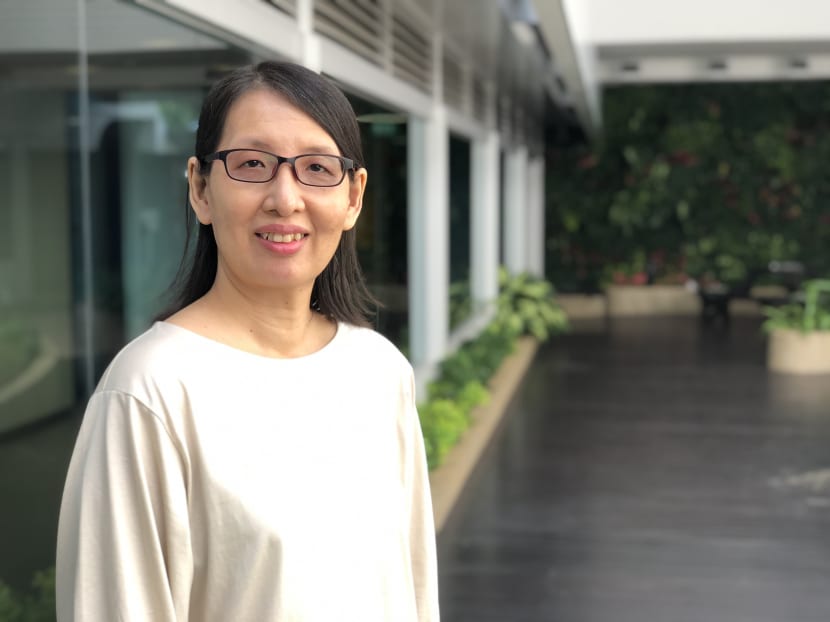 Starting from January this year, KKH has offered the complimentary hand-knitted breast prostheses to more than 60 breast cancer patients who require a mastectomy. The standard commercially manufactured set costs around S$70.
Ms Teresa Ng, who also leads the KK Alpine Blossoms Breast Cancer Support Group at KKH, hopes that more patients will benefit from the well-fitted breast prostheses so that they can continue with their lifestyle and hobbies.
The entire prosthesis, including the fluff, can be washed by hand. Ms Teresa Ng said that she has patients who exercise, go running and swimming while wearing it.
She intends to conduct another study to explore how the external prostheses impact the quality of life of women who have undergone a mastectomy.
"After a breast cancer diagnosis, it doesn't mean that your lifestyle has to come to a grinding halt. I think it is important for patients to move on, and we encourage them to continue to do what they like to do even after undergoing treatment."
PROGRAMMES TO ADDRESS BODY IMAGE ISSUES
Over at BCF, several programmes are available to help breast cancer survivors cope with the changes related to their body image.
For instance, it conducts a six-day workshop series called the BCF Education and Empowerment Programme (Beep) for newly diagnosed patients.
Topics covered include managing diet and exercise while on treatment, mindfulness as well as image and beauty classes where participants are taught grooming techniques that can be applied to those undergoing cancer treatment.
BCF also has a positive appearance scheme that provides low-income women diagnosed with breast cancer a chance to obtain a breast prosthesis and prosthesis bra.
Patients may apply through a medical social worker from their respective government hospitals where they are undergoing treatment, Ms Seah said.
There is also a free wig loan service although it is temporarily suspended due to the Covid-19 pandemic.
BCF members may borrow the wigs for a period of six months, with an option to extend the loan period if necessary. Members are guided on how to choose a suitable wig and how to style and take care of the wig.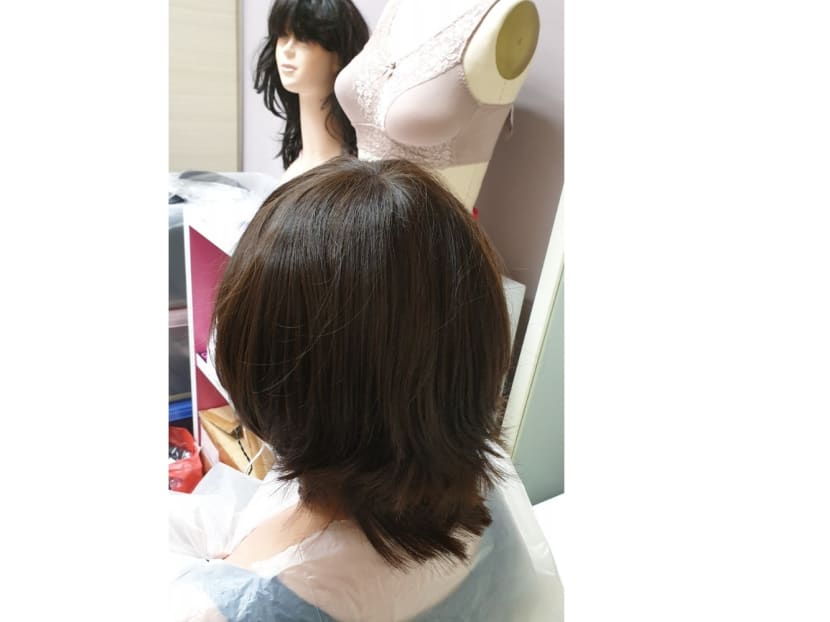 Ms Seah said: "This is a helpful service as a good wig can be very expensive ranging from a few hundred dollars to over S$1,000. Many of the wigs were donated by our members who have completed treatment and no longer require the wigs, so they pass it on to someone who needs it more."
Having said that, Ms Seah added that some women may opt to go bald while on treatment because they cannot adjust to wearing a wig or want to embrace their new look.
COPING WITH HAIR LOSS
Breast cancer survivor May Lew, 49, was one of the beneficiaries of BCF's wig loan service. Diagnosed with Stage 1 breast cancer last year, Ms Lew, head of learning in a private education centre, said that she could not bear the thought of going bald in public and at work.
When her shoulder-length locks started falling out as a side effect of chemotherapy, Ms Lew shaved her hair and put on a lightweight mid-length wig that she borrowed from BCF.
"My hair has always been part of my identity and I could not imagine myself with a bald head," she said.
"Outwardly, there were no signs that I was battling cancer. With the hair loss, it would be obvious that I was a cancer patient. I was not prepared to reveal my illness to other people, especially my students in school."
Ms Lew said that the lightweight wig fitted her well and also came in a fashionable style, complete with highlights.
"I wore it all the time when I'm out, from morning to night. I could even exercise in it and no one could tell I was wearing a wig. It gave me the confidence to continue with my lifestyle," Ms Lew said. She no longer requires a wig as her post-chemotherapy hair has grown out.
BCF said that it has started to resume various on-site activities and it plans to restart the wig loan programme very soon using a phased approach with safety measures in place. Details will be announced on its social media channels and anyone with enquiries may call 6352 6560.