With Hari Raya routines upended by circuit breaker, Muslims distribute meals, staples to underprivileged families
SINGAPORE — Each year, on the morning of Hari Raya Puasa, which marks the end of the holy month of Ramadan, event manager Syed Harun Syed Kader would perform traditional Aidilfitri prayers at a mosque.
SINGAPORE — Each year, on the morning of Hari Raya Puasa, which marks the end of the holy month of Ramadan, event manager Syed Harun Syed Kader would perform traditional Aidilfitri prayers at a mosque.
He would then head home for breakfast with his family before getting ready to visit his grandparents. 
The Covid-19 crisis has, however, upended the 25-year-old's yearly routine, with visits barred and mosques closed to curb the spread of the coronavirus. 
But Mr Syed refuses to let the pandemic dampen the festivities and hopes to spread cheer to the less privileged. 
On the morning of Hari Raya Puasa, which falls on Sunday (May 24), he and four friends will head to a central kitchen to put together more than 400 packets of nasi biryani (a rice dish with meat). 
They will spend the rest of the morning distributing the meals, sacks of rice, fruit and greeting cards to more than 70 underprivileged families and cleaners at various public-housing neighbourhoods.
Inspired by similar acts of kindness during the pandemic, Mr Syed had initially toyed with the idea of doing his part by providing meals to 10 less fortunate families in his estate of Bukit Batok East.
But he decided to rope in his friends, so that he could help more people. 
"My friends immediately came on board and we came up with #ProjectCovidRaya2020," said Mr Syed. "While most of us still get to enjoy the day eating special dishes and having a good time with our families, we wanted these underprivileged families to share our joy, too." 
Funds soon flowed in from friends, family and strangers who had happened on Mr Syed's call for donations on Instagram last week. He raised more than S$3,000 in a week.
"The whole motive of this initiative is to come together in this blessed and holy month to put a smile on the faces of those in need," he said. 
NEVER TOO YOUNG TO GIVE BACK
Mr Syed is not the only one hoping to bring cheer to those who are more vulnerable during the economic slowdown brought on by the pandemic.
Temasek Polytechnic marketing student Muhammad Wafiq Hadee Anuwar, 19, will spend Saturday afternoon, the eve of Hari Raya Puasa, distributing 100 packets of nasi biryani and nasi ambeng (another rice dish) to families and seniors living in one-room public-housing flats in Bedok. 
He will do so with his parents and two sisters, aged 10 and 22. 
Mr Wafiq said videos of underprivileged children struggling to get proper meals spurred him to raise funds. 
Last week, he posted a video on Instagram urging those who were interested in his initiative to chip in.
He received S$6,019, 20 times his target of S$300. "Because I already placed an order for only 100 packets of food, the rest of the money left will be donated to mosques," Mr Wafiq said. 
"I realised that I have always wanted to give back somehow, but I did not think it was possible, because I always thought I was too young to do something like that," he said.
As his family makes their rounds on Saturday, Mr Wafiq said they would take precautions such as checking their temperatures before visiting the homes, wearing masks and gloves, and reducing contact with beneficiaries as far as possible.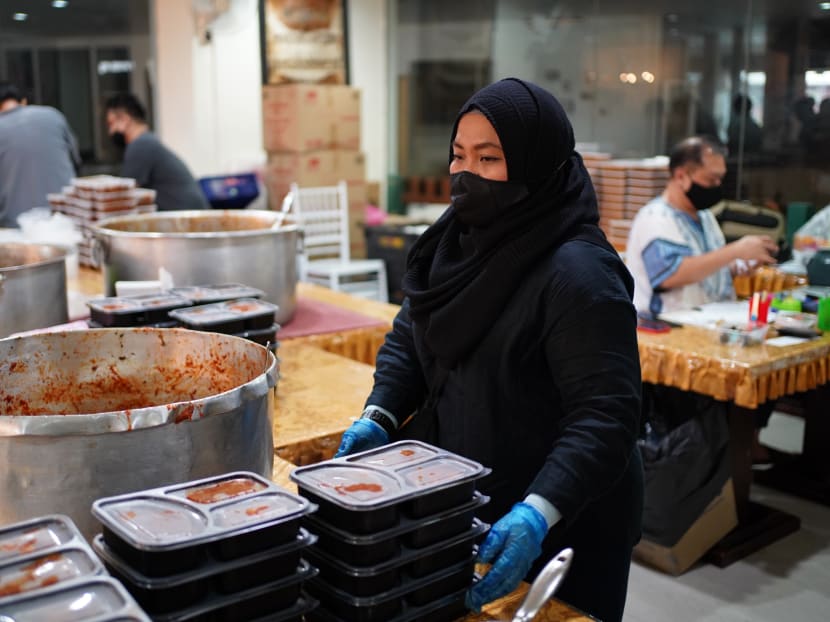 KEEPING THE HARI RAYA SPIRIT ALIVE 
For others, doing their bit for the community during Hari Raya Puasa has been a years-long affair. 
But things will be vastly different this year for Ms Siti Nurani Salim, 38, with the pandemic curtailing interactions with beneficiaries and donors.
It is her seventh year distributing Hari Raya packs on the eve of the festival to seniors and underprivileged families as the founder of non-governmental organisation Project Goodwill Aid. 
This year, she has raised enough funds for 700 packs, which will include a bento set of Hari Raya dishes, cookies and a green packet. Each pack costs S$40.
Ms Siti said that most of the seniors who receive the packs live alone. "We usually spend some time talking to them. These are bittersweet moments of shared joys and memories of previous Hari Raya celebrations," she said. 
"But this year, any interactions with beneficiaries and donors will be limited. We also have to enforce strict social-distancing measures of at least 1m."
In addition to seniors and less privileged households, this year's drive will benefit 400 Malaysian workers stranded in Singapore because of a Covid-19 movement control order in their country, which ends on June 9. 
Despite the safe-distancing restrictions, distributions must go on so as not to disappoint the beneficiaries, said Ms Siti. 
"It is even more critical for us to continue with our efforts to reassure these families and workers that despite the lockdown, they are not forgotten and that they still get to experience the spirit of Hari Raya."