HDB flats still have value when owner reaches 85 years old: Heng Swee Keat
SINGAPORE — Government-built flats still retain value even when its owner has turned 85 years old, Finance Minister Heng Swee Keat said.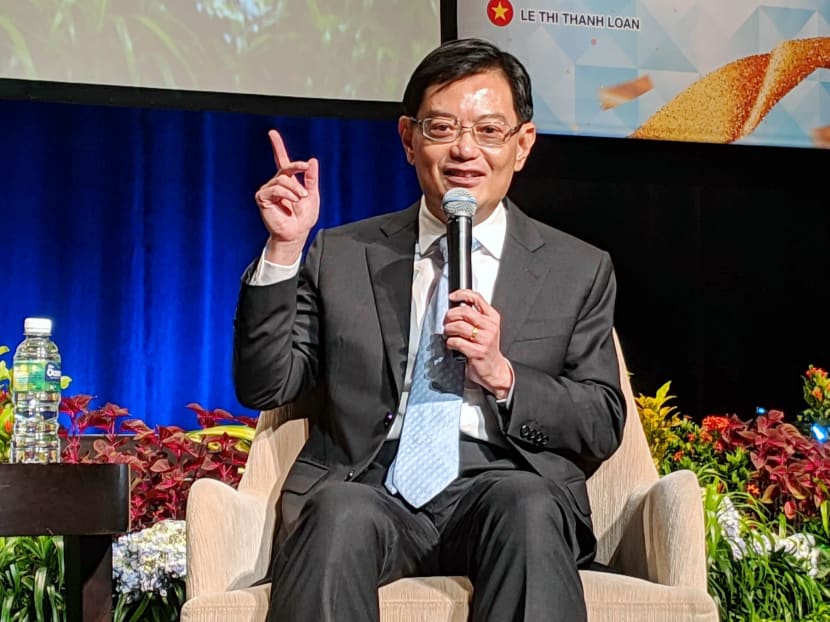 SINGAPORE — Government-built flats still retain value even when its owner has turned 85 years old, Finance Minister Heng Swee Keat said.
Using the example of a 25-year-old Singaporean buying a new 99-year-lease Housing and Development Board (HDB) flat, Mr Heng said that there will be more than 30 years of lease left when the owner turns 85, which is the life expectancy in Singapore.
"Is there still value in the flat? Absolutely," he said on Tuesday (March 19) at the annual conference of real estate agency PropNex.
Mr Heng also dismissed criticisms that HDB dwellers are merely tenants instead of owners.
"This debate that is going on… (People saying), 'No, this is a terrible hoax... This is macam (like) rental', I mean, come on, get real," he asserted.
Mr Heng was responding to a question from PropNex chief executive officer Ismail Gafoor on the lease decay issue of HDB flats, which has become "very much political".
The talk that HDB dwellers are merely renting their flat and not owning it has been ongoing in the last two years after the authorities clarified in March 2017 that most HDB flats will return to the state once its 99-year lease runs out.
Prime Minister Lee Hsien Loong and National Development Minister Lawrence Wong have previously tried to correct such a perception, with Mr Heng doing the same on Tuesday.
He once again assured Singaporeans that there is still value in their flats in their old age.
"At the age of 85, you decide whether you want to pass on the property to your children. You decide what you want to do with it. There is still value in the property. It is not going to go to zero when you are 85," Mr Heng stressed.  
Read also
'IRRATIONAL' EXPECTATIONS  
Wrapping up PropNex's performance last year, Mr Ismail said at the conference that the agency raked in a record revenue of S$431.5 million, though he clarified that it is partly because the total number of property agents under PropNex jumped by 13 per cent to reach more than 7,500 compared with a year ago.
He also said that the market has slowed considerably with the imposition of the cooling measures in July last year.
When Mr Ismail asked about the Government's intervention in the property market in the form of the cooling measures, Mr Heng said that markets can become "very irrational" when left on its own. The authorities had to ensure that property buyers are not "suffering from irrational exuberance", thinking that prices will only go up.
"The result is that the prices overshoot, and then when it comes down, it also overshoots. So you have huge cycles, which is not good for your business and not good for individuals," he added.  
Mr Heng said that a sustainable pace of increase will be to align it with the rate of economic growth and the rate of wage growth.
'CHEAP, CHEAP'
Mr Heng also compared the Singapore market with other global key cities, stating that property prices here are "still quite affordable" compared to other places.
While not specifying which key cities these are, Mr Heng said that foreign businessmen he meets in these cities abroad often tell him that properties in Singapore are "cheap, cheap, cheap".
So, the cooling measures are "necessary" to protect Singapore's property market from being negatively impacted from downside risks in the region.
"If we open up our market completely… our property prices will be driven not by our own fundamentals but by changes in the region. And if there is a speculative wave in our region, you'll find that we will be subject to that speculative wave," he explained.
Foreigners buying any residential property in Singapore have to pay a 20 per cent Additional Buyers' Stamp Duty (ABSD). This is higher than the 12 per cent paid by Singaporean citizens buying their second property and the 15 per cent paid by permanent residents buying their second property.