More people monitoring fitness trackers after Covid-19, but few using data to improve health: Survey
SINGAPORE — Even though more people in the region are monitoring their health through technology due to the Covid-19 pandemic, a new survey found that not many of them are using the data received to make corrective action for their health.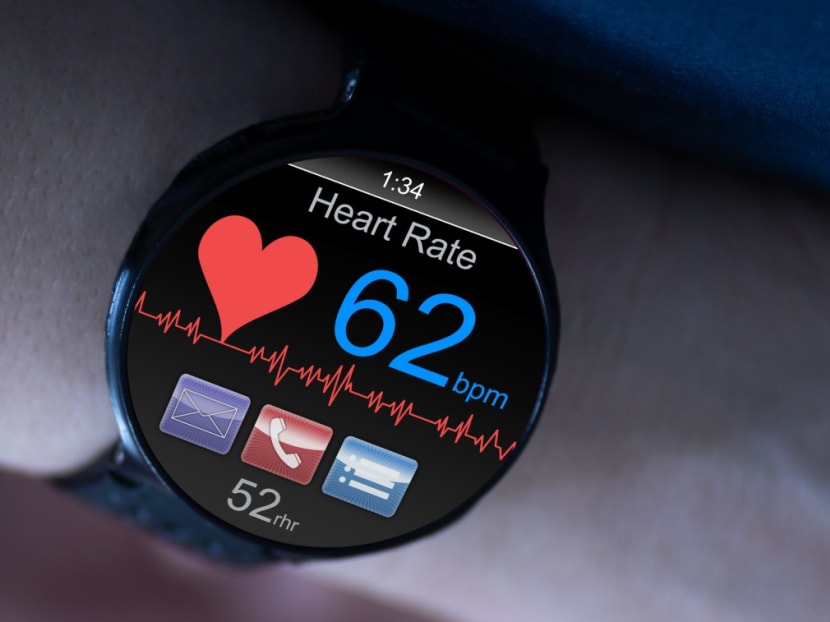 A survey from health technology company Philips found that more people in the region are using devices to monitor their health after Covid-19
However, it also found that not many people are using the data from the devices to make corrective action for their health
Instead, a doctor's recommendations were the biggest motivators for respondents to act on their personal health data-based insights
Those who did not share the data with their doctors said that there were data privacy concerns or they did not know how
SINGAPORE — Even though more people in the region are monitoring their health through technology due to the Covid-19 pandemic, a new survey found that not many of them are using the data received to make corrective action for their health.
In Singapore, about two in 10 people, or just 23 per cent, of the survey's respondents regularly shared their health data with their doctors because they had data privacy concerns.
These were based on a survey by healthcare technology company Philips, which released the second set of findings from its Healthy Living in Asia survey on Wednesday (March 22).
The survey revealed a gap between health monitoring and action after it polled some 4,000 people across Indonesia, Singapore, South Korea and Thailand last May. There were more than 1,000 responses from Singapore.
THE FINDINGS
The survey found that the pandemic drove interest in preventive health.
About a third (30 per cent) of the regional respondents said that they use personal health devices more than they did before the pandemic.
As to what exactly Singapore residents were monitoring, at least on a monthly basis, the survey found that it was:
Heart health (40 per cent)
Nutrition (37 per cent)
Sleep (34 per cent)
Oral health (26 per cent)
Despite the increase in such monitoring, about two in five people in Singapore said that they "rarely or never take action" based on the health data collected.
More than half claimed that they "modify their health-related behaviour", but felt that they could do more to stay healthy.
TAKING ACTION TO MANAGE HEALTH
Regionally, 47 per cent of the respondents said that a doctor's recommendation was the biggest motivator for them to act on their "personal health data-based insights".
For the respondents in Singapore:
42 per cent were more inclined to act on their digital health data if recommended by their doctor and healthcare providers
However, only 23 per cent were sharing this data regularly with their doctors or healthcare providers
As for why they were not sharing their data, 35 per cent of Singapore's respondents said that they were concerned about data privacy, while 20 per cent said that they simply did not know how to share the health data.
On the barriers to taking care of their health, three out of 20 respondents in Singapore also said that they did not know how to share the data collected from their personal health devices with their doctors, while about four out of 20 said that it was due to limited awareness of health technology.
Other motivators for action in Singapore included having health data-based prompts on personal health devices (35 per cent indicated this), and simplifying personal health technologies to make data easier to understand (37 per cent).
Apart from tapping technology, the survey found that 37 per cent of respondents in Singapore were encouraged by real-life examples of how other people were modifying their lifestyles and behaviours based on their digital health data.
WHAT CONSUMERS AND DOCTORS ARE SAYING
Among Singaporeans who got a health device during the pandemic was Ms Joan Goh.
The 39-year-old, who works in the media industry, told TODAY that she got herself a smart watch when she found herself running around her estate more to keep fit.
Aside from her running pace, the watch tracked a variety of parameters that included her heart rate, sleep patterns and even her stress levels.
The data she received was useful in seeing whether she was making any progress in her running pace or getting enough sleep, but Ms Goh said that she was either unsure of how to use some of the other data or some of it made no sense to her.
"Sometimes, the watch's mobile application tells me I'm stressed even when I'm sitting down and not doing much," she said.
"It also has a feature for a pulse oximeter, but I'll be honest and say that I have no idea what to do with it."
When told of the survey's findings, Ms Goh said she was surprised to learn that it would be useful to share it with her doctors.
She said that she viewed the data from her watch as just something "fun" to look at, and added that if she wanted an overall assessment of her health, she would sign up for a health check-up instead.
And indeed, a regular health check-up is more comprehensive and it cannot be replaced by a gadget, one doctor said.
Having said that, Dr Alvina Nam, a general practitioner from Clinic@Costa, also said that having a health or fitness tracker can be useful in some ways.
She often has patients going to her with data that they have gathered on their own, such as sleep patterns, pulse rates and blood pressure — which she can use to give advice. 
Recalling what she described as an interesting case, Dr Nam said that she had a patient with an irregular heartbeat. "But whenever he visits a doctor, he is okay. No one can catch (the irregular heartbeat)."
The man eventually invested in a smartwatch and used it to monitor his heart rate and was able to capture the irregularity.
"He came to me with it, and told me that whenever he had the irregular heartbeat, he felt unwell... so I referred him to a cardiologist, who was also surprised (by the findings from the smartwatch)," Dr Nam recalled.
"(A health device) is not a necessity, but it is definitely a bonus," she added.