'Heartwarming kampung spirit': TTSH staff buoyed by support from businesses, community organisations
SINGAPORE — As Tan Tock Seng Hospital (TTSH) continues to battle a cluster of Covid-19 cases, various businesses and community organisations have come up with ground-up initiatives to show their support for the hospital's employees.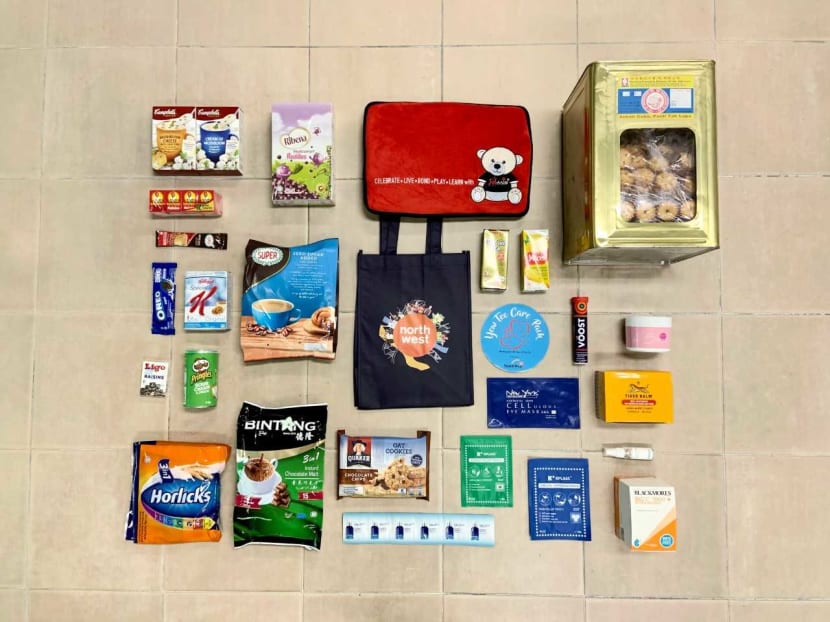 North West CDC, Central Singapore CDC and Gojek Singapore are among those showing support for TTSH's employees
Various F&B and other firms have come up with their own initiatives to show their appreciation to the staff members
The hospitals' workers said that they feel thankful and motivated by the support
SINGAPORE — As Tan Tock Seng Hospital (TTSH) continues to battle a cluster of Covid-19 cases, various businesses and community organisations have come up with ground-up initiatives to show their support for the hospital's employees.
On Wednesday afternoon (May 12), TTSH staff members were presented with a "care pack" filled with goodies as part of Project #SGHeroes supported by the North West Community Development Council (CDC) and grassroots organisations of Yew Tee.
Various private firms are also offering expressions of appreciation to the healthcare workers, by providing free bubble tea and discounted private-hire car rides, for instance.
The outpouring of gratitude has boosted the morale of TTSH staff members, who told TODAY that they were thankful for the overwhelming support and feel encouraged to continue doing what they do.
Ms Cristy Kaharian Macandile, 45, a cardiac technician at TTSH, said: "We are facing a challenging experience but many people are showing their support. It is very heartwarming to see the kampung (communal) spirit that continues to live on during this period."
Mr Tan Ren Siang, 26, a clinical research assistant, said: "I feel very touched by the kind gestures from members of the community, to show unity in supporting TTSH staff during this difficult period.''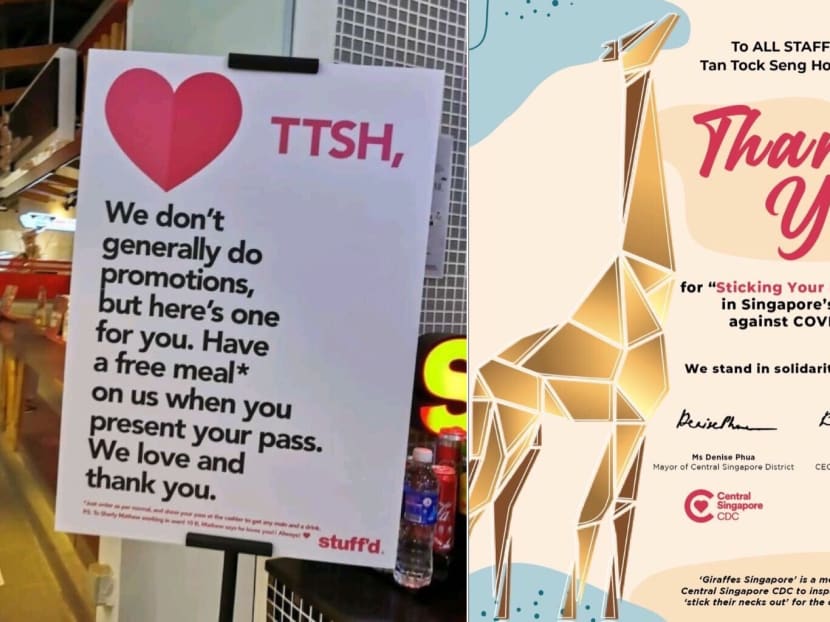 COMMUNITY SUPPORT
The care packs given to the healthcare workers include vitamin tablets, cough and pain relief patches, skincare products, snacks and beverages.
A total of 5,000 handwritten thank-you cards penned by students and residents from housing estates covered by the North West Community Development Council will also be distributed together with the care packs.
Mr Alex Yam, mayor of North West CDC, will also be hosting a Facebook live episode called Happy Kopitiam — Nurses Appreciation Night on Friday to encourage residents to show their appreciation for healthcare workers.
Mr Yam said: "We wanted to do a little something to show our frontline heroes at TTSH that we appreciate their efforts, and they should continue the battle with their heads held high."
TTSH detected its first Covid-19 case on April 27 when a nurse in the hospital's Ward 9D tested positive for the coronavirus.
The hospital has since identified 43 cases that comprise 10 hospital employees, 26 patients, and seven visitors and their household members.
Central Singapore CDC has partnered bubble tea chain Gong Cha in its effort to cheer on the hospital's staff members.
A "Giraffes Appreciation Pack" consisting of a thank-you card, free Gong Cha drink voucher, snacks and environment-friendly goodies will be given to the hospital's 12,000 employees. The giraffe theme is to thank staff members "for sticking their necks out" for their patients.
Ms Denise Phua, mayor of Central Singapore CDC, said: "We're in trying times, so it is my hope that this little gift can show the healthcare workers our appreciation for their selflessness in caring for their patients. I hope this gesture of love brings a little cheer to all the staff as they work tirelessly to keep Singapore and Singaporeans safe.''
Mr Kang Puay Seng, chief executive officer of Gong Cha (Singapore), said: "The doctors, nurses and staff from TTSH have been working long hours and keeping a distance from their friends and colleagues in a bid to keep everyone safe. We hope the cups of bubble tea can bring some joy to their days."
Ride-hailing firm Gojek Singapore is doing its bit as part of its GoHeroes initiative. It is distributing Gojek ride vouchers worth S$10 each to the hospital's employees. When contacted, Gojek could not disclose the number of vouchers distributed so far.
Thousands of Gojek driver-partners have also pledged to fulfil trips from hospitals and ensure that healthcare workers continue to travel in a safe and comfortable environment.
The firm has reminded its driver-partners that trips may include hospital pick-up and that they should take precautions to ensure a safe setting for the rides, especially when they fetch passengers from hospitals.
Full-time Gojek driver-partner Terry Ng said: "I'm happy and proud to be part of GoHeroes. Healthcare workers know the risk of getting infected and yet they go all out to help patients. These workers need our care and support during this period.''
INITIATIVES BY OTHER BUSINESSES
Another firm offering goodies to TTSH staff members is restaurant chain Stuff'd, which has been giving a free meal and drink to the hospital's employees visiting its outlet at Novena Square 2 mall since last Thursday. The initiative has since been expanded to all its outlets.
Mr Chin Zheng, the firm's business development manager, said that on Monday, 4,000 Stuff'd vouchers were issued to TTSH for its staff members to use at its outlets islandwide.
Bakery Brera & Fine Foods, which sells pastries, has teamed up with partners such as restaurants to reach out to employees at TTSH and give them free lunches and snacks.
Ms Thrina Low, owner of Bakery Brera & Fine Foods, posted on her company's Facebook page last week seeking sponsors for lunches and snacks for this project.
Ms Low said: "The post received an overwhelming response… we received S$8,000 within a day from the public."
Since last Friday, more than 354 pastries from her bakery have been sponsored.
Ms Loh Shu Ching, executive director of TTSH's division for central health and co-chair of the hospital's staff wellness committee, acknowledged the "care and encouragement shown to our staff, who have made sacrifices and shown dedication in these challenging times".