Heroes Unmasked: They clean old bottles day and night for sanitisers, hand wash for low-income families
SINGAPORE — When Ms Hann Chia spotted a call on Facebook by a volunteer group for old bottles to fill with hand sanitiser to distribute to low-income families, she grew worried.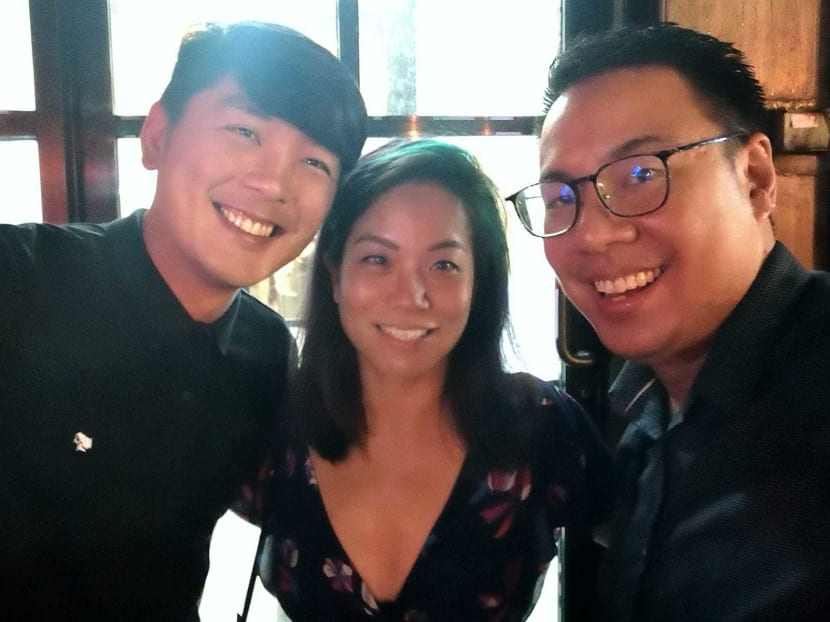 As Singapore battles the Covid-19 outbreak, TODAY's Heroes Unmasked series highlights those who are doing their bit to spread kindness and compassion during this period. In this instalment, we speak to local company Fawn Labs which is helping to sterilise bottles used by a volunteer group distributing hand sanitisers to low-income families. 
SINGAPORE — When Ms Hann Chia spotted a call on Facebook by a volunteer group for old bottles to fill with hand sanitiser to distribute to low-income families, she grew worried.
From her training in the preparation of cosmetic treatments, she knew that reused bottles that were not properly sterilised could often contain water contaminated with germs, rendering the sanitiser inside ineffective.
Ms Chia, who declined to give her age, is a co-founder of natural beauty company Fawn Labs, and realised she could use her firm's equipment to sterilise the bottles herself. She decided on Feb 8 to step up and contact the group, which gladly accepted her offer of help.
"Imagine if you are a low-income family and you see everyone buying stuff off the shelves, and you are wondering what to do. Many of them only have money to send their kids to school. The parents would feel terrible," she told TODAY.
The rest of her small team — two other co-founders and a lab assistant — readily agreed to pitch in, and Fawn Labs launched a collection drive on Facebook for old bottles at their premises in a Tanjong Pagar conservation shophouse on Feb 9.
So far, they have received more than 150 used bottles, well on the way to their goal of 650 bottles.
"I was really amazed at the response. One lady from a company that makes these bottles contacted us and said she loved what we were doing and wanted to donate 260 new bottles," said Ms Chia.
She added that any new bottles that Fawn Labs receives will be used as backup only if their supply of used bottles is depleted, because they prefer to recycle old bottles.
When the team started the cleaning process on Feb 12, they knew that progress would be slow.
One of the vital steps in sterilising the bottles is a treatment of the straws and pumps using ultraviolet (UV) germicidal irradiation which takes half a day per batch. But the firm's UV steriliser has a maximum capacity of 30 such items.
To reach their goal of cleaning 650 bottles, the team of four have to rotate shifts throughout the day and night, and even on weekends.
On top of that, Fawn Labs is a side project of theirs — some of them still have day jobs, and would arrive at the lab after work to take over the sterilising effort.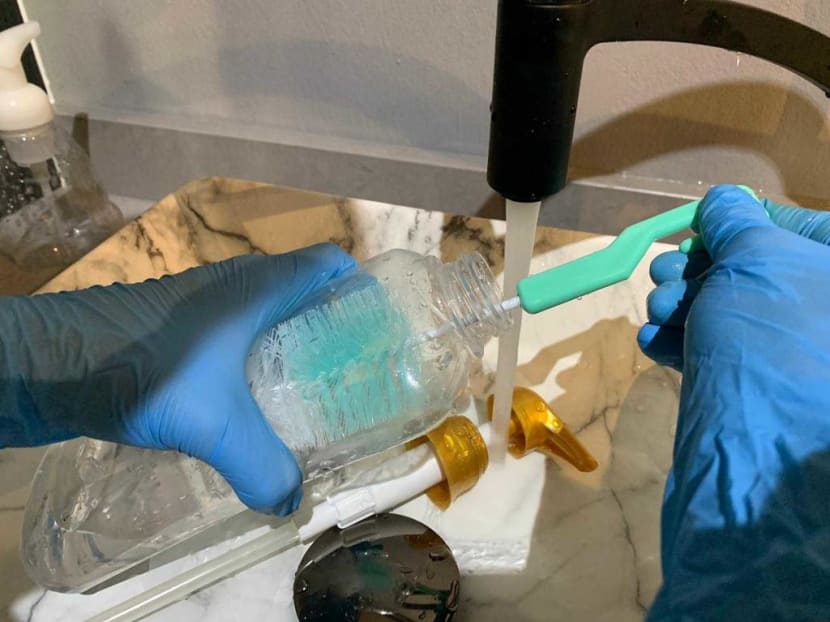 Mr Lionel Gan, 41, one of the co-founders who works as a customer service manager, said he would knock off from his day job at 6pm, have a quick dinner, and then clean bottles until 10pm or 11pm.
Despite having less time to spend with his family, Mr Gan said he felt energised and motivated to clock the extra hours.
"Doing this gives us a sense of purpose. It's not really a grind at all. It can actually be quite therapeutic to clean the bottles, once you get used to it. Kind of like ironing clothes," he said.
He said his children were especially excited that their father was playing a part in Singapore's response to the Covid-19 outbreak, and that he was glad he could be a role model for them.
"I'm not really a philanthropist, but I care enough for people, and I'll do what I can," he said.
Ms Ng Hooi See, 41, the lab assistant at Fawn Labs, who also works in business development, draws no salary for her overtime work sterilising the bottles, but told TODAY she was perfectly content helping out as well.
"It is a little tiring, but if we keep the end goal of helping others in mind, it'll be okay," she said.
The challenge was made even greater because Fawn Labs only recently completed a renovation of its premises in Tras Street, Tanjong Pagar and was moving in just as they accepted the call to clean the bottles.
"We are not frontline medical professionals, so when the country is in such a situation, it feels good to be able to help," Ms Ng said.
"Some of us joke that we never did National Service because we are not guys, so this is our chance to help," she laughed.
Ms Chia said that the team has also decided to develop its own foam handwash to fill many of the bottles they will give to the Facebook group, which wishes to remain anonymous.
"I've always emphasised that washing your hands is much more effective than using hand sanitiser," she said.
"The reason we chose to use foam is because it serves as a way to 'trick' children to lather the foam over a larger surface area on their bodies. Sometimes if you give kids normal hand soap they just rub on a bit and run off," she added.
She began work on her own hand wash formula on Friday (Feb 21), and said the first batch would be completed by Monday if things go smoothly. Ms Chia added that she would continually improve on the formula in the future.
Fawn Labs is asking anyone wishing to donate used foam bottles to deposit them at their premises at 71-2B Tras Street.