High Court acquits maid of stealing S$34,000 worth of items from CAG chairman Liew Mun Leong's home
SINGAPORE — One-and-a-half years after being convicted of stealing S$34,000 worth of items from Changi Airport Group chairman Liew Mun Leong and his family, a foreign domestic worker has been acquitted of all charges by the High Court.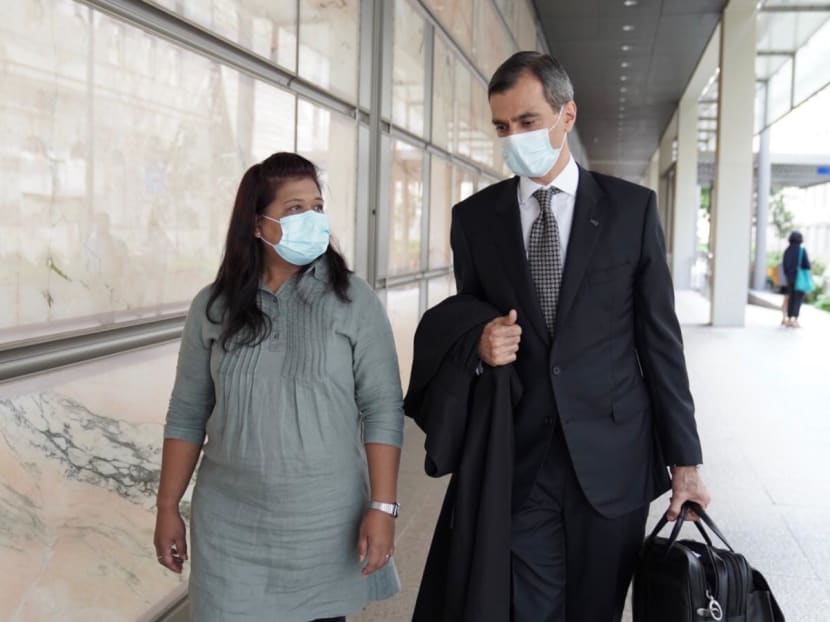 Ms Parti Liyani, 46, was sentenced to 26 months' jail last year after being convicted
Justice Chan Seng Onn ruled that the prosecution failed to prove the four theft charges beyond a reasonable doubt
In acquitting her, he said her employers may not have filed a police report if she did not threaten to report them to the authorities for making her work at more than one household

SINGAPORE — One-and-a-half years after being convicted of stealing S$34,000 worth of items from Changi Airport Group chairman Liew Mun Leong and his family, a foreign domestic worker has been acquitted of all charges by the High Court.  
Last year, a district judge had found Ms Parti Liyani, 46, guilty of four theft charges and sentenced her to 26 months' jail.
But on Friday (Sept 4), Justice Chan Seng Onn ruled that the district court had failed to consider several points, including the credibility of the testimony of Mr Liew's son, Mr Karl Liew. 
Ms Parti, an Indonesian, worked for Mr Liew Mun Leong for about nine years until her employment was abruptly terminated on Oct 28, 2016. 
After she was fired, Ms Parti threatened to file a complaint with the Ministry of Manpower (MOM) about how she was forced to work illegally at his son's home and office.
Mr Liew Mun Leong, who is also chairman of infrastructure consultancy Surbana Jurong, and his son made a police report against Ms Parti two days after firing her. They accused her of stealing items including 115 pieces of clothing, a DVD player, a Gerald Genta luxury watch, a Prada bag and Gucci sunglasses.
She left for Indonesia the day she was fired and was arrested on Dec 2, 2016 at Changi Airport when she returned to Singapore.
During her district court trial, Ms Parti denied stealing the items and said that they had been discarded, were meant to be recycled or belonged to her.
REASONS FOR ACQUITTAL

Justice Chan found that there was "ample basis" for Ms Parti to make the complaint and the Liews may not have reported her to the police without her threat. 
As the consequences of a complaint by Ms Parti would be serious, the judge said he believed that the Liews would be "very concerned" if she followed through with it.
They thus had an "improper motive" in mounting the allegations against her, Justice Chan said.
"There is reason to believe that the Liew family, upon realising her unhappiness, took the pre-emptive first step to terminate without giving her sufficient time to pack and complain to MOM," he added.
As for the chain of custody of evidence, the judge found that the police had delayed in seizing the items and the Liews had mishandled them.
After Ms Parti was fired, Mr Karl Liew gave her three jumbo boxes and two hours to pack her belongings, which were then sealed with tape. 
He eventually agreed to pay for them to be shipped to Indonesia.
When Ms Parti left for Indonesia later that day, Mr Liew's wife suspected that she had stolen thermal wear as well, so they checked the boxes the next morning. 
They spent two hours on this and took a 21-second video.
They then took some items out of the boxes to use. Mr Karl Liew was also only able to identify 34 items from the video footage they took.
There was thus a "real possibility of a mixup of items" and reasonable doubt that they were accurately documented in photographs taken five weeks later.
The trial judge also did not consider expert evidence that was unchallenged by the prosecution, Justice Chan said.
Many of the items appeared old, not functioning well or of much lower value than what the Liews testified them to be, the High Court judge said.
For example, the Helix watch — originally valued by Mr Karl Liew at S$50 — was a free door gift.
Mr Karl Liew was also "not only lacking in credibility but did not take the process of giving testimony seriously", Justice Chan said. 
His evidence that he had several items of women's clothing, some of which were for smaller-sized women, was "highly suspect". 
He had testified during the trial that he liked to cross-dress.
"I'm troubled by various aspects of Karl's evidence that the (district court) judge did not appear to have considered," Justice Chan added.
He also said that Ms Parti did not have a Bahasa Indonesia interpreter with her when she was interrogated by the police and lacked the chance to view the "large number of physical items".
'I'M SO GLAD I'M FINALLY FREE'
After the hearing ended, Ms Parti — who has stayed in a shelter run by non-governmental organisation Humanitarian Organisation for Migration Economics (Home) since her arrest — cried and hugged several Home employees.
She told reporters through an interpreter: "I'm so glad I'm finally free. I've been fighting for four years now and I've been strong all this while."
When questioned on her future plans, she said that she would like to return home. 
However, she still faces a fifth charge of fraudulently possessing other alleged stolen items owned by unidentified individuals.
Her pro bono lawyer, Mr Anil Balchandani from Red Lion Circle, said that they are "ready to stand trial" on this charge.
They will also speak to the Liews to seek compensation for Ms Parti's loss of income over the last four years. 
The loss is assessed to be "several tens of thousands of dollars", Mr Balchandani said.
Asked if she had anything to say to her lawyer, Ms Parti hugged him and said: "I'm so grateful to Anil. I don't know how to pay him back."
He replied: "I did nothing much except to repeat what she told me." 
Justice Chan had commended Mr Balchandani, saying he "put in a lot of effort and showed a lot of dedication in his work". 
The lawyer also represented Ms Parti during the district court trial.
In a statement, Home said that they were "glad that justice has prevailed". 
Migrant workers such as Ms Parti, who have been wrongfully accused, "are left waiting in a foreign country while investigations are ongoing" and often cannot work, it said. Some may choose to plead guilty due to the circumstances they face.
"Home believes that every individual should be given a chance at a fair trial, and access to legal representation, regardless of their work pass status or nationality," it added.