High Court overturns S$3,500 fine for man who assaulted pregnant girlfriend, gives jail time instead
SINGAPORE — A lower court judge who had fined a man S$3,500 for punching and kicking his pregnant girlfriend had failed to consider the "sustained and vicious nature" of the assault, a High Court judge said on Thursday (April 7).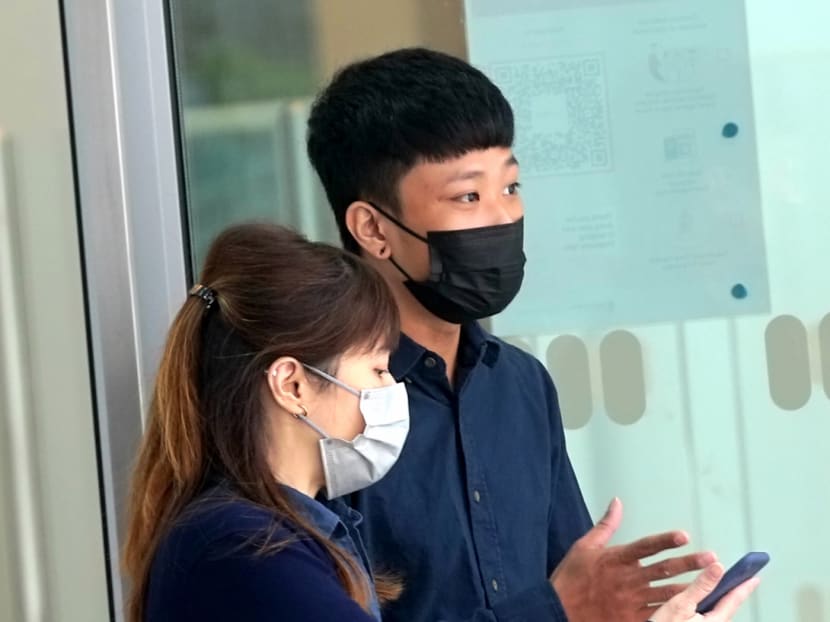 High Court judge Vincent Hoong ruled that a district court had made several errors in giving Shawn Tan Jia Jun a S$3,500 fine
Tan had assaulted his girlfriend, who was nine weeks pregnant, after an argument about the baby
The lower court judge failed to consider the sustained and vicious nature of the assault in determining his culpability, said Justice Hoong
He then accepted the prosecution's appeal and jailed Tan for two weeks
SINGAPORE — A lower court judge who had fined a man S$3,500 for punching and kicking his pregnant girlfriend had failed to consider the "sustained and vicious nature" of the assault, a High Court judge said on Thursday (April 7).
Justice Vincent Hoong accepted the prosecution's appeal against Shawn Tan Jia Jun's earlier punishment and sentenced the 24-year-old to two weeks' jail instead.
Tan, a Singaporean, was initially fined in the State Courts in October last year after pleading guilty to one count of voluntarily causing hurt to his girlfriend, who was nine weeks' pregnant at the time.
She has since agreed to marry him, which District Judge Wong Li Tein said meant that she had forgiven Tan.
The district judge said the incident arose spontaneously over a dispute about whether to keep the baby, adding that Tan's girlfriend had probably accepted that he did not harm her "in the vicious sense".
When the argument grew heated, Tan pushed his girlfriend onto the bed, punching and kicking her abdominal area several times and punching her face. His mother intervened upon hearing the commotion.
Tan's girlfriend aborted the baby after the incident and they got back together.
SOCIETAL INTERESTS OUTWEIGH VICTIM'S FORGIVENESS
Justice Hoong began his 20-page judgement by saying: "To err is human, to forgive divine. In the eyes of the law, however, forgiveness is often eclipsed by the strong societal interests in punishing offenders for the crimes they have committed."
The High Court judge quoted the proverb in deciding how much weight to place on the victim's forgiveness in sentencing Tan.
Justice Hoong ultimately ruled that there was insufficient evidence to prove that Tan's girlfriend's distress would be aggravated by him going to jail.
This was because she did not expressly explain to the lower court how a short jail sentence would aggravate her distress. In a letter to the court, the victim had acknowledged Tan broke the law and should not get off without any punishment.
The judge noted: "The main tenor of the victim's letter was to express her belief in (Tan's) capacity for change. It went no further than to demonstrate her forgiveness and concern for him.
"In any event, it bears emphasis that where forgiveness is relevant as a mitigating factor, it merely serves as a moderating influence on the severity of the sentence; it should not in any way determine the type of sentence to be imposed," Justice Hoong added.
DISTRICT JUDGE MADE SEVERAL ERRORS
While Justice Hoong accepted that Tan's assault was unplanned and out of character, he found that District Judge Wong had made several errors in assessing his culpability for the offence.
In particular, she had failed to consider the "sustained and vicious nature" of the attack. Justice Hoong said that Tan's violence was a "wholly disproportionate" response to the situation, even if he had assaulted his girlfriend in order to leave the room and end their argument.
Aside from the punches and kicks to her face and abdominal area, it was clear that Tan inflicted more extensive injuries to the rest of her body including her chest, spine and limbs, the judge noted.
Tan also did not stop the assault on his own, as it was Tan's mother who intervened.
Justice Hoong said: "To this end, it is unconscionable that the respondent now seeks to downplay his culpability by arguing that his offending conduct was not protracted in nature and that his acts were not especially violent."
This raised a doubt as to whether he was truly as remorseful as he claimed to be, the judge added.
Tan's culpability was also heightened due to his girlfriend's physical and emotional vulnerability, as well as the potential harm to her baby. It did not matter that the couple eventually decided to end the pregnancy, Justice Hoong said.
His girlfriend must have not only feared for her own safety, but for the safety of the child in her womb, the judge told the court.
He added: "A custodial sentence is unquestionably warranted in this case. Such a sustained and vicious act of violence committed against a pregnant victim must be visited with a condign punishment, which reflects the gravity of the offence."
Justice Hoong further noted Tan's young age and that he had expressed a positive desire to change for the better.
"I hope that he will learn from this unfortunate experience and become a better person, not only for himself but also for the victim whom he is to marry," he said.
"Nonetheless, it is equally important that he is adequately punished for his actions, to serve as a reminder to him and to others in similar situations that the courts will not hesitate to take a firm stance against such acts of violence." 
Tan, who began a new job a few months ago, will begin serving his sentence on April 22 and remains out on bail.
He was represented by Mr Terence Yeo and Ms Jeanne Goh from TSMP Law Corporation, while the prosecution was led by Deputy Public Prosecutor Tan Pei Wei.
For voluntarily causing hurt, Tan could have been jailed for up to three years or fined up to S$5,000, or punished with both.