High-tech vertical farms to begin operations next year and bring fresher leafy greens to S'poreans' plates
SINGAPORE — From next year, Singaporeans can expect more of their favourite Asian vegetables to reach their plates quicker and fresher, thanks to a slew of high-tech urban farms that are set to begin operations.
&ever, Indoor Farm Factory Innovation and Genesis One Tech Farm are part of eight companies that have accepted SFA's 30X30 Express Grant
The grant will help these companies accelerate Singapore's efforts to meet 30 per cent of its nutritional needs locally by 2030
The benefits of indoor farming are that it requires less space to grow crops, and optimal growing conditions can be replicated
Representatives from the three companies said prices will be competitive, and they will offer Singaporeans fresher and higher quality produce
SINGAPORE — From next year, Singaporeans can expect more of their favourite Asian vegetables to reach their plates quicker and fresher, thanks to a slew of high-tech urban farms that are set to begin operations.
For vertical farming company &ever, it can even sell its vegetables "while they are still living", said the firm's chief executive officer Henner Schwarz.
"You don't need to refrigerate it down to 4°C (to keep it fresh)," he said. "You can actually have it at room temperature when you buy it at the supermarket, and it continues to grow at home. It stays fresh for at least a week."
&ever currently has a fully operational indoor farm using the same technology in Kuwait that produces about half a tonne of vegetables each day.
Its Singapore outfit, which will be located within the Changi vicinity and will be operating from around October next year, will be larger and produce more than double that amount — about 1.25 tonnes a day — said Dr Schwarz.
The Hamburg-based company is just one eight companies — an egg farm and seven vegetable farms — to have accepted the Singapore Food Agency's (SFA) 30x30 Express Grant to ramp up local food production.
The SFA said the grant will accelerate Singapore's efforts to meet its 30 by 30 goal, which is to secure 30 per cent of the country's nutritional needs with food produced locally by 2030.
It will also help to minimise disruptions to Singapore's food security, due to events such as the Covid-19 pandemic.
Part of the grant requirements, said some recipients who are growing vegetables, is to ensure at least 50 per cent of the crops grown are Asian greens like xiao bai cai or kangkong.
THE SINGAPORE FIRMS
Two Singaporean companies that have accepted the grant have similarly shared some of the innovative technologies that they will be using.
Over at the south-western end of the island, Indoor Farm Factory Innovation (IFFI) intends to leverage on its parent company Tranzplus' knowledge of automation to make its work processes more efficient.
Mr Alfred Tham, IFFI's chief executive officer, said robotics will also help reduce operational costs at its 38,000 square foot facility at JTC Space @ Tuas when it is ready for operation in the second half of next year.
Beyond that, Mr Tham said their machines will have the ability to analyse the condition of the plants, such as when they will be ready for harvest.
All this, he said, will not only help to reduce manpower needs, but also scale up production to meet SFA's minimum requirement of 200 tonnes of produce annually.
Mr Tham said IFFI will be using an indoor farming methodology of soil-based cultivation, which allows them to have greater flexibility in the variety of crops that they can grow.
What this means is that the plants can be grown in separate containers, which enables them to customise the growing conditions as needed.
Moreover, it reduces the risk of cross contamination between plants, said Mr Tham. Still, Mr Tham said they will be utilising a special water treatment system to reduce bacteria.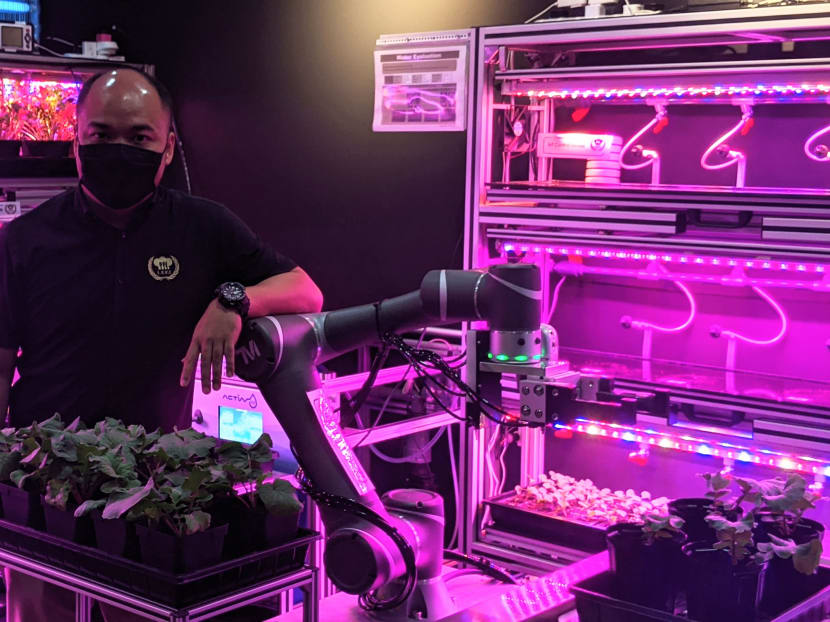 Meanwhile, Genesis One Tech Farm intends to take its operations closer to the heartlands and will have a 10,000sq ft facility situated in Eunos that is about a three-minute walk from the Singpost Centre.
The farm's director, Mr Shawn Ow, expects operations to begin within the first quarter of next year.
One of the key technical features of the subsidiary of the investment holding and managing company, TSL Group, is the use of a custom-designed hybrid Nutrient Film Technology system, coupled with 5G energy-saving LED lighting in order to maximise growth cycle efficiency.
Mr Ow said the system enables the firm to recycle the water used, thus using a fraction of the water requirements generally associated with a hydroponic system and minimising the environmental waste impact.
But more importantly, said Mr Ow, is that his company hopes to provide jobs for Singaporeans. It is exploring hiring residents living around the area on a part-time basis and is also in discussions with an institution supporting the rehabilitation of ex-offenders.
And as the firm is located within the heartlands, it is also not ruling out the possibility of allowing potential customers to buy directly from its facility.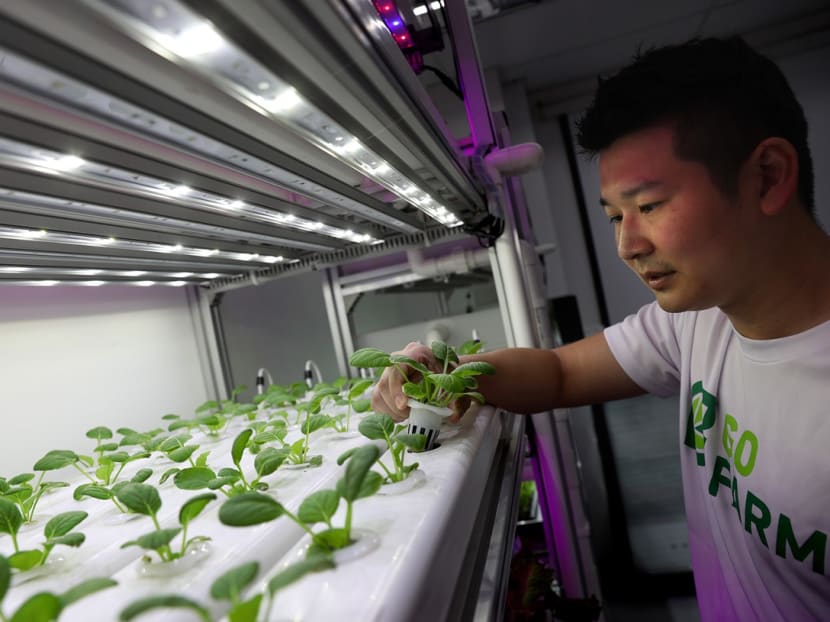 'BUY LOCAL'
For Mr Tham, he plans to start a cafe in Bukit Panjang which will not only feature its produce on the menu, but a cultivation showroom to raise awareness about indoor farming.
"When we talk about indoor farms, not many have seen it," he said.
Aside from taking up far less space compared to a traditional open air farm, vertical indoor farms are also not at the mercy of the weather, said the representatives from the three companies.
Moreover, growing conditions such as temperature, humidity and lightning conditions can be replicated so that plants that do not normally thrive in the tropics can be grown indoors instead.
Price-wise, the representatives said it will be competitive.
The prices may not be cheaper than the vegetables imported from Malaysia, but Mr Tham said they will definitely be fresher and of higher quality. It also offers a better alternative compared to imports from further away.
"If you are choosing between imports from Japan or local produce, buy local," he said. "The reason is very simple — it reduces the carbon footprint."