Parents lament higher school bus fares, longer travel time for their children as shortage of drivers persists
SINGAPORE — When school began for Mr Sunil Sabnani's eight-year-old daughter earlier this year, he saw how some parents were frustrated because their children were dropped off at the wrong locations by the school buses.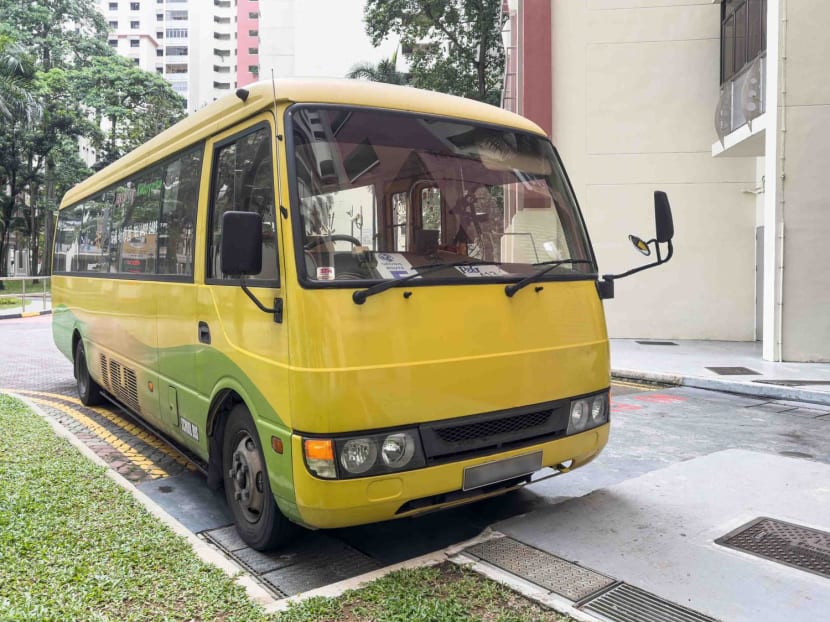 Some parents are unhappy because a shortage of school bus drivers has led to increased fares and longer travel time for their children
The shortage has also caused bus companies such as ComfortDelGro to end their contracts with several primary schools
Bus operators are facing difficulties hiring drivers and hope they can be allowed to hire more foreign workers 
The Ministry of Education raised the school bus subsidy in January 2023 to help parents deal with increased fares
SINGAPORE — When school began for Mr Sunil Sabnani's eight-year-old daughter earlier this year, he saw how some parents were frustrated because their children were dropped off at the wrong locations by the school buses. 
"It was a complete nightmare," the 50-year-old who works in the public service told TODAY. 
"The kids were not being picked up at their scheduled locations so parents had to scramble in the morning and take their kids to school, or kids were dropped off at the wrong location because it was a new bus company." 
He blames the mix-up on the shortage of bus drivers, which resulted in poor service standards. 
"The companies are not to be blamed. There are just no drivers and they can't (provide a proper) service," he said. 
The shortage of drivers appears to have worsened of late, with parents saying that travel time has increased due to bus operators merging routes, while fares have risen.
This has led many parents to cancel their children's school bus services and opt for public transport or take their children to school themselves instead.
A report by The Straits Times on Monday (May 22) said that the shortage of drivers has pushed ComfortDelGro, one of the largest companies in the private bus services sector, to end its contracts with four primary schools. 
Bus operators who spoke to TODAY also voiced concerns about the problem, which has forced them to merge routes and use bigger buses. 
HIGHER FARES, LONGER TRAVEL TIME
One parent, Mr Maran G Krishnan, 51, said that his daughter's travel time to school increased by half an hour as a result of bus companies merging two routes into one. 
"After the first day of school, we decided not to send our daughter by school bus," the digital and marketing communications director said.
On top of the longer travel time, parents are also paying higher bus fares. 
Ms Esther Wong, 40, who works in an enrichment centre, said that her 11-year-old son's bus fare now costs S$440 for a two-way trip when it used to cost her S$290.
"It seems like the bus operator has combined some trips, making the rides longer," she said. 
Mr Zhu Bingcheng, 44, founder of cycling group Slow Biking Singapore, said that apart from higher fares, the pick-up timings for his children also became earlier.
He has cancelled their school bus arrangement, so they either walk to school or take public transport now.
WHY IS THERE A SHORTAGE OF BUS DRIVERS?
Bus operators said that the shortage of drivers is a perennial problem that has been exacerbated by rising operating costs and the reopening of the tourism industry after the Covid-19 situation stabilised.
Drivers are moving to the tourism industry for higher wages, DKJ Transport Service said. The bus company works with six primary schools and four kindergartens. 
Mr Jason Yap, the managing partner of Swee Seng School Bus, pointed out that many drivers are also of the older generation and it is difficult to find younger drivers.
"In this line, many drivers are reaching the age of retirement and the younger generation do not want this job, so the shortage of drivers will continue," the 53-year-old said. 
"We tried advertising online and in the newspaper for months, but we still can't find any drivers."
Sky Island Transport, a firm that has been operating since 1996, said that it has also been difficult for bus companies to hire more foreign drivers due to the limited work passes and S-passes being given out for such mid-level skilled workers.
Bus companies have thus resorted to merging routes and using bigger, but fewer, buses.
"Our contract with schools is based on the distance travelled, so it is not possible to cut any routes," DKJ Transport Service said. 
Some bus operators have called on the Government to raise the quota for foreign workers that they can hire. 
"For me, the answer to the problem is easy. Just let us employ more foreign drivers, this will reduce our operating costs," Mr Yap said. 
In a written reply to parliamentary questions about this issue on March 22, the Ministry of Education (MOE) said that while most bus operators continue to provide services, they have had to raise their fares to retain enough school bus drivers.
To tackle this, MOE said that it has increased the school bus subsidy from 60 per cent to 65 per cent since January this year.
This is to ensure that transport costs to school are affordable, especially for needy families. 
MOE told TODAY that the ministry is working with the Ministry of Manpower to provide school bus operators with "targeted support" through additional foreign worker quotas, reiterating Manpower Minister Tan See Leng's written parliamentary reply to a question from Workers' Party MP Dennis Tan regarding this matter on May 8. 
"Where feasible, parents are also encouraged to consider schools that are reasonably close to home to reduce their child's commuting time, as a longer home-school distance could mean more limited school bus and public transport options for the child," MOE said.
DIFFICULT FOR NEW PLAYERS TO ENTER SCHOOL BUS INDUSTRY
Transport economist Walter Theseira told TODAY that some school bus services have been operating "since the old days" and have a special school bus licence from the Land Transport Authority (LTA) to do so.
These companies are given "special privileges", such as exemption from the Certificate of Entitlement.
According to LTA's website, no new school bus licences are available, and they only be purchased from the resale market.
Hence, such companies have "effective monopolies" at some schools they operate in. In exchange, their rates are "implicitly regulated" by the schools, said Associate Professor Theseira.
Though there are also private school bus operators that schools have contracted independently, there are not many opportunities for these new operators to enter the industry, he added.
Assoc Prof Theseira, who is a lecturer at the School of Business in the Singapore University of Social Sciences (SUSS), said that while private operators are free to offer their services at schools, it is not a matter of schools hiring anyone who can offer the cheapest price.
"If (a new operator) says he can deliver the service 25 per cent cheaper, but you have to accept whoever he assigns to drive each day, do parents want that?" he asked.
What makes the current system work is because schools have "long stable relationships" with school bus operators who have provided quality and reliability for many years, he added.
However, the problem now is that the manpower shortage means that schools may no longer be able to be as selective with their bus service providers as they used to be.
"In general, it doesn't seem like a very attractive commercial prospect for anyone because of the dual mandate that schools have to try to ensure both high quality and low price," said Assoc Prof Theseira.
He added that increasing the manpower quota for foreign drivers may ease the manpower crunch, but there may be hurdles.
"I'm not saying that foreign bus drivers provide a low quality service... but with cost pressures, it isn't guaranteed that firms would be able to recruit drivers who can, for example, communicate with Singaporeans sufficiently, or that firms would do any necessary background checks (on drivers)."