Higher seafood prices, but eateries adapting swimmingly for CNY
SINGAPORE — As Singaporean families gather on Monday evening (Feb 4) to tuck into their Chinese New Year (CNY) reunion dinners, they would certainly have had to fork out more for the fish, prawns and crabs on their tables.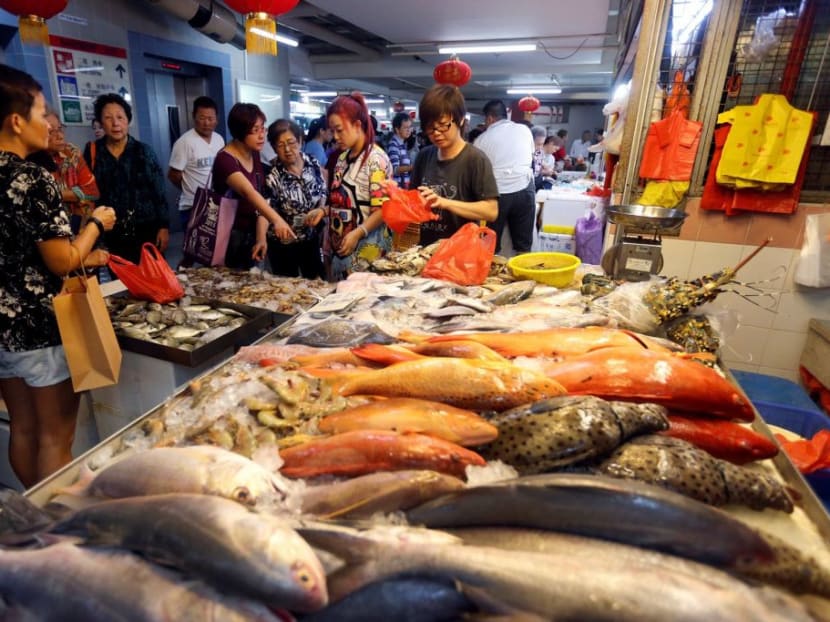 SINGAPORE — As Singaporean families gather on Monday evening (Feb 4) to tuck into their Chinese New Year (CNY) reunion dinners, they would certainly have had to fork out more for the fish, prawns and crabs on their tables.
In the lead-up to the festive season, prices of fresh seafood have spiked by 30 to 40 per cent due to high demand and low supply, said Mr Goh Thiam Chwee, Chairman of the Singapore Fish Merchants' General Association.
This has also resulted in higher costs for restaurant owners and hawkers, with the perennial supply shortage made worse by Malaysia's move to stop the export of certain fish and shrimp in the first two months of 2019 to meet the market shortage during the monsoon and festive seasons.
As this is a yearly occurrence, restaurants and eateries here told TODAY that they have since adapted to maintain their businesses and keep costs low, including hunting for multiple suppliers and choosing not to serve certain kinds of seafood such as the red grouper.
Mr Goh said that demand for seafood always rises ahead of the festive season as seafood is a staple for CNY celebrations.
"With the year-end monsoon that occurred just before CNY, it's very normal to have changes in seasonal prices," he added.
"A lot of our seafood comes from countries like Indonesia, Vietnam, China and Myanmar. But they also need to celebrate the new year right? That's why the prices go up every year."
PRICES ON THE UP
According to seafood supplier Guan Chew Fishery, the price of pomfrets has doubled, going from about S$20 to S$30 per fish to over S$60. The pomfret and grouper are among the most popular fishes for CNY, said owner Ang Jwee Phor. The price of groupers has risen from about S$20 to S$50 this time.
"Even for the less popular fishes, the price also goes up because more people are finding alternatives to the popular and expensive ones," he added.
For the Batang fish, or Spanish Mackerel, a fish that cost about S$10 on regular days is now priced at over S$15, said Mr Ang. Batang is often used to cook seafood soup or simple fish dishes.
Premium seafood prices have also shot up, with the price of lobsters increasing by about S$20 to S$30 per kg, or around 15 to 20 per cent, said Ms Pauline Tan, manager of Ubin First Stop Seafood Restaurant.
DON'T PUT ALL YOUR PRAWNS IN ONE BASKET
For Ubin First Stop, sourcing for seafood supplies while keeping costs low is a recurring problem every year. "We do business, so we feel the difference with the rising prices," said restaurant manager Pauline Tan.
Ms Tan said that crabs were completely sold out within a few days of CNY last year. The price of prawns also shot up, with 30kg of prawns costing about S$700 when they would previously get 50kg for the same price.
This year, the restaurant — which is located at the East Coast Seafood Centre — is getting its supply from multiple sources.
"We learned to be smart this time round, to get more suppliers as backup. With more suppliers we're also able to compare prices and weigh our options to see which combination might be the best value for money," said the 62-year-old.
Similarly, Xin Long Xing Seafood BBQ at East Coast Food Village relies on multiple suppliers to ensure regular supply of seafood.
Supervisor John Ting said in Mandarin: "We rely on a lot of suppliers, I can't even count the exact number because we're constantly sourcing for new ones too.
"If one supplier runs out or is too expensive, we just jump to the next one on the list. So we never run out and our prices can remain competitive."
CUSTOMER LOYALTY IS KEY
Although seafood is more expensive, Ms Tan said that Ubin First Stop absorbs the additional costs where possible and avoids hiking up the prices for customers.
"If we change the menu pricing because supply is more expensive now, when the supply is cheaper, do we then lower prices suddenly too? We need to maintain the standards," Ms Tan added.
Building customer loyalty is important in the long run, she added. While the restaurant may not earn "much profits" this new year, customers will return if "we offer good prices".
"We've been in the business for 29 years and it's because of loyal customers that we can keep going," she added.
Mr Richard Ho, owner of Alliance Seafood at Newton Food Centre, said that despite seafood supply costs increasing by 20 per cent this season, he has also maintained food prices.
Customers naturally want to pay as little as possible, the 43-year-old said. "If the supply gets too expensive, at the most we try to buy and sell less so we don't make too much losses," he added.
Other hawkers like Mr Tan Kei Liang, who works at 61 Goodman Seafood at Newton Food Centre, told TODAY that they would stop buying certain supplies of fish temporarily if prices increase drastically.
"The red grouper always fluctuates in price," said Mr Tan, 57, in Mandarin. "Sometimes if the price is acceptable then we'll bring it in. This CNY, it's too expensive so we didn't."
The stall would sometimes revamp its menu as this helps in getting the best seafood option available while also adding variety.
"Different items have different prices at certain times of the year, so we adjust our purchases according to that. We're all running a business here after all," he added.