Hillview Heights condo managing agent apologises for 'discriminatory' tender lapse; residents, guards bemused by incident
SINGAPORE — The managing agent at Hillview Heights condominium on Tuesday (Sept 7) apologised for its mistaken use of outdated language, labelled by some as racist and ageist, in a tender for security guards. Residents and security guards at the private property were left bemused by the incident.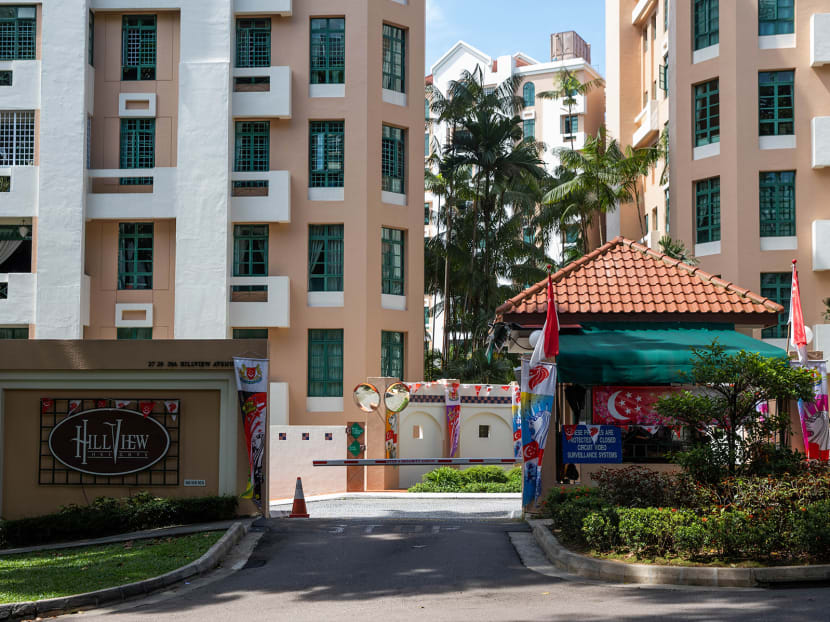 Managing agent Savills Property Management posted a tender that would penalise security agencies for not deploying Chinese-speaking guards or guards older than 60
The agent apologised for causing confusion as it had used outdated language dating back to 2000
Condo residents said they were surprised at the inclusion of these clauses
Guards working there said they have not faced discrimination
Savills was invited by the police to adopt outcome-based contracts, which industry players said is key to avoid such occurrences in future
SINGAPORE — The managing agent at Hillview Heights condominium on Tuesday (Sept 7) apologised for its mistaken use of outdated language, labelled by some as racist and ageist, in a tender for security guards. Residents and security guards at the private property were left bemused by the incident.
Stating that it was "an unfortunate situation created by historical tender documentation language from 2000", a representative from Savills Property Management said that the firm will be reviewing the terms and conditions of the contract for their clients' approval.
"We sincerely apologise for any confusion caused and have taken steps to ensure all tender documentation reflects current tripartite guidelines on fair employment practices," Savills said in response to TODAY's queries.
The tender for security services at the 360-unit condominium in Bukit Batok, which was dated Sept 3, was criticised by Security Association Singapore on Monday for stipulating that security firms be penalised for not deploying Chinese-speaking guards, or when they supply guards younger than 21 or older than 60 without management approval.
The security industry trade body saw this as a form of race- and age-based discrimination.
The incident provoked a strong reaction on social media, with many people highly critical of the stipulations set out in the tender, while others defended them.
However, the condo's current security guards, who are employed by Henderson Security Services, were perplexed by the brouhaha because they have not experienced race- or age-based discrimination while working there.
"That is not the experience of any of us here," one security guard said. He declined to be named because he is not authorised to speak to the media. The four guards deployed there are all from minority groups.
Likewise, some longtime residents at Hillview Heights said they were surprised that their management would include such clauses when seeking security services, since there was no specific need for Chinese-speaking guards or guards of a certain age.
They were also concerned that condo residents may be accused by others of being racist or ageist.
Singapore Institute of Technology undergraduate Chu Jin An, 24, who has lived there for more than a decade, said: "There is a standard mix of residents living here who are Chinese, but also Indians, Malays and foreign expatriates. There are no problems in communication with the guards.
"I'm not sure how these tender documents are crafted, but I think the management should really look into this because it has caused so much outrage when it (the age and race requirement) isn't even something residents need or want."
Another resident of 10 years, who wanted to be known only as Ms Aparna, said that it would have been wrong if residents insisted on having Chinese guards at their condo. She added that to her knowledge, no resident has made such a request at the condo's annual general meetings.
TODAY has reached out to the condo's management corporation for comment.
REGULATED BY THE POLICE
Commenting on this episode, Mr Gary Haris, senior business development manager of KH Security, observed that many management corporations and managing agents do put unfair clauses in their tenders that discriminate based on race, gender or age.
Security agencies, and the security guards they employ, are already regulated by the Singapore Police Force. Officers have to be certified to be medically fit to work in the industry, so there is no reason for service buyers to impose even more restrictive terms, Mr Haris said.
"Many security agencies will try to educate such service buyers. But for those who are adamant (in sticking to these requirements), security agencies should avoid these tenders," he added.
Mr Steve Tan, executive secretary of the Union of Security Employees, agreed, adding that his union as well as security associations have been educating service buyers to outsource responsibly.
"On this particular issue, we note that the managing agent had put out a discriminatory tender document for security agencies to bid for. We support the Security Association Singapore fully in their reproach of this discriminatory behaviour," Mr Tan said.
OUTCOME-BASED CONTRACTS
In its statement, Savills said that it welcomes a constructive dialogue with the Security Association Singapore and the Association of Strata Managers "to ensure we are all aligned in the future".
Savills has also been invited by the police to introduce outcome-based contracts, it added.
Outcome-based contracts are conceived as a way for service buyers, such as condo managing agents, to tender for security services based on the outcomes that they wish to see — instead of stipulating manpower headcounts in these contracts.
Mr John Vijayan Vasavan, president of the Association of Certified Security Agencies (ACSA), said that such a concept is already becoming the norm in the security industry and would also prevent discriminatory hiring clauses from appearing in tender documents.
In a statement, ACSA said that it condemns any managing agent that has any discriminatory terms specified in their tender documents, and called for security agencies to not participate in such tenders.
"This goes against the fundamentals in a multi-racial society like Singapore. Measures must be enshrined in our legislation to keep this in check," it added.
Speaking to TODAY in a phone interview, Mr Vijayan said that there are legitimate cultural reasons why some service buyers might want to prefer that guards who can speak a certain language are deployed in their facilities, such as at embassies.
Condominiums, such as Hillview Heights, do not have the same cultural factors given that condo residents are racially diverse and can also speak English, he said.
In any case, it is also in the interest of security agencies to provide guards who can communicate with residents or facility users.
"But when service buyers put such clauses in black and white, and with penalties, then it can become a very challenging situation for security agencies, which may be quick to accept such tenders but realise later on that they cannot carry them out," Mr Vijayan added.
With outcome-based contracts, he said that there is more room for security agencies to discuss such specific requests with service buyers in a way that can still meet their security needs, rather than have manpower requirements prescribed to security agencies.
"The reality is that even though there are relatively fewer Chinese security officers in the industry, there are ways to meet every need. Security agencies have been and must be able to assess their own deployments to meet these security outcomes," he said.
TODAY has also reached out to the Tripartite Alliance for Fair and Progressive Employment Practices and the Ministry of Manpower for comment.