Homegrown company looks to create breast milk without the need for mothers
SINGAPORE — A new start-up in town is eyeing a slice of the multi-billion dollar infant milk formula industry, by making their own breast milk — no nursing moms needed.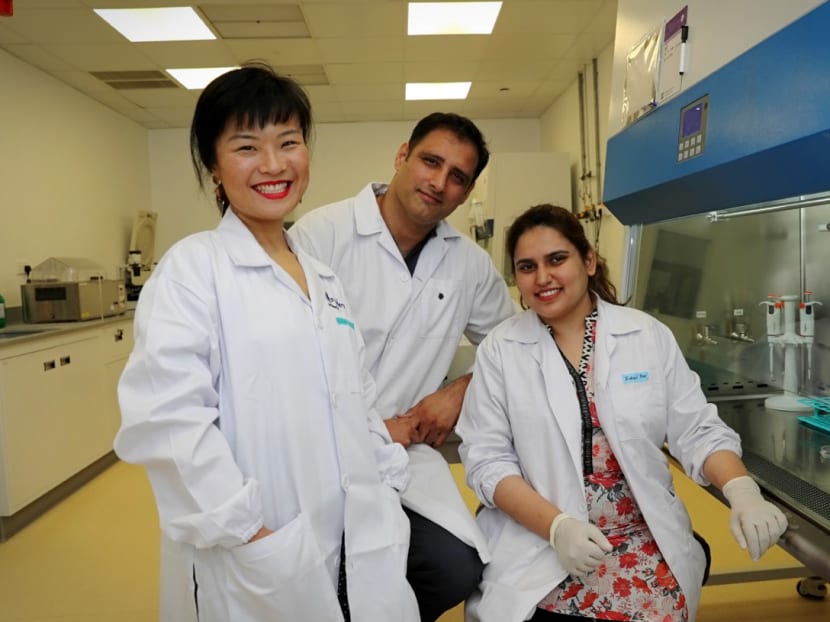 SINGAPORE — A new start-up in town is eyeing a slice of the multi-billion dollar infant milk formula industry, by making their own breast milk — no nursing moms needed.
Homegrown start-up Turtletree Labs has found a way to generate milk from stem cells, which it says no other company in the world has done before.
The process, which is pending patent, can produce the milk of any mammal. 
Speaking to TODAY on Monday (Dec 23) at its lab at Block 79 along Ayer Rajah Crescent — a space by Agency for Science, Technology and Research (A*Star) for budding start-ups — Mr Max Rye, the chief technology officer at the company, said it is taking aim at the infant milk formula industry, which is currently valued at US$45 billion.
According to market research consultancy Fortune Business Insights, this figure is expected to more than double by 2026.
Mr Rye said the company will not be competing on price. In fact, it plans to price its milk higher than other infant milk formula in the market. However, he believes that parents will be willing to pay more for breast milk, which is considered more nutritious than formula milk. 
"We don't see ourselves as directly competing. We see (our milk) as a better product that baby formula companies can put out themselves," he said.
"This will be the first time you could create real human milk without having the mum, which is why it can command a premium price," he said, adding that the team plans to work with infant milk formula industry players to scale up its production of breast milk.
A CHEESY IDEA
It was chief executive officer Lin Fengru's personal hobby of creating cheese at home which led to her brainwave of producing milk from stem cells.
Ms Lin said that as a cheese connoisseur, she had travelled to various dairy farms in the region to source for milk that would allow her to make high-quality cheese. 
However, she was disappointed after viewing the conditions of farms in the region.
"I went around Indonesia and Thailand to look for milk but it's a problem because a lot of hormones are being pumped into the cows. The quality of the milk suffers because of that. 
"Animal hygiene is also bad. The cows are sitting around in their own poop. It's not a good environment for cows to create good milk."
As she researched the science behind what makes good milk, Ms Lin, who was then an account manager at Google, began talking to her friend Mr Rye last year about the possibility of using stem cells to generate milk the same way by which some forms of alternative meat are produced.
Mr Rye, an American with over two decades of experience in the tech industry, spoke with scientists he knew, who said that this was scientifically possible. He and Ms Lin then started Turtletree Labs.
FROM CELLS TO MILK
Dr Rabail Toor, the head scientist at Turtletree Labs whose research experience is in breast cancer and stem cell differentiation, said that the team uses technology to produce milk by differentiating, or changing, stem cells into mammary cells before getting the cells to lactate.
The first step involves obtaining stem cells from sources such as milk. 
They are then transferred into an environment where they convert into mammary gland cells. 
The mammary gland cells then interact with a special formula which causes the cells to induce milk. The cells are then separated from the milk in a filtration process.
The entire process takes three weeks, and the type of milk produced depends on which mammal the stem cell is taken from. 
While the team, which is nine months into the experimentation phase, had started off producing cow's milk, they moved into producing breast milk two months ago after investors advised that it would be more lucrative for Turtletree to focus on getting a slice out of the infant milk formula industry.
The company expects to produce its first batch of breast milk in "laboratory quantities" by next month. 
The eight-person team is confident that they will see results, having successfully produced cow's milk in the lab before.
HOW IS IT DIFFERENT FROM OTHER COMPANIES?
While they are not the only start-up creating diary without the use of animals, Turtletree Labs' founders claim that they are the only ones who have found a way to reproduce milk in its full composition.
Other companies producing alternative milks typically do so by using plants such as soy or oat. However, such milk does not share the full composition of a mammal's milk. This means that while plant-based milk may replace drinking milk, such as that used in coffee, it cannot be used to make cheese, butter or yogurt, Ms Lin said.  
Some companies, such as Californian start-up Perfect Day, use DNA from cow's milk and add yeast to it to create whey and casein through fermentation. However, whey and casein are only partial components of milk, and exclude other components such as fats, carbohydrates and complex sugars.
"Leveraging cell-based methods and thinking outside of the box, we were able to make breakthroughs that made it possible to make the real thing," said Mr Rye.
FINDING THE BEST QUALITY BREAST MILK
The team's focus right now, said Ms Lin, is to produce the best quality breast milk possible.
At the moment, the company is tapping a dozen mothers from across the region, who have donated their breast milk for stem cells to be harvested from.
However, with the quality of breast milk varying based on factors such as the mother's health, upbringing and diet among other things, Ms Lin says that the company needs hundreds more such volunteers, so that it can create milk with the right level of creaminess, good antibodies and high fat content.
By April next year, the team intends to debut a glass of cow milk, with different milk products such as cheese and butter, along with a glass of breast milk to investors and potential customers such as corporations that manufacture infant milk formula.
It also aims to set up a pilot plant which can produce 500 litres of milk daily by the end of next year. The plant will allow the team to showcase its technology to industry players, said Ms Lin. 
On whether consumers are ready for milk that is not produced from a mammal, Mr Rye said it was a matter of educating people that milk from stem cells is cleaner than milk from farms which may have hormones or chemicals infused, or from mothers who are unhealthy.
"We are going to be showcasing over time that this is probably better milk than anything you've ever had," he said.