Hotels, F&B businesses join Pact to cut back on plastic use
SINGAPORE — Nine companies, including large hotel chains and popular food establishments, are teaming up to relook their plastic use under a new initiative by the World Wide Fund for Nature (WWF).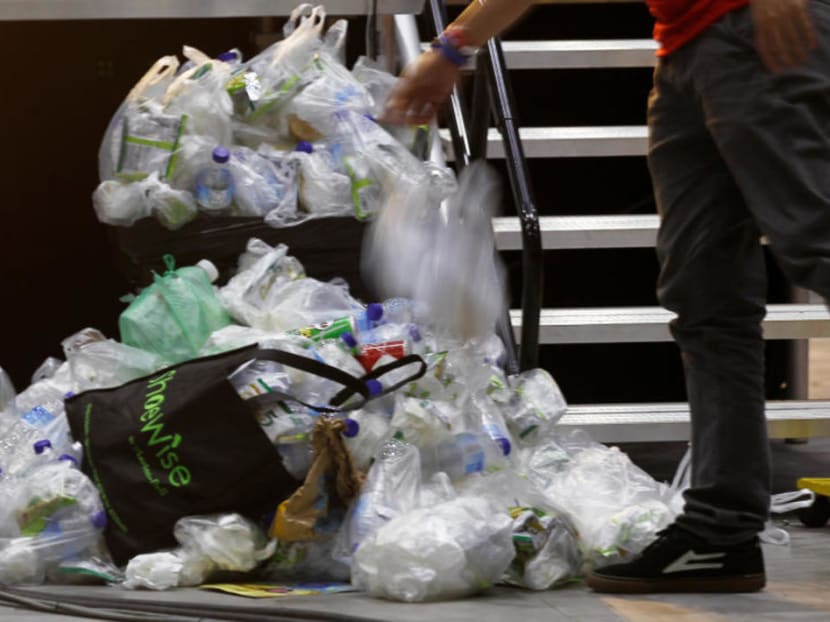 SINGAPORE — Nine companies, including large hotel chains and popular food establishments, are teaming up to relook their plastic use under a new initiative by the World Wide Fund for Nature (WWF).
Through the initiative called Pact — short for Plastic ACTion — the businesses will set targets and take measures to reduce their plastic production and use by 2030.
These include taking long- and short-term measures to remove from their operations certain plastic items that are deemed unnecessary, WWF said at the project's launch on Wednesday (Jan 30).
For a start, this may include removing plastic bags and straws, but the WWF stressed that the initiative will go further than just these measures.
In the long run, businesses will have to change and innovate product-design models, and find alternatives to their plastic materials.
They will also support conservation and research projects to find better materials, improve waste management or remove plastic items from nature.
Under the Pact initiative, companies are also committed to take responsibility for their plastic use beyond the point of sale, by collecting and recycling more plastic than they produce.
A survey by global public opinion and data company YouGov, commissioned by WWF, has found that 95 per cent of Singapore's consumers acknowledge the environmental, health and pollution issues caused by the excessive use of disposable plastics.
Consumers here also view the food-and-beverage (F&B) and food retail sectors as the biggest sources of disposable plastic in Singapore.
Hotels under the Pontiac Land Group, which include luxury resort Capella Singapore, and those under the AccorHotels Group have pledged their commitment under the Pact.
The Ramada and Days Hotels by Wyndham Singapore at Zhongshan Park in the Balestier area, and Hilton hotels in Singapore such as Conrad Centennial Singapore, Hilton Singapore and Hilton Garden Inn Singapore Serangoon are also part of the initiative.
F&B chains such as PastaMania, SaladStop! and ice-cream brand Udders are also on board.
Ms Katherine Braha, owner and director of SaladStop!, told TODAY that since the outlets began charging 10 cents for a plastic bag about a year ago, consumption of plastic bags has reduced from 50,000 to 35,000 a month.
Some SaladStop! branches, out of at least 15 islandwide, have also begun a service where customers may "return" or "donate" plastic bags that have been lightly used for others who wish to reuse them.
This year, Ms Braha hopes to target paper bags, which are also chargeable.
In June, the chain launched its stainless steel straw initiative while working on removing all plastic straws by this year.
It is encouraging customers to use their own reusable containers and bottles for takeaways from the shops by rewarding them with a free topping for salads, for example.
Ms Braha acknowledged that it would be "very difficult" to repackage certain products such as cold-pressed drinks, now sold in plastic bottles, because many customers "grab them to go".
However, she has a "long-term vision" for some of the outlets to have drink dispensers instead, "where people can serve themselves" and "bring their own bottles" to take away the drinks.
She is hoping to redesign one of the salad chain's main outlets in the Central Business District to have such drink dispensers by the middle of this year.
USING ALTERNATIVE CARRIERS, CUTTING SINGLE-USE PLASTIC
Other brands — PastaMania, Udders and Kraftwich — which fall under Singapore-based investment company Commonwealth Capital, will also be reviewing their "plastics footprint".
Ms Lock Hui Min, marketing manager at Commonwealth Retail Concepts, said that at PastaMania, for example, instead of using a plastic carrier bag for a pizza box, a sling which is made from sustainable plant-based material may be used instead for takeaways.
Udders has replaced plastic ice-cream spoons with wooden ones, and this move will be fully completed across all outlets by next month.
Since last year, Kraftwich outlets have started charging customers for plastic bags, and offering S$0.50 discounts to customers who use their own cups for takeaways.
For its restaurants, Kraftwich is looking to reduce the use of single-use plastic by 70 per cent in two years, while Udder's goal is to reduce it by half and PastaMania, by 30 per cent.
Ms Lock said that while finding viable, cost-efficient alternatives for plastic is a "huge challenge", it is still important that the brand takes the lead to change consumers' perception and reliance on plastic.
Ms Kwee Wei-Lin, head of hotels (Singapore) at Pontiac Land, said that the group's hotels here, namely Capella Singapore, The Ritz-Carlton, Millenia Singapore, Conrad Centennial Singapore and Regent Singapore, are in the midst of removing plastic straws. They are also replacing all their boxed amenities, such as soaps that may sometimes be packaged in boxes, with sustainable materials.
The group is planning to use reusable glassware instead of plastic bottles, with this change to kick off at Capella Singapore.
The WWF said that businesses that are part of Pact have committed to "clear, time-bound measures" on their past, present and future plastic use, aiming for "no plastics in nature" by 2030.
A growing number of F&B establishments including manufacturers, restaurants and cafes around the world have jumped on the bandwagon to cut down on the use of plastic.
In Singapore, cultured milk drink brand Yakult, fast-food chain KFC and integrated resort Resorts World Sentosa have already stopped offering plastic straws to their customers.
On Wednesday (Jan 30), DBS announced that it has removed all plastic straws from the cafeteria in its headquarters at Marina Bay Financial Centre and has distributed 2,500 sets of metal straws to employees.
The bank works with a vendor to reuse and reduce packaging for its electronic items, saving an estimated tonne of plastic waste a year. For the upcoming occasion of Chinese New Year, the bank stopped using plastic wraps for its red packets, avoiding 220kg in plastic wastage.   
As part of its pledge to power all its Singapore operations using renewable energy by 2030, it installed 1,200 solar panels at its office buildings in Changi Business Park.
Elsewhere, government bodies have been supporting this movement to reduce plastic waste. Late last year, the authorities in Bali, Indonesia announced a ban on single-use plastics, including shopping bags, styrofoam food packets and straws.
Ms Braha said that while "sustainability is on trend", she believes that businesses can "no longer take baby steps" to encourage a reduction in plastic use.
"Drastic measures need to be taken from all of us before it's too late," she said.
LIST OF COMPANIES UNDER PACT
AccorHotels Group

Hilton hotels in Singapore

Kraftwich

Pastamania

Pontiac Land Group

Ramada and Days Hotels by Wyndham Singapore at Zhongshan Park

SaladStop!

Udders

Wildlife Reserves Singapore