HSR decision 'not an ominous sign for bilateral relations', shows Mahathir-led govt's priorities: Analysts
SINGAPORE – Malaysia's decision to scrap the Kuala Lumpur-Singapore High-Speed Rail (HSR) was driven by a desire to reduce the country's national debt, and should not be seen as a move to spite Singapore, said political analysts on both sides of the Causeway.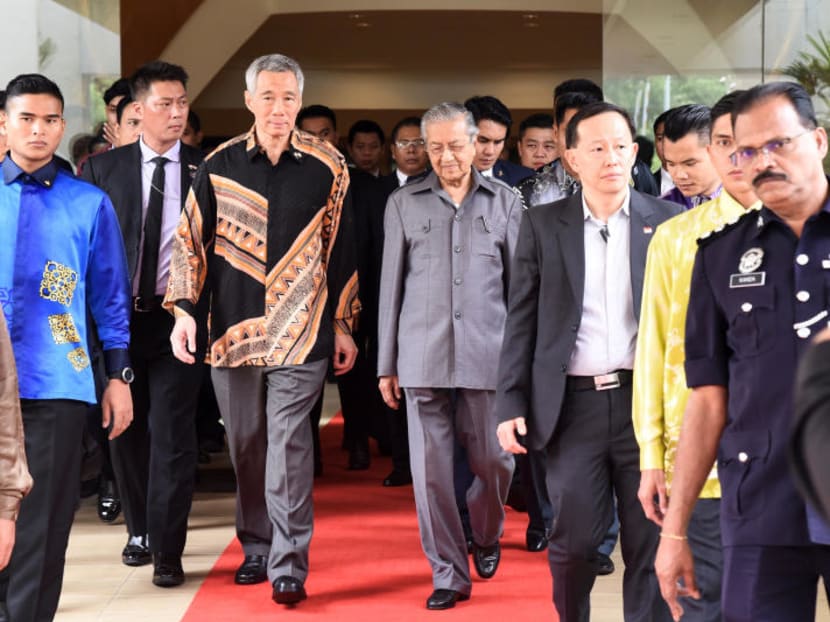 SINGAPORE – Malaysia's decision to scrap the Kuala Lumpur-Singapore High-Speed Rail (HSR) was driven by a desire to reduce the country's national debt, and should not be seen as a move to spite Singapore, said political analysts on both sides of the Causeway.
Neither is it an ominous sign for bilateral relations under Dr Mahathir Mohamad, 92, in his second stint as prime minister, they added.
Given the fact that the new Pakatan Harapan (PH) government has yet to appoint a foreign minister and Dr Mahathir's short runway as premier, the analysts also pointed out that for now, Malaysia's priorities are on its domestic issues, with international relations taking a backseat.
"It is not about personal vendetta. He's too old for all of that. He wants the country to get back on track before handing over power to Anwar (Ibrahim)," said Dr Serina Abdul Rahman from Singapore's Iseas-Yusof Ishak Institute. "His focus is Malaysia first, not to give problems to Singapore. He's doing what it takes to restore Malaysia's financial situation."
Having led PH to a shock electoral victory earlier this month, Dr Mahathir is expected to hand over the top job to Mr Anwar — a longtime opposition leader — within the next two years.
During his first tenure as Malaysia's Prime Minister between 1981 and 2003, Dr Mahathir adopted a frosty attitude towards Singapore.
His decision to pull the plug on the HSR had some fearing that bilateral relations — which had improved significantly under Malaysia's former Prime Minister Najib Razak — could regress.
But the analysts said the scrapping of the HSR by no means mark a return of Dr Mahathir's past  foreign policy approach or an expression of "hostility or displeasure" towards Singapore.
Dr Oh Ei Sun, a senior adviser at the Asia Strategy and Leadership Institute in Malaysia, reiterated that the country is entering an "economically challenging time", primarily due to revelations of previously hidden debts, and "a few large-scale public projects would have to be shelved for the moment to tighten up expenditure".
"When the economies of both countries take off again soon, many mutually beneficial projects will one ever again be on the table," he added.
Malaysia's new Transport Minister Anthony Loke said as much when he told Channel Newsasia that the project is "subject to review" if the country is in a better fiscal position later on. "Why we cancelled the project is because of affordability," he added. "The priority of the government is to pay our debts and the ability to repay our debts, that is our main priority, that's why some of these projects must be shelved."
Speaking at a press conference after chairing a Cabinet meeting, Dr Mahathir was asked if he would reconsider the HSR decision — which was approved by the Cabinet — should Singapore request for its continuation. He replied: "We will listen to them. They are our good partners."
Dr Ooi Kee Beng, executive director of think-tank Penang Institute, reiterated that under the present circumstances, Dr Mahathir is "a leader who does not have time for protracted reforms or for restarting new confrontations for their own sake, unlike the old days".
"The fact that no foreign affairs minister has yet been appointed does show where the focus is at the moment. Domestic issues are top priority," Dr Ooi said.
He added: "What we are seeing at the moment are signs of a government trying to get its finances into order and trying to do institutional reform in a hurry."
Dr Ooi noted that the HSR — a 350km rail line that was scheduled to be completed by 2026 — is not the only "casualty" so far, citing the Malaysian government's review of the East Coast Rail Line and the discontinuation of the third phase of the Klang Valley MRT project, which would cost up to RM40 billion to construct.
Dr Ooi also felt that Dr Mahathir was not trying to dismantle Mr Najib's legacy, given that majority of the mega-projects were kick-started under the latter's tenure as Prime Minister. Rather, it is about "reversing Mr Najib's excesses and remedying Dr Mahathir's own highly flawed legacy", he added.
The analysts said Malaysia's latest decision to withdraw its challenge of the International Court of Justice's 2008 ruling on Pedra Branca — the court had awarded the island's sovereignty to Singapore — is another reflection that the PH government is focused on addressing the country's economic challenges.
Dr Oh said that the move also reflects Dr Mahathir's sentiment that "bilateral relations should be based on both mutual and respective benefits".
Dr Mohamed Nawab Mohamed Osman, coordinator of the Malaysia Programme at the S Rajaratnam School of International Studies (RSIS) said that Malaysia's stance on HSR and Pedra Branca indicates that it is shifting away from implementing domestic and foreign policies for political gains.
"The message of the new PH government has been consistent thus far. Whatever policies that will be introduced from now on, they have to benefit Malaysians economically," he added.