Hundreds throng to public unveiling of first giant panda cub born in Singapore
SINGAPORE — The Wong family had been to River Wonders just two days ago.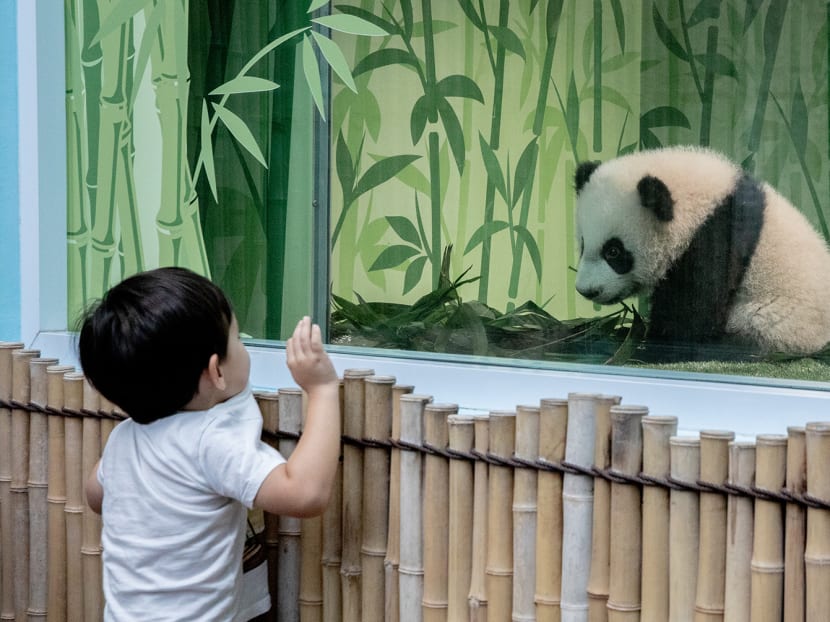 The first giant panda cub born in Singapore arrived on Aug 14
Public interest was intense with 64,000 voting in an online poll to name the cub Le Le
The cub made its first public appearance at its River Wonders nursery on Dec 30
The public will be able to greet Le Le at two daily viewing sessions
SINGAPORE — The Wong family had been to River Wonders just two days ago. 
But the family of six decided to make their way down all the way to the river-themed zoo at Mandai again on Thursday (Dec 30) especially to catch a glimpse of the public debut of the first Singapore-born giant panda Le Le in its new glass-fronted nursery. 
Speaking to the media, Ms Faith Wong, aged in her 30s, said that they were asking staff of River Wonders when they were going to reveal the panda cub's name when they visited on Tuesday. 
"(The zookeepers) said they don't know but it could be the next few days. So we thought that they will reveal the baby panda's name actually on New Year's Eve," she told TODAY.
"And we were so surprised to hear the news yesterday that the name was revealed and that we get to see Le Le today and so today, we decided to make a special trip down to see Le Le," said the mother of four who also works as a director. 
The reason for the Wong's family enthusiasm? Their children's love for animals.
"They want to be a vet, they want to be a zookeeper," said Mr Charles Wong, who is in his 30s and self-employed. 
Their eldest son, Marcus, nine, said he was very excited to see Le Le. So he and his siblings even made a drawing of Le Le in the morning before they left for the family outing. 
"He is so cute and adorable!" said Marcus, who added that he wants to come back and see Le Le again.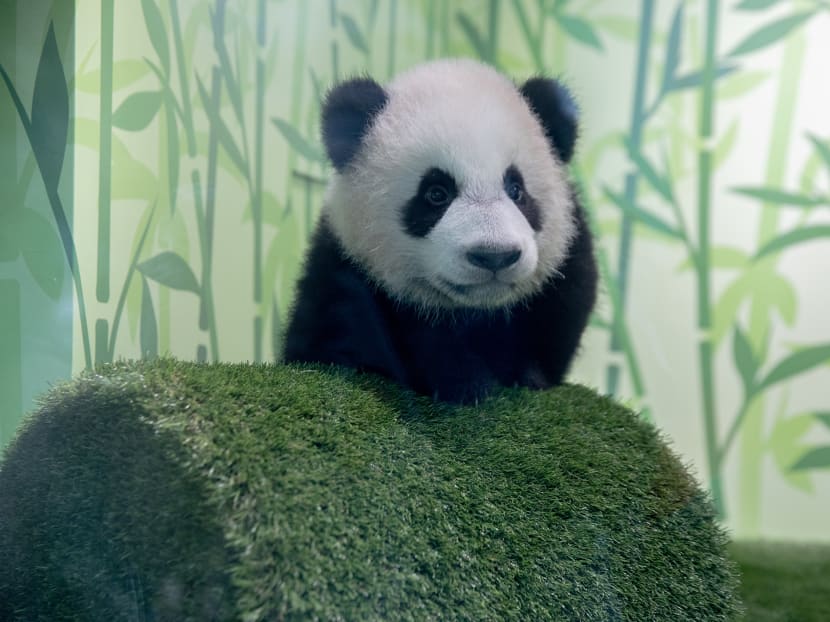 The cub was born on the morning of Aug 14, nine years after first-time parents Kai Kai and Jia Jia arrived here. Giant pandas are regarded as very difficult to breed and the birth was met with huge public enthusiasm, with more than 64,000 people voting in an online poll to decide its name. 
It was announced on Wednesday, through the public vote website, that the winning name with the highest number of votes is "Le Le" (叻叻).
According to Mandai Wildlife Group, the company that manages River Safari, there are two windows to view Le Le — one is at around 10.30am and another at around 3.30pm. These timings coincide with mother Jia Jia's feeding and exercise routines as it is comfortable leaving Le Le on its own. 
While signages state that viewing sessions range between 20 and 30 minutes, Le Le was out in its nursery — unveiled on Thursday by Chinese ambassador to Singapore Hong Xiaoyong and deputy chairman of Mandai Park Holdings Tan Chuan-Jin — for two hours in the morning and over an hour in the afternoon on Thursday.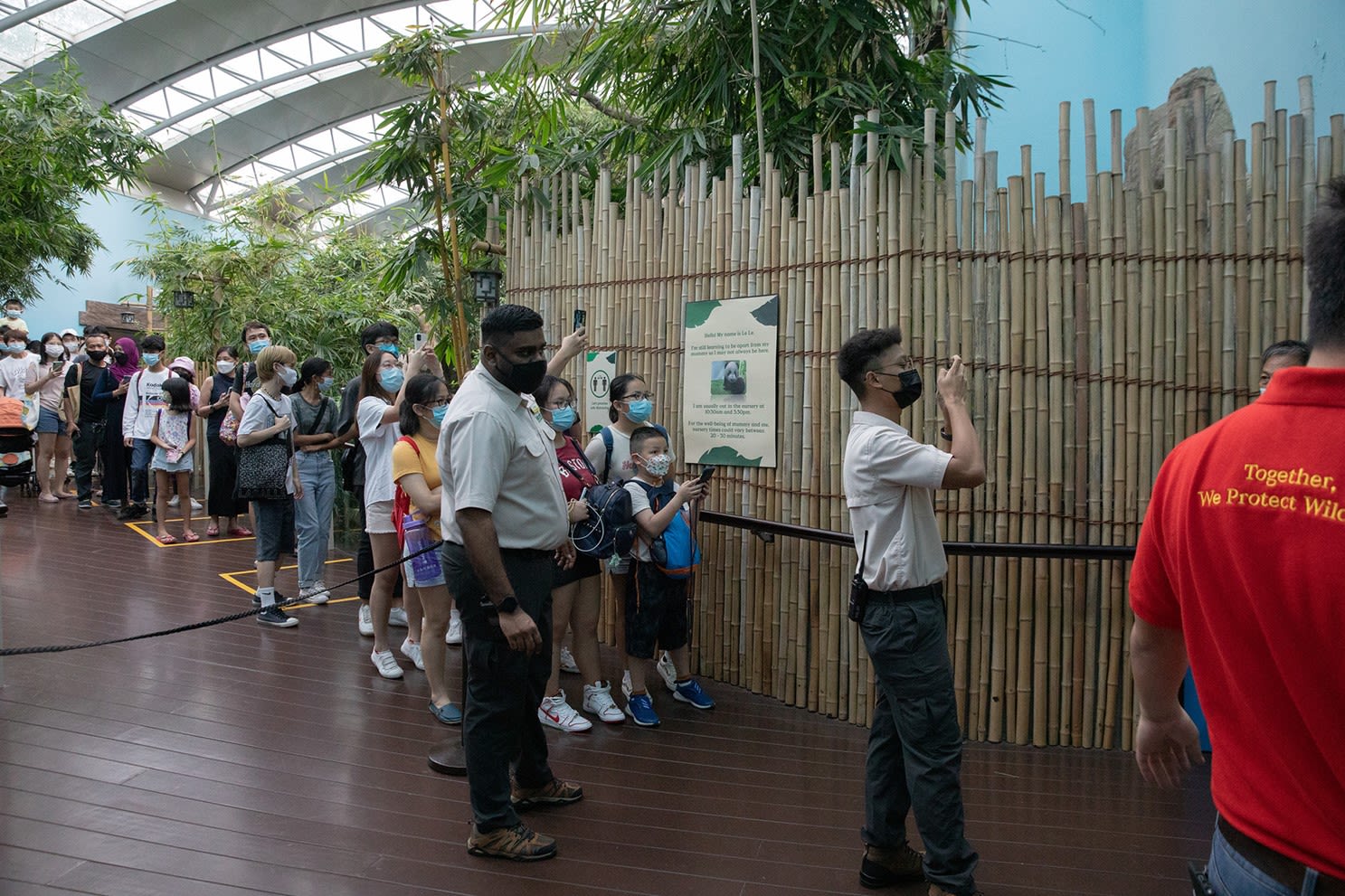 The public's excitement to meet the first Singapore-born giant panda cub was reflected in the snaking queues outside the giant panda forest exhibition as hundreds queued to greet Le Le. 
Most visitors TODAY spoke to, however, did not make a special trip to River Wonders just to see Le Le. They already made plans to visit the park on Thursday and it was a stroke of luck that Le Le was going to be unveiled on the same day. 
We didn't see the full version, we just saw the butt but it is definitely cute. He has a cute butt!

Ms Athena Tang who took her niece and nephew to see Le Le
Visitors told TODAY that they had to queue between 30 minutes and one hour. 
Due to the large number of people, visitors could only take a quick look at Le Le in his new nursery and take a few photos before they were being ushered away. 
But they told TODAY that they did not mind the long wait. 
Ms Athena Tang, 37, who works in the workplace safety and health industry, said it was worth the one-hour wait as her niece and nephew were really excited. 
"We didn't see the full version, we just saw the butt but it is definitely cute. He has a cute butt!"
Ms Tang's five-year-old nephew, Gideon Seo, said he did not have a very good view of Le Le except for his behind. 
When asked how he felt after only seeing Le Le's behind, he innocently remarked: "Dirty. And smelly". 
The Wong parents said it was still enjoyable despite waiting for 30 minutes because their children were able to see Le Le "up close in real life" after seeing so many videos of the panda cub. 
Two teenage sisters who had to queue for 30 minutes also felt that the time spent was worth it as Le Le was "really small and cute", said one of the sisters, Ms Sharmaine Tan, a 15-year-old student. 
However, her 19-year-old elder sister, Ms Sharlene Tan, who is in university, quipped: "I think it's worth it. But only one time. I won't queue again."