'I felt very homesick': Domestic workers head out on their rest day for the first time in 2 months
SINGAPORE — As she sat having lunch with her two friends at the Asian Food Mall in Lucky Plaza, Ms Jessiebelle Escopal could not hide her joy at being "home" again.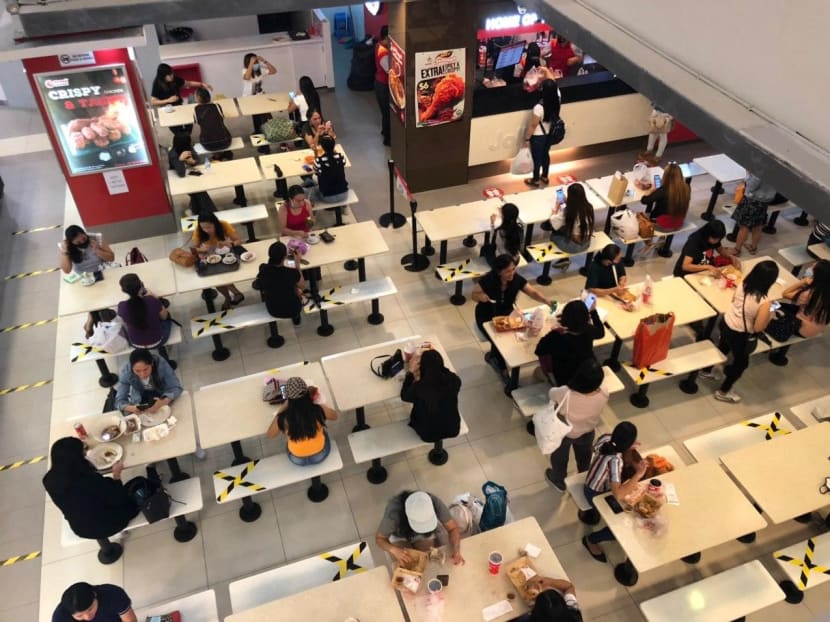 SINGAPORE — As she sat having lunch with her two friends at the Asian Food Mall in Lucky Plaza, Ms Jessiebelle Escopal could not hide her joy at being "home" again.
"I felt very homesick during the circuit breaker and Phase One when I couldn't see my friends," the 31-year-old domestic worker from the Philippines said, referring to the containment meaures that restricted movement and activities in April and May, followed by the first phase when restrictions were lifted from June 2 to 18.
Foreign domestic workers have largely stayed indoors, even on their rest days, since Singapore went into circuit breaker mode on April 7. And although the country entered Phase One of its reopening on June 1, the Ministry of Manpower had advised them to go out only to buy necessities.
On Sunday (June 21), Ms Escopal was among dozens of domestic workers who were at Lucky Plaza, catching up with their friends.
The Asian Food Mall in the mall's basement was filled with the sound of laughter and conversation, with almost every available table occupied at around noon.
Outside, a queue of at least 30 people had formed, waiting to enter the shopping centre.
Although she was excited to be out again, Ms Escopal was aware that her freedom comes with some limits. Besides not being able to hug her friends or share food with them, group activities are also a no-no.
"Events like fashion shows that are sometimes held for the Filipino community at Lucky Plaza have been cancelled," Ms Escopal said.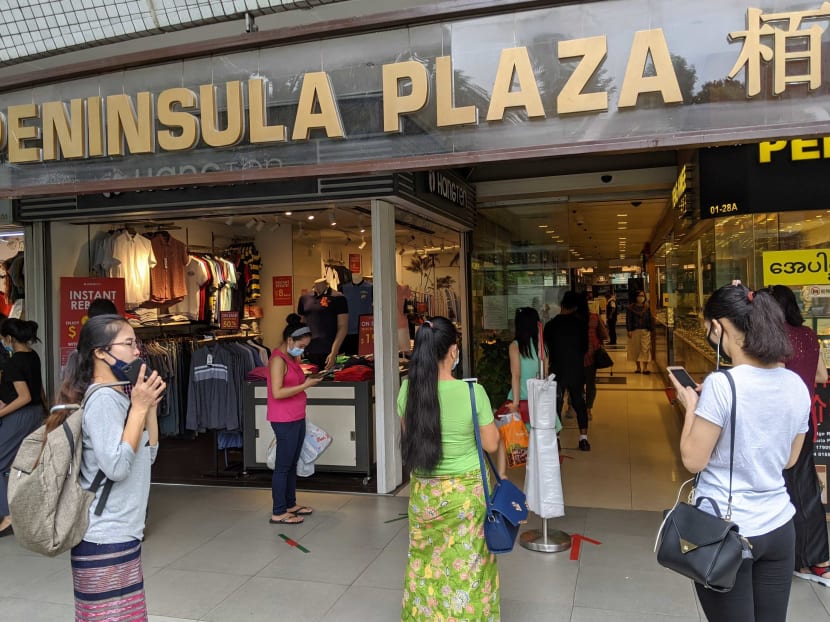 Peninsula Plaza, another popular hangout for domestic workers, was relatively quieter when TODAY visited at 2.30pm on Sunday, with a few Myanmar nationals in sight.
Likewise at City Plaza Shopping Centre on Geylang Road, where Indonesian helpers usually gather to remit money and buy their necessities.
Ms Fia Yadi, a 34-year-old Indonesian maid whose hometown is in Surabaya, was spotted buying some fish crackers — what she called "comfort snacks" to cheer herself up.
"I live in Hillview (near Upper Bukit Timah), which is quite far from here," she said.
"Initially, my employer said no to going out, but I told them that I just wanted to buy some snacks, so they said I can go out just for a few hours. I have been very bored staying at home during the two months."
DOING OTHER ACTIVITES AT HOME
Out of the six employers approached by TODAY, most of them said that they will now let their domestic workers go out on their rest days.
Madam Joann Koh, a 57-year-old general manager of a construction firm, said that she allowed her helpers to visit the malls on Sunday as it was their first time out in three months.
"My helpers have their day off once a month but they have not gone out of the house since March, when the community spread worsened," Mdm Koh said.
"Since my mother-in-law has frail health and my husband's immunity system is compromised, I can't afford the risk of my helpers contracting the coronavirus when they go outside."
She employs two domestic workers to assist with her household chores and to care for her mother-in-law, who is a stroke patient.
Mdm Koh had already briefed the workers on how to upkeep their personal hygiene, and gave them adequate masks and hand sanitiser.
As a compromise for staying at home, Madam Koh taught her two helpers to cook and bake on Sundays — an activity they enjoy doing.
Engineer Decry Hardiyanto, 44, said that his two domstic workers chose to stay home throughout the circuit breaker period, even though he gave them the option of heading out to exercise or for supermarket runs during their rest days.
"My maids are very sensible. They told me that they would rather stay at home with the current situation instead of going out, even after Phase Two," he said.
"Moreover, they might not get to meet their friends since their employers might not agree for them to leave home."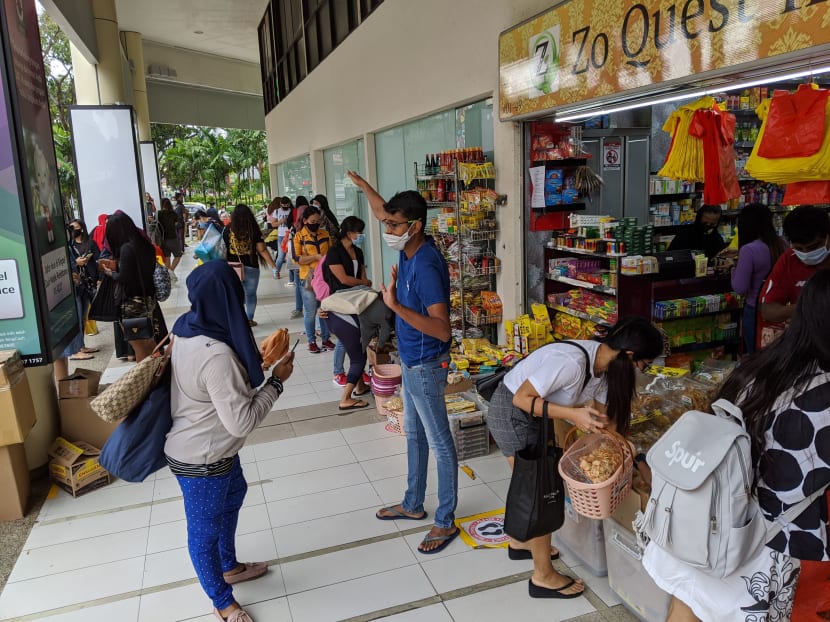 Indeed, some domestic workers interviewed by TODAY chose to stay home this weekend.
Ms Khin Swe Win, 31, had spent her weekly rest days for the past two months staying at home and sleeping in. And although she felt bored and missed Myanmarese food, she felt it was still not safe to meet her friends this weekend.
"I don't think I will go out this Sunday, especially since I am a caregiver to an older woman who is more susceptible to the coronavirus," Ms Win explained. She is unsure of when she will go out again.
Another domestic worker, who wanted to be known only as Ms Moe, expressed the same discomfort with meeting her friends.
The 26-year-old has stayed home since the circuit breaker began and went out only once to send money home.
"I think the next time I'm going out is next Sunday, but I'm just going to Peninsula Plaza to buy Myanmarese food alone," Ms Moe said.